Creative Gardening Ideas With Inexpensive PVC Pipes
PVC tube is a favorite material of gardeners, as it is sturdy, waterproof, multi-purpose, and very cheap. Gardening ideas brought by PVC pipes can often be found around, such as irrigation, hydroponics, planters, tomato cages, greenhouses, and other structures. That's because of the flexible size and accessories that allow you to DIY almost any gardening projects to help you efficiently finish your garden tasks. So take a look at these PVC gardening ideas will give you some inspiration.
#1. Tomato cages built from pvc pipes have many benefits such as cheap, durable and easily adaptable to your vegetable garden size: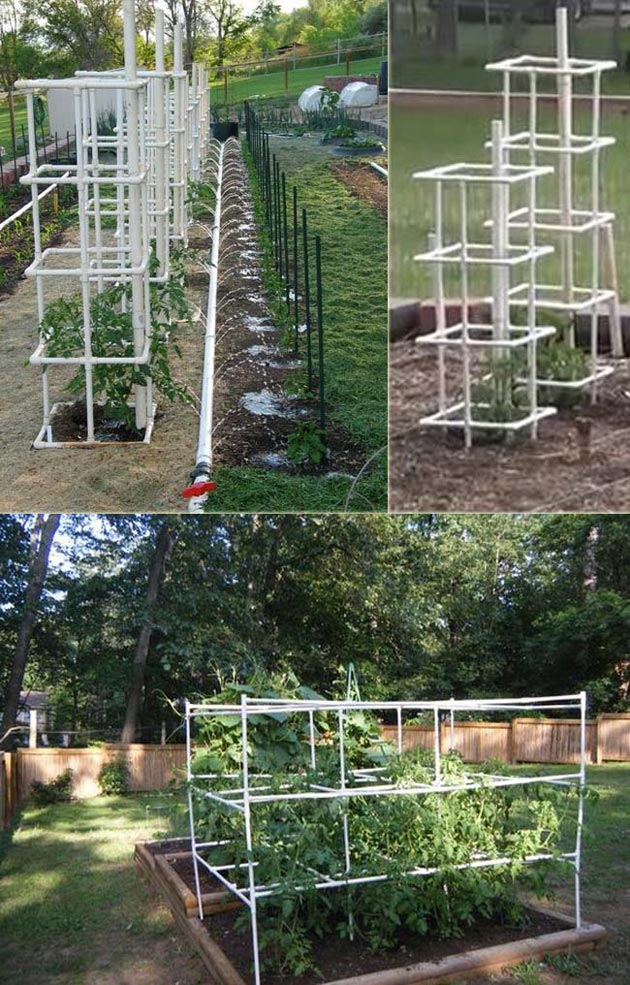 Check out the Instructions at: instructables.com and idreamofeden.wordpress.com
#2. Place an Open-ended PVC Tube Next to Your Plants to Let Them Get Efficient Watering: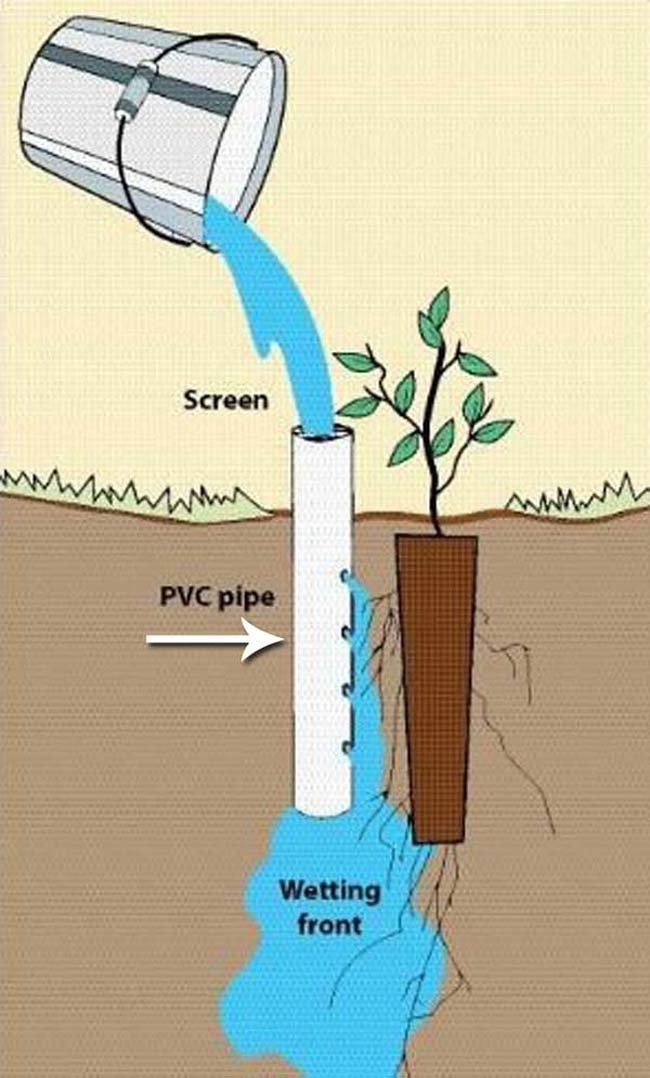 #3. Use Mosaics to Decorate the Big PVC Pipes to Get the Tall Planters You Want:
Check out the Instructions at: szinesotletek.blog.hu and charsgardening.com
#4. Watering Hoses often Bring Clutter to Your Garden. One Solution is Using PVC Pipe to Corral Your Hose:
Image via: deavita.net    and   familyhandyman.com
#5. The PVC Pipes can be Used to Create Efficient and Water-Saving Irrigation System. Just use a 1/2″ PVC Pipe to Form the Grid and Drill 1/16 Inch Holes in the PVC Pipes.
Check out the instructions here: bsntech.com
#6. This PVC Garden Bed Protective Cover Will Keep the Animals From Eating Your Garden, and You can Also Put Some Shade Cloth Over It to Keeping Your Plants From The Strong Sun:
See the Instructions here: charsgardening.com
#7. Drill Holes in The PVC Tube to Make a Vertical Pipe Planter: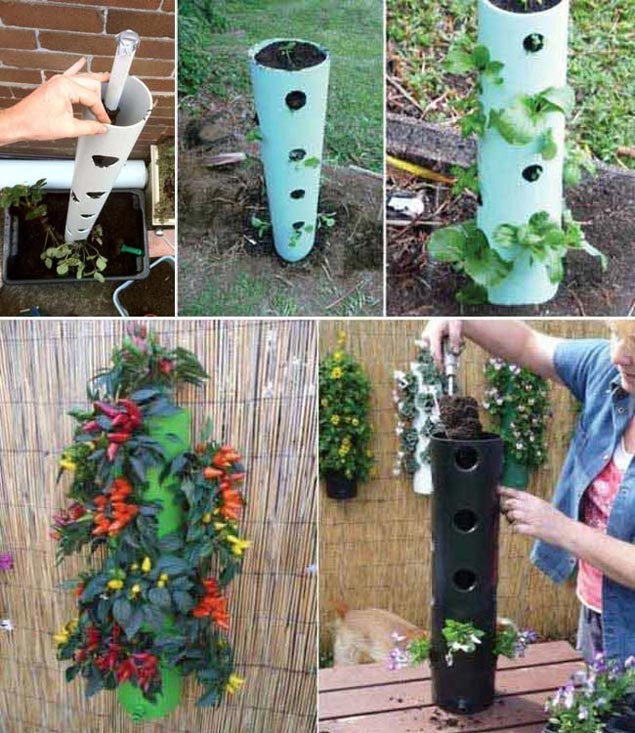 See the full TUTORIAL here: urbangreenspace.wordpress.com
#8. With this Hand-Held Seeder, You Don't Need a Lot Of Stoop Labor to Sow:
How to Build this Hand-Held Corn and Bean Planter: sensiblesurvival.blogspot.com
#9. Build a Worm Farm in Your Food Garden, then let Hungry Worms Make Wonderful Fertilizer Right in Your Garden: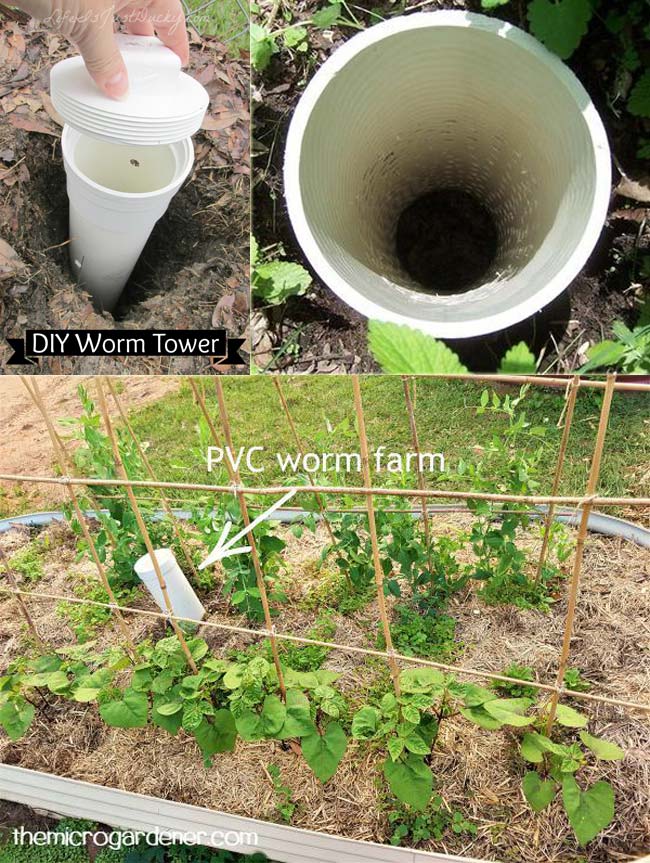 See the Instructions at:   lifeisjustducky.com   and   midwestpermaculture.com
#10. Rounded PVC Pipes, Wooden Garden Bed and Plastic Cloth Together to Create a Simple Greenhouse: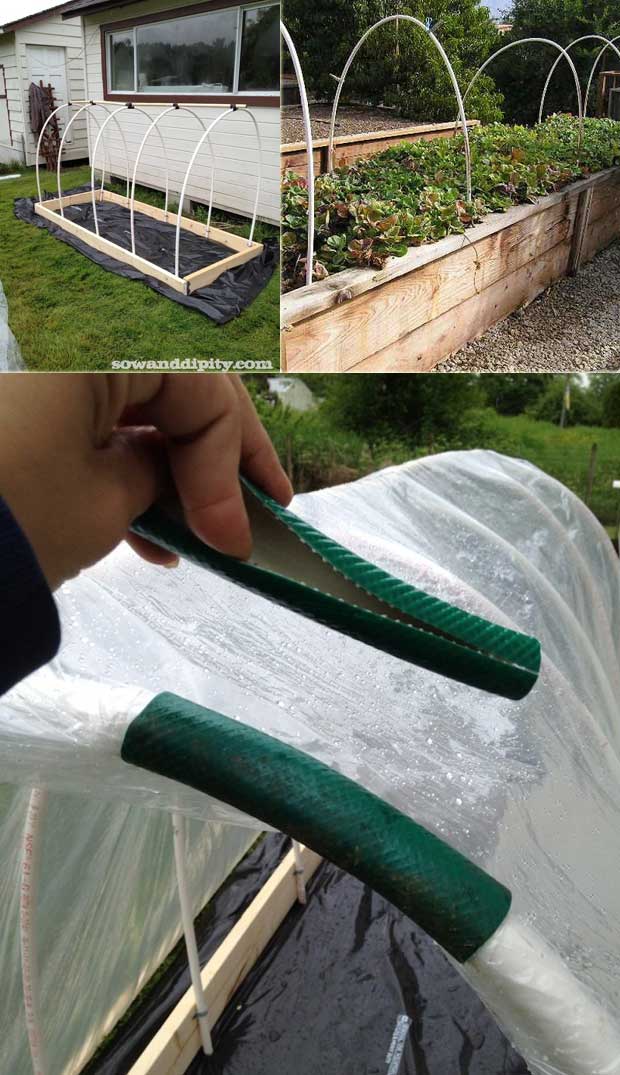 Check out the Instructions here: sowanddipity.com