A How-To Guide for Starting Seeds Successfully
Do you want to be a successful plant 'parent'? Raising your plants from seeds indoors might be the first step. But for any new gardener, starting seeds can be a challenge. To avoid the most common sowing mistakes and to get more fun while raising seeds, we made this complete, easy-to-follow guide to help you.
[lwptoc]
1. The Reason Why You Need to Start from Seeds
Compared to buying young plants in a local garden nursery, starting your own seeds indoors has more benefits, such as saving money, getting more different plant varieties, allowing you to extend your growing season and offering an opportunity to try rare or unusual seeds. Also, you will experience more enjoyable gardening, to begin with seeds.
---
2. How to Choose the Right Seeds?
After you deciding to start your plants from seeds, the next thing that you will need to do for your garden is choosing the right seeds. But if you've never planted much of anything before, seed selection can be trickier than you might think. So I recommended a video tutorial and a detailed post on 'How to Choose the Best Seeds for Your Garden.'
---
3. Seed Starting Times
Have no idea when to start seeds for your garden? Usually, it depends on your zone. USDA separates the zones according to temperature. You can check your seed packet for plant hardiness zones and the optimum time to plant. In most parts of the northern hemisphere, the best time to start seeds is usually late March to late May.
How to Find Your Frost Dates and Hardiness Zone:
Frost Dates Calculator at Almanac.com.
Enter your city and state or province to find your first and last frost dates and number of frost-free days.
---
4. Seed Starting Tips
Growing plants from seeds is not always easy, but these seed starting tips can help you raise thousands of seeds into healthy plants. There are also many other low-budget gardening ideas that will make you gardening job easier.
4.1. Check the Use of Seeds by Date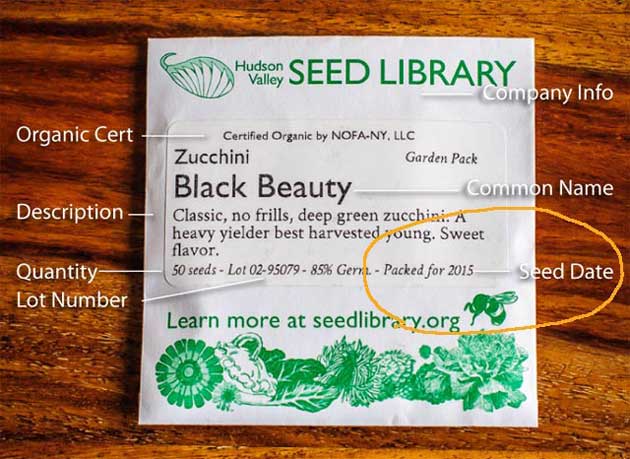 ---
4.2. Prepare Pots or Flats
4.2.1. Make DIY Seed Pots and Trays by Recycling Unused Containers
Instead Of Buying Them from Store, You Can Make DIY Pots and Trays. Check the following 19 ideas…
#1. Reuse Plastic Container to Make Mini Greenhouses:
via: singingasongofsixpence.blogspot.com & larksperennials.com
#2. Newspaper Seed-Starters:
See the tutorial at: learningandyearning.com
#3. Repurpose K-Cups as Starter Pots:
#4. Turn into Toilet Paper Rolls Seed-Starters: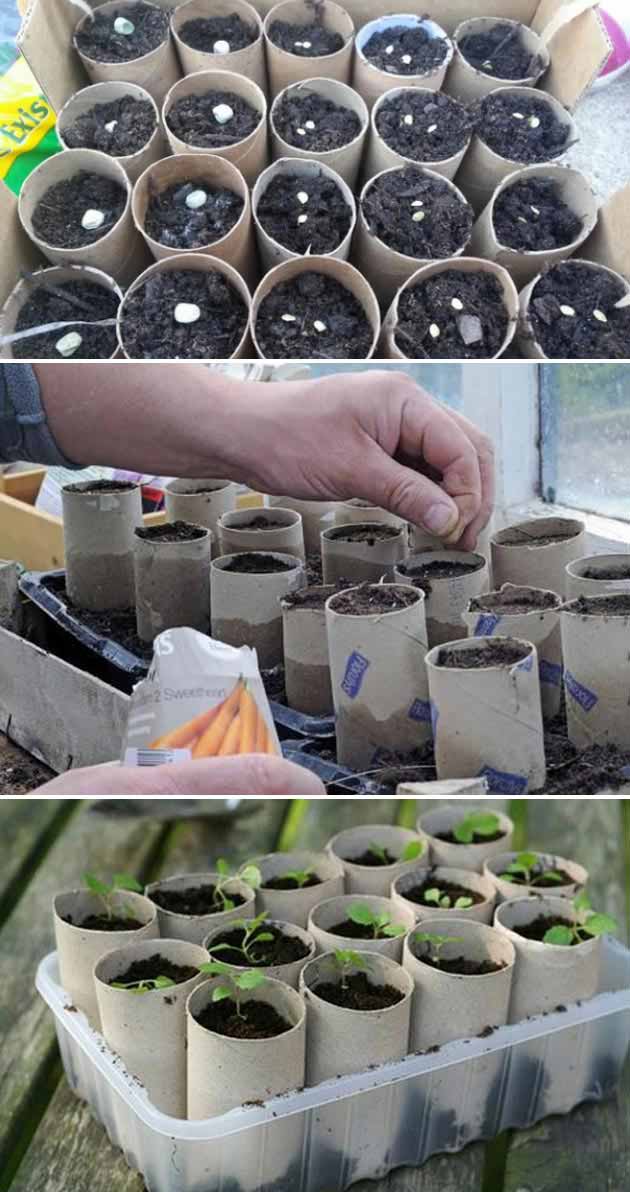 See the tutorial at: ourwabisabilife.com
#5. Repurposed Loofah Sponge Seed Starter:
See the tutorial at: thymesquaregarden.blogspot.com
#6. After Seeds Sprout, Place the Egg Carton all into the Ground:
#7. Transform an Old Ice Cube Tray to Seed-Starter:
See the tutorial at: mrbrownthumb.blogspot.com
#8. Seed-starters Made of Worn-out Paper Pulp:
See the tutorial at: 365daysofdiy.blogspot.com
#9. Sow in Gallon Bags: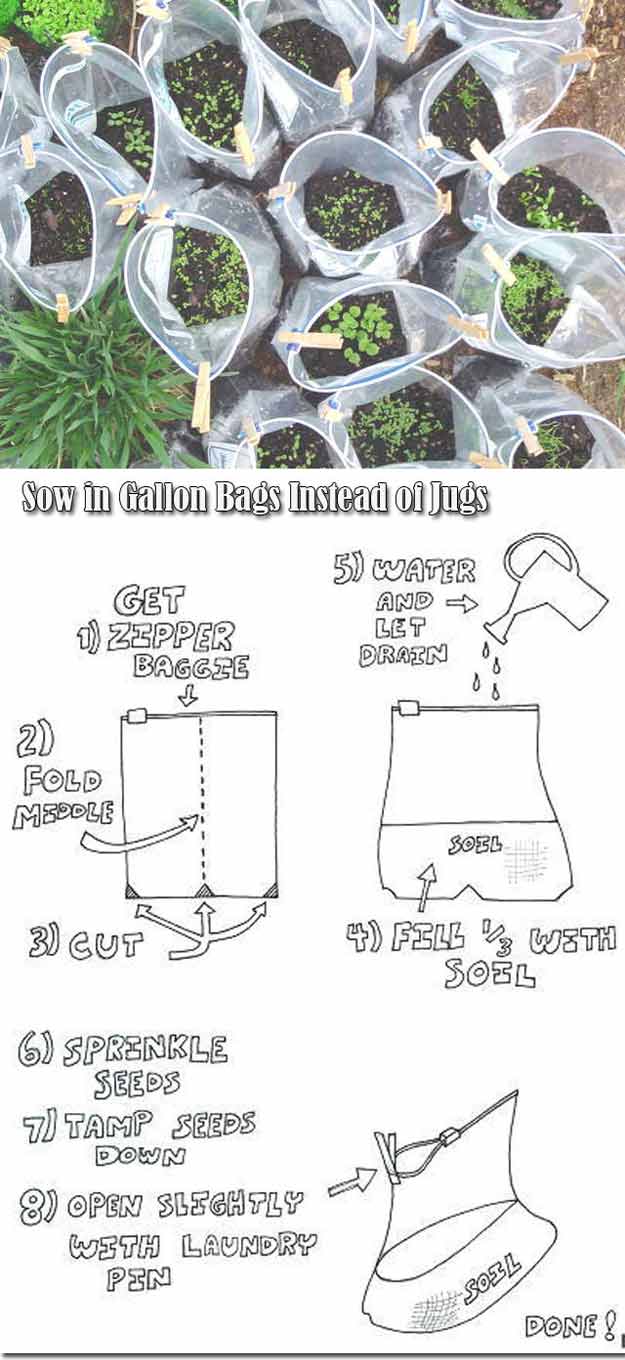 Check out the more details at: wintersown.org
#10. Milk Jug Seed Starters: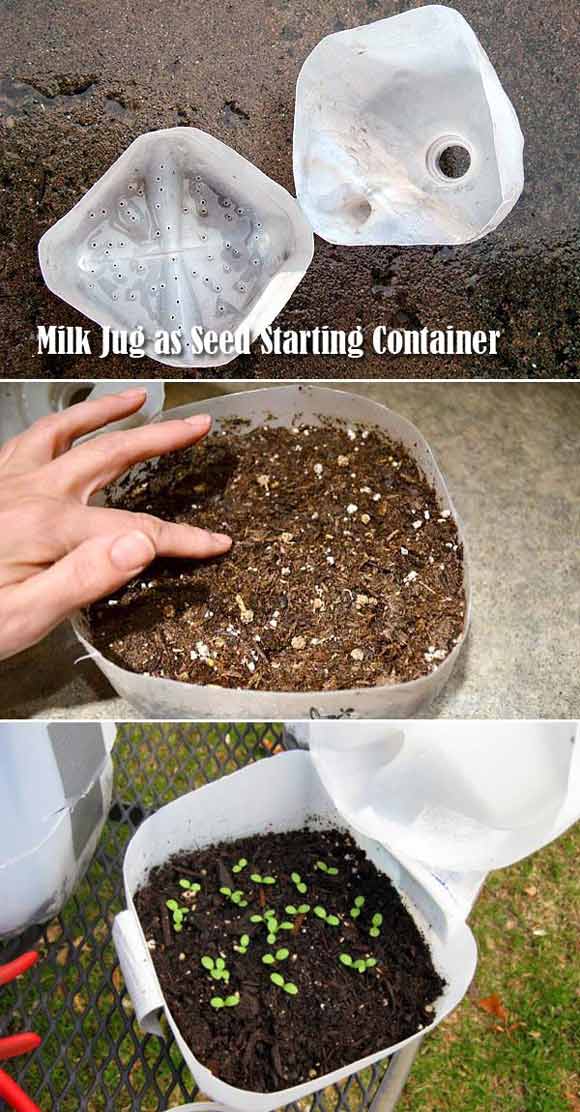 See the tutorial at: ourlittleacre.blogspot.com   and   agardenforthehouse.com
#11. With soil blocks you do NOT need pots or anything else:
See the tutorial at: baremtnfarm.blogspot.com   and    victoriaelizabethbarnes.com
Get the Soil Blocker Tool at Amazon.
#12. Make a Soil Block Maker Using a Piece of Cutting PVC Pipe and a Wood Plug:
See the tutorial at: theprairiehomestead.com
#13. Recycle Plastic Cup to Make Soil Blocks: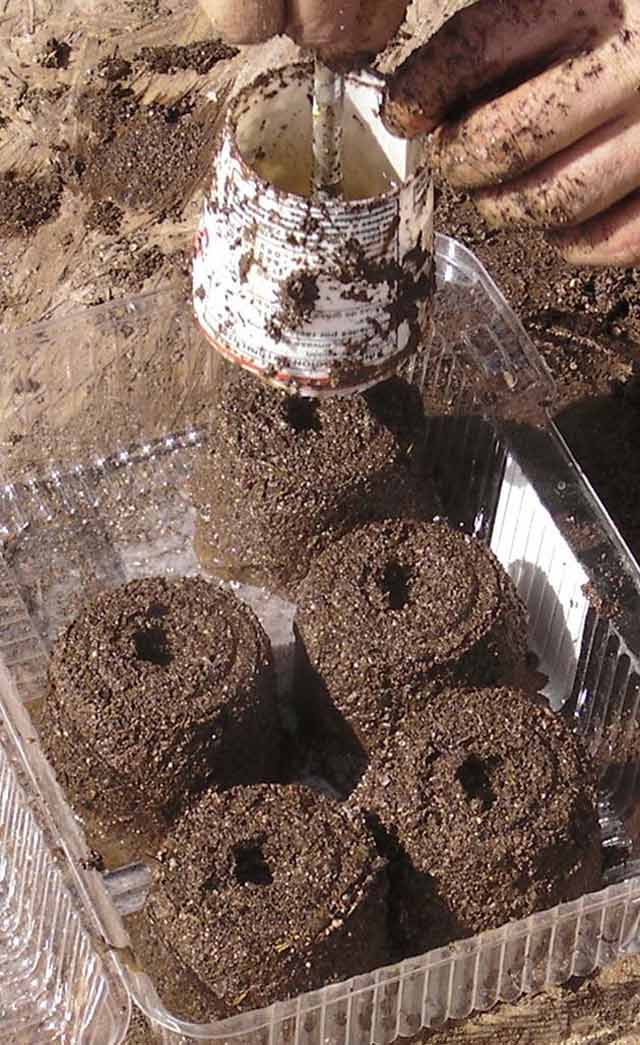 Get the instructions at: instructables.com
#14. Baking Tins for Square Foot Gardening Templates: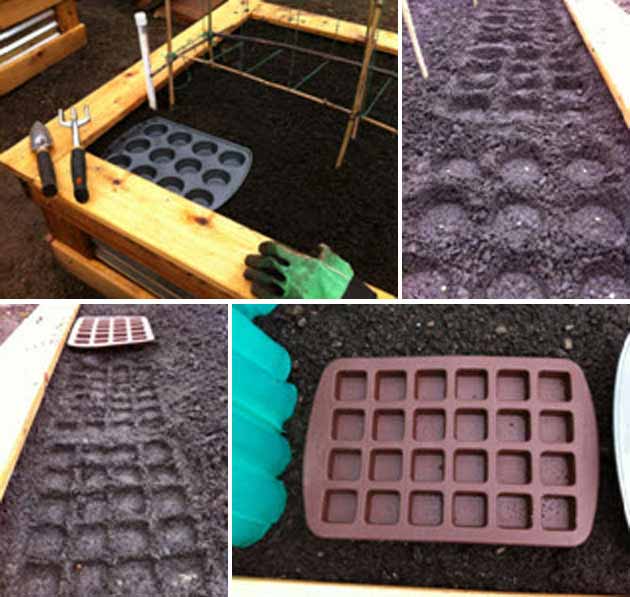 #15. Seed Starting Tray Made from a Cardboard and Some Coffee Filters:
See the full tutorial at: instructables.com
#16. Wine Cases with Dividers Turn into a Seed Tray:
See the more details at: blogcrumbs.blogspot.com
#17. Create Reusable Wood Flats for Seedlings: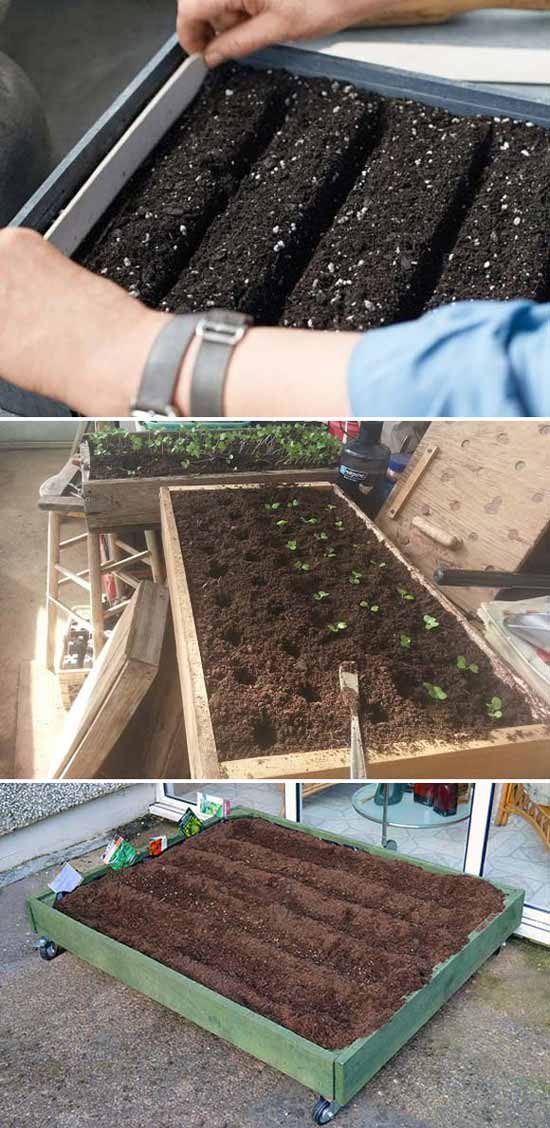 See the more details at: motherearthnews.com
4.2.2. Clean and Sanitize Seed Pots or Flats
Wash the pots and flats in warm soapy water, and then soak in a solution of 1-part bleach and 9-parts water for two minutes. Rinse them thoroughly and drain.
---
4.3. Prepare seed starting mix
You should use 'seed starting mix,' not garden soil, as it compacts easily and may harbor diseases. You can purchase seed starting soil from a local nursery, or mix your own. If you want to buy it, my advice is to choose organic products without additives. There are many great recipes shared by people that will help you mix your own soil. One of the ideal homemade mix contains equal parts garden soil, vermiculite (help to retain water), and peat or compost(such as leaf mold or other soil) need to be sterilized in a microwave roasting bag for 10 minutes(82 °C).
---
4.4. Moisten Seed Starting Mix
Add water to the soil mix, but don't overwater. After squeezing in hand, the mixture should be kept together, and no water is dripping out. Overly wet soil mix can result in rotted seeds and prevent germination.
---
4.5. Plant Seeds
Check the seed packet to see how deep and spacing you should plant your seeds. Once your seeds are in places, gently cover them with soil and add a little water over them.
---
4.6. Label Seeds
Tags and labels help track what you are planting and the detailed information about the seeds, such as seed name, sowing date, number of days required for germination and days of maturity. There are a lot of DIY ideas to label the garden plants can help you.
---
4.7. Cover Pots
Cover the pots with some loose plastic, wrap or bags to create a greenhouse effect and keep moisture in the soil. Then you should remove the covering every once in a while to get air to the seeds. Once the seeds begin to sprout, you should remove the covers.
---
4.8. Set in Warm Location & Check The Soil Moisture
Place the newly seeded pots in a warm location, such as a water heater top, a heat mat top, or a sunny window. Keep the seed starting mix evenly moist but do not overwater. You can consider a Moisture Meter that is a very helpful tool.
DIY Heat Mat Speeds Seed Starting: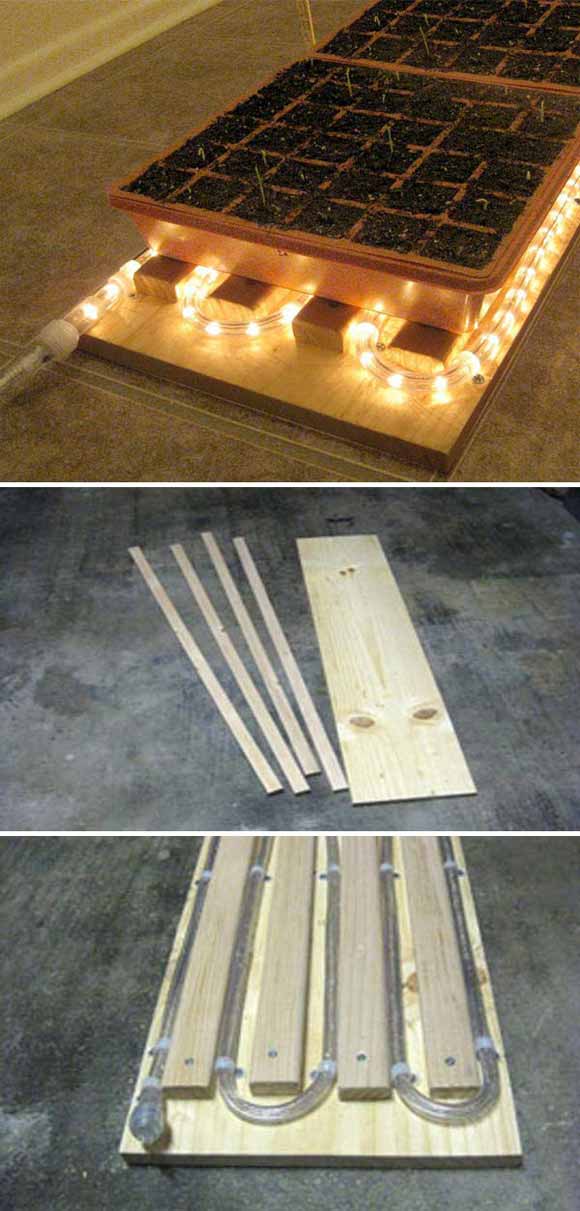 Get the full tutorial at: vegetablegardener.com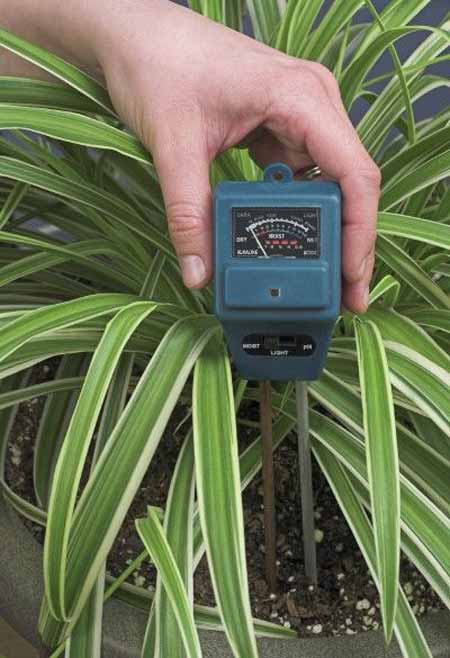 ---
4.9. Light
When you raise seeds indoors, natural light or fluorescence is the best choice. Lighting encourages straight growth and prevents a thin, weak stem. But some seeds need to germinate in darkness, so you need to check the seed packet for specific instructions. There are also many other clever gardening ideas with low-budget that will make you gardening job easier, not only sowing.
See the full instructions at: vegetablegardener.com
---
4.10. Harden-off Plants
Hardening off is a simple, but necessary process for acclimating your plant babies to the outdoors. Once they've grown at least two to three sets of leaves, you can start to set the plants outside for increasing lengths of time. Start with two hours each day, and then gradually lengthen that time until leaving them out a whole day and eventually nights out.
---
5. Transplanting Outdoors
It would be better to transplant on an overcast day and in the early morning. This will protect your plants from exposing to the intense midday sun. Then remember to keep everything watered, and watch for any weather extremes. Young plants need love and attention. Let's start sowing!