Top 28 Easy and Cheap DIY Garden Trellis Ideas
If you're looking to add charm and functionality to your garden design, a trellis is a great option to consider. Not only does it provide support for beautiful vines like roses and cucumbers, but it also adds more growing area for small gardens and raised beds. Trellises can take many forms, from simple structures that keep vining veggies off the ground, to elaborate designs that provide shade and privacy to pathways or add a splash of floral color to plain walls.
In this article, we'll share with you 28 of the best DIY garden trellis ideas and designs that you can easily build yourself. Whether you're on a budget and looking for cheap trellis ideas or prefer to explore trellis alternatives or homemade garden trellis ideas, you'll find plenty of inspiration here. So let's dive in and explore the possibilities of building your own trellis structures!
#1 Raised planter trellis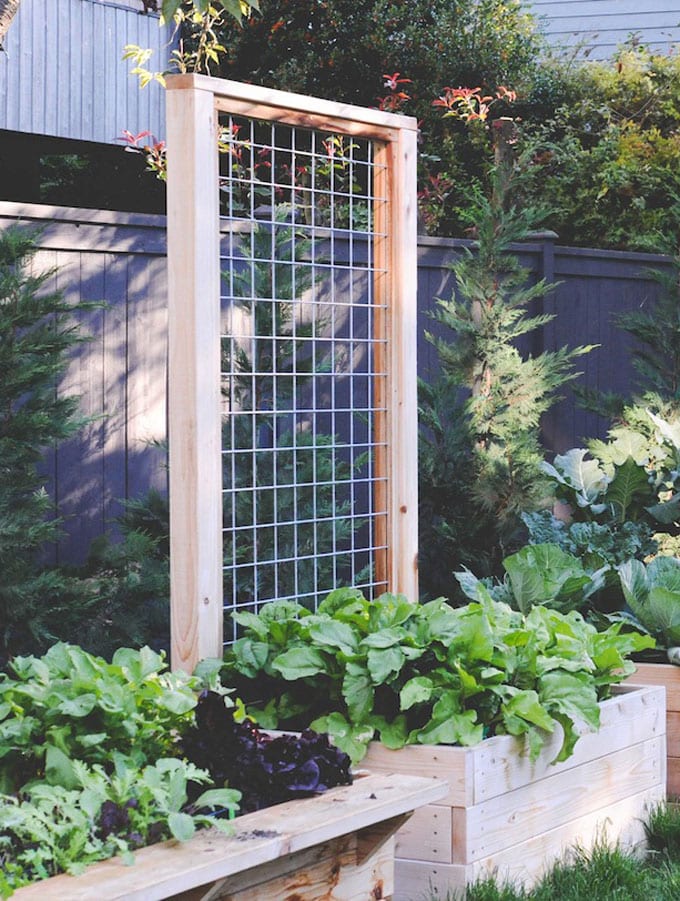 An efficient method to establish a patio and garden partition with climbing plants or embellish an empty wall is by utilizing a distinctive garden trellis planter crafted from wood or metal that stands independently.
#2 Willow Garden Trellis and Bench
The combination of the gorgeous woven bench and trellis creates a whimsical atmosphere that feels almost surreal. The intricate weaving of the bench and the delicate vines climbing up the trellis add a touch of elegance and natural beauty to the scene.
#3 DIY Wall Attached Trellis Panels

If you're searching for outdoor trellis ideas to support your various plants, consider building multiple trellises to create an attractive design in your garden.
Wall-mounted trellis panels are ideal for decorative flowers and plants, as they provide sturdy support for heavier vegetation while also adding a touch of beauty. These trellises can be easily constructed and customized to fit your specific needs, allowing you to build as few or as many as necessary.
#4 DIY Pergola
Pergolas, trellises, and arbors are versatile structures that serve multiple purposes such as providing support for climbing plants and defining outdoor areas while also providing shade.
However, it is important to take necessary precautions before building one, such as contacting the utilities offices to identify any underground lines and determining the depth at which to sink the footing, which should be one-quarter the height of the post, to ensure stability.
#5 Hexagonal Honeycomb Trellis
By constructing a DIY garden trellis in the shape of a hexagon honeycomb, your property will not only look charming but also exude an irresistible charm.
With the use of a miter saw, the hexagonal cuts can be easily made and the trellis can be secured onto a fence by ensuring it is screwed into all the horizontal supports.
#6 DIY Pallet Garden Trellis
To create a cheap trellis for your garden, a DIY pallet garden trellis could be an excellent option. It is made by upcycling old wooden pallets, which are cut and assembled into a trellis shape.
The trellis can be used to support climbing plants such as beans, cucumbers, and tomatoes.  via: onehundreddollarsamonth.com
#7 Chickenwire Trellis
For a simple and effective way to support climbing plants, consider the Chickenwire Trellis, an easy-to-make trellis consisting of a frame or stakes with chickenwire mesh attached to form a grid for plant growth.
via: flickr.com
#8 Easy DIY Bike Rim Trellis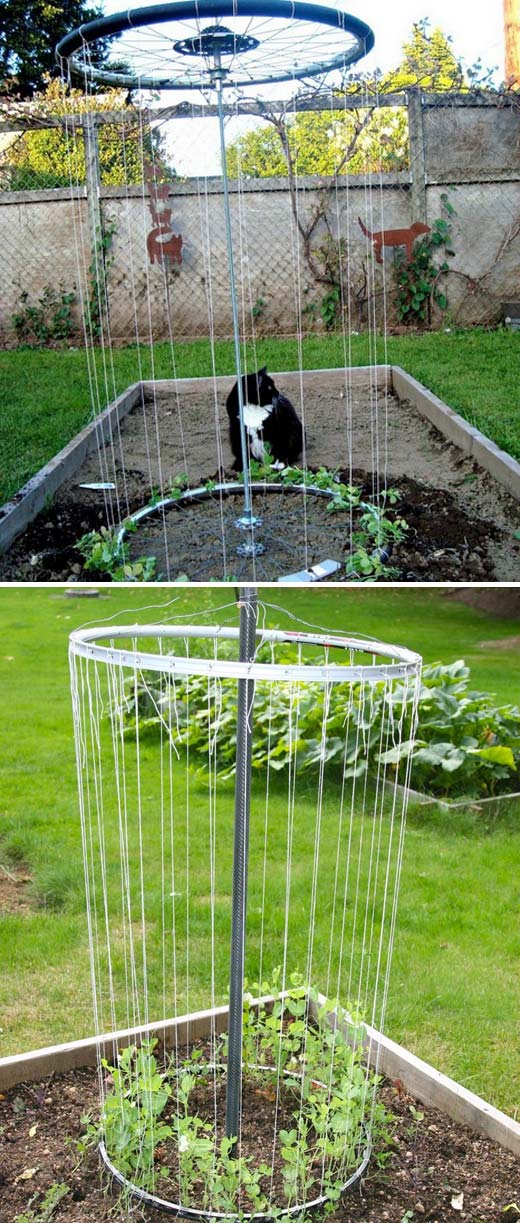 An easy trellis solution for climbing plants is the bike rim trellis. This trellis is not only functional but also visually appealing, making it a perfect addition to your vegetable or flower garden. To make it, you'll need two old bike rims, wire, garden twine, and a metal bar.
Fortunately, old bike rims can often be found at yard sales for a low cost, making this a budget-friendly project. Overall, this simple trellis is easy to construct and provides great support for your climbing plants.
via: suitedtotheseasons.com        thefamilychapters.wordpress.com
#9 T-Post Trellis
Are you searching for rustic garden trellis ideas? Look no further than the T-Post Trellis, which can be created with just two T-posts, poplar sapling twigs, and twine (or zip ties for added strength).
The T-Post Trellis has a charming, rustic appearance and can be made by using larger branches on the bottom and smaller ones on top, alternating the thick ends on each row. This simple trellis is easy to assemble and will provide sturdy support for your climbing plants.
via: chickenscratchny.com
#10 Metal Trellis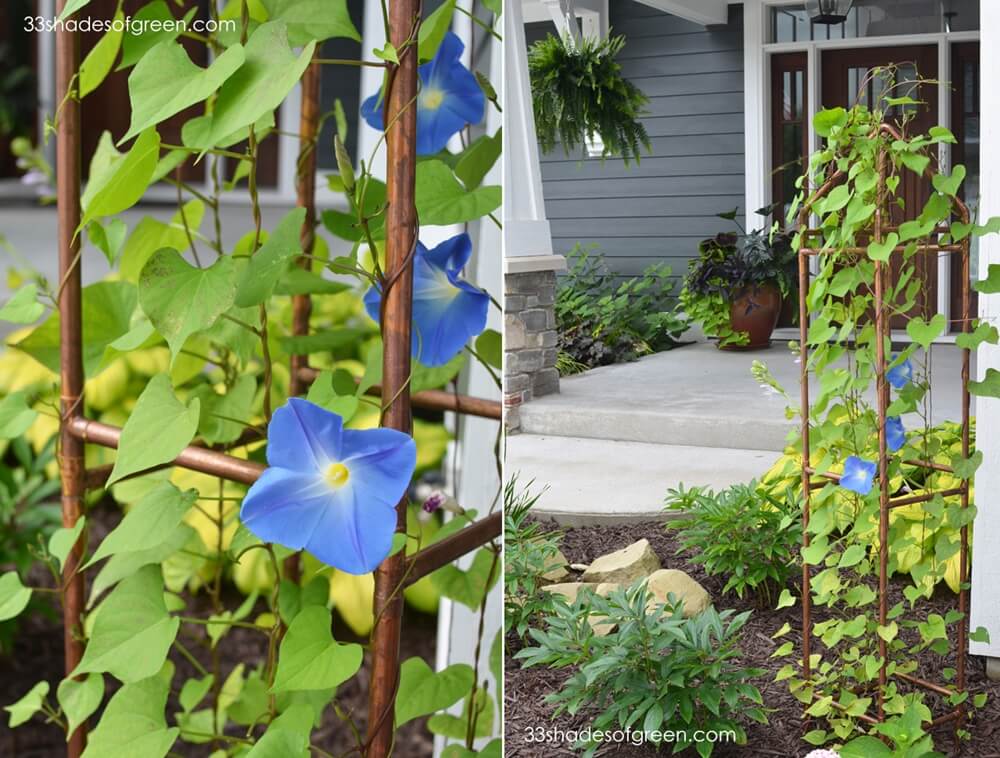 Looking for unique trellis ideas? Check out this No-Weld Copper Trellis that doesn't require welding skills to assemble.
Instead, you can use Gorilla Glue to put together the delicate copper pipes. As time passes, the copper will develop a beautiful pale green patina that will complement the vines beautifully once they start growing.
via: 33shadesofgreen.com
#11 Garden Teepee Trellis
Transform your outdoor space with a charming garden teepee crafted from branches – a versatile addition that can be enjoyed by all ages! Not only is it a perfect spot to relax and unwind, but it also serves as a practical cucumber trellis.
With its rustic and organic design, this teepee will add a touch of natural beauty to your garden while providing a functional support structure for your plants to climb.
via: serendipitylifegarden.wordpress.com    Tutorial: artfulparent.com
#12 Standing Plant Trellis
These garden trellis panels consist of two wooden frames joined by hinges, allowing for easy flat storage when not in use.
Their compact size makes them perfect for use in pots and containers, providing essential support for climbing plants.
via: carmenjohnstongardens.com
More details at:  wjowsa.com
#13 Enchanting arched trellis ideas
Are you searching for DIY garden arch ideas to add some charm to your outdoor space? A garden arch can bring a touch of whimsy to your garden while inviting you to explore the space with a childlike sense of wonder.
To create an attractive trellis design, why not try building a charming squash arch using garden wires and flexible branches? For a more malleable structure, opt for softer branches such as willow, which are easy to bend into the desired shape.
#14 Windowpane Trellis
Perfect for climbing plants in particular, simply getting a few open window frames with some wires, and you have a great garden option without nearly as much stress.
#15. Vine Ramp Trellis
By simply placing a few pieces of lumber over your current existing garden, you can create a secondary trellis option for your vines and climbing plants.
#16. Dish Drying Trellis
This trellis option looks like a dish drying rack! Setting it outside with a few strings for your plants to climb up is a great way to have a unique and stylish trellis option that still looks amazing.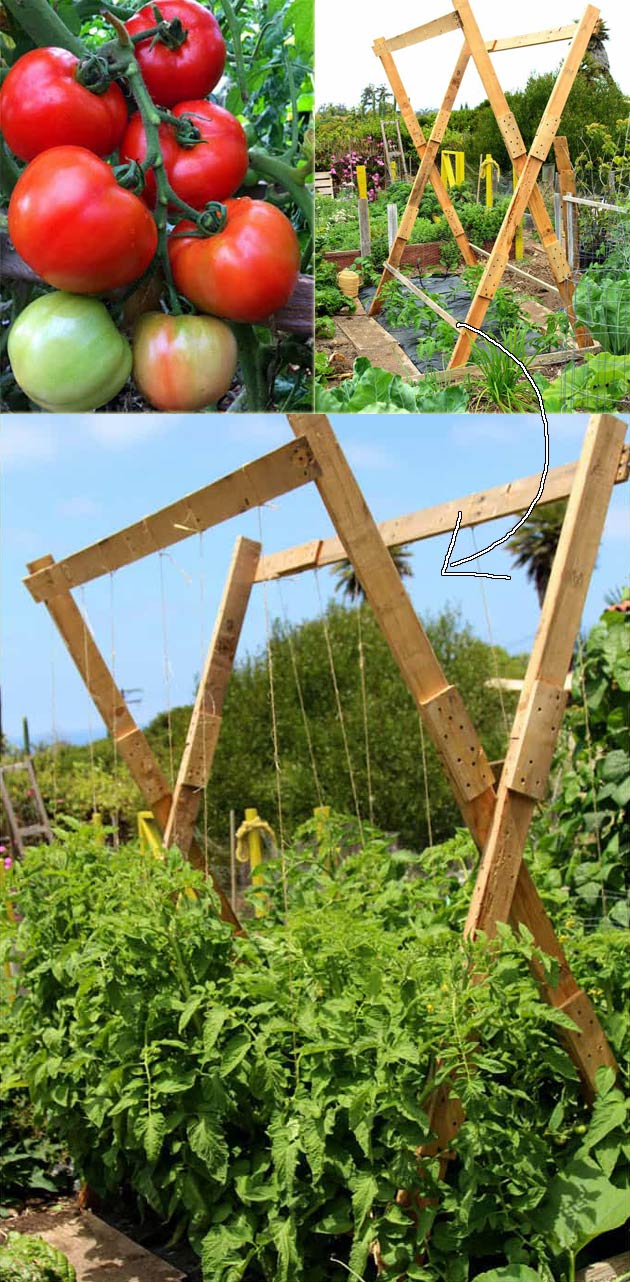 Tutorial: apieceofrainbow.com
#17. Archway Trellis
The Archway Trellis is something of a smaller version of the Entryway Trellis. If you have an existing garden, you can place it alongside it or actually within it all while allowing your beautiful climbing plants to move along its walls and roof.
#18 Twine Pea Trellis
Try making your own Easy and Cheap Garden Trellis using bamboo poles and twine. This simple DIY project is perfect for getting the kids involved in the garden. Start by constructing a frame using four bamboo poles joined together with twine. Then, run the twine up and down the frame, ensuring that it remains tight.
With a little encouragement, the pea tendrils will happily attach themselves to the twine, creating a beautiful natural display. This project is not only cost-effective, but also a fun and engaging way to teach children about gardening.
Tutorial: gardentherapy.ca
#19. Wooden Pillar Trellis
A tried and true staple, the wooden pillar trellis option has looked great since trellises were and an option and they still look great now. Simply plant a few climbers at the bottom and watch as they rise to the very top, giving your garden and yard a look that is very much one with nature.
via: thebeerspot.com
#20 Wire Wall Trellis
Do you believe that every brick wall deserves to be adorned with lush green vines? With some trellis design ideas, you can easily achieve this picturesque look.
Consider utilizing a wire trellis, which can be secured using masonry anchors, eye hooks, and cable wire, to provide a stable framework for your plants to grow and cover your brick wall beautifully.
#21 Chevron Lattice Trellis
A great DIY plant trellis idea is to use a chevron lattice design. This timeless pattern adds a touch of modernity to your garden, especially if you choose to spray paint the trellis black.
By attaching clay flower pots to the trellis with zip ties, you can create a beautiful and functional addition to your outdoor space.   via remodelaholic.com
#22. Hide-Away Drain Pipe Clematis Tower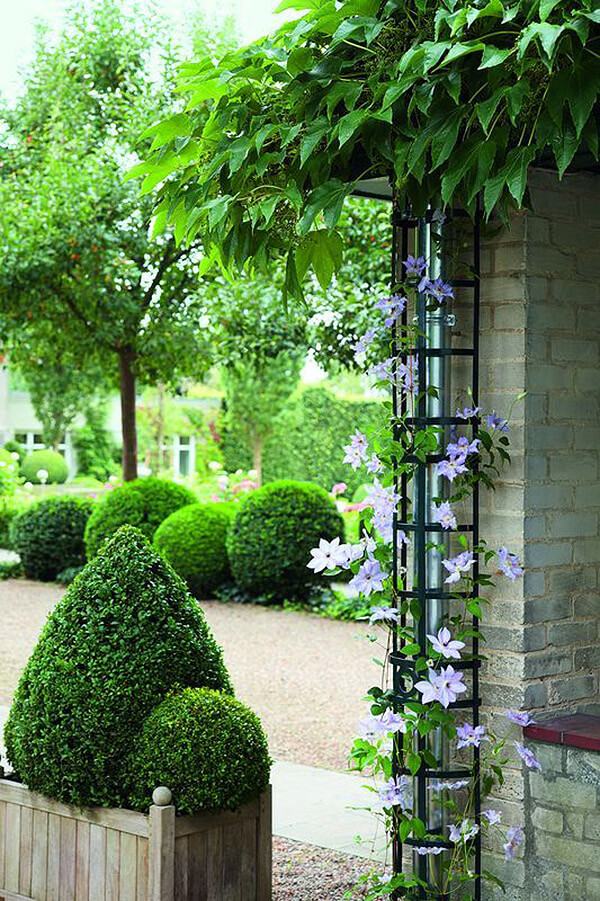 Tutorial: gardeningforlife.stfi.re
#23. Tall Wire Fencing is Perfect for Growing a Potato Tower
Source: alternative-energy-gardning.blogspot.com
#24. Wicker Garden Trellis
Tutorial: tallcloverfarm.com
#25. Wood and Wire Asymmetrical Flower Trellis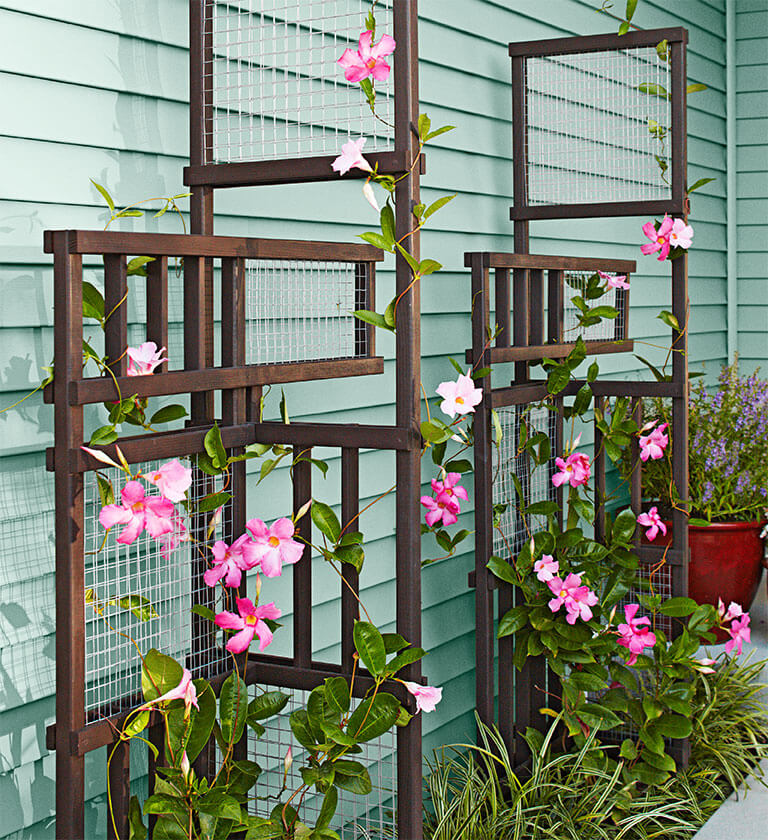 Tutorial: lowes.com
#26. Strong Ropes Trellis
Tutorial: dohiy.com
#27. Using Bamboo to Build a Garden Trellis Against The Wall
#28. BAMBOO TRELLIS WITH STRINGS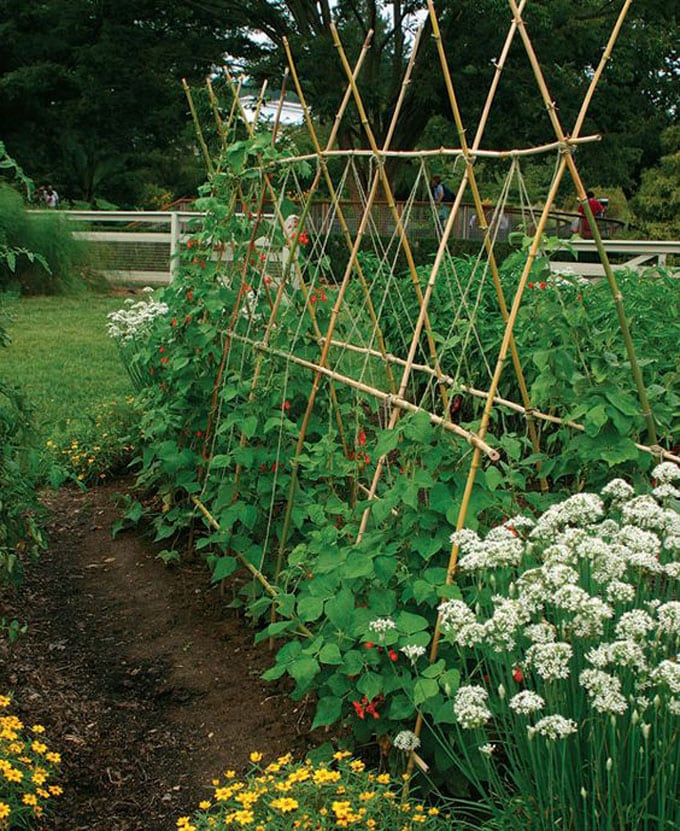 Source: Fine Gardening