22 Easy and Cheap DIY Garden Trellis Ideas You Should Try
As we officially move out of winter and enter into spring, many people are beginning the process of sprucing up their homes and gardens. With this year being what it is, it's even more important to consider beautifying your gardens and lawns for peace of mind and overall enjoyment of your home.
One of the best options for any garden or backyard is adding a trellis. This awesome gardening option will greatly support your many plants and vegetables throughout the season, making it much more vibrant and stunning as a result. Here, we have found 22 great garden trellis options that you can easily do yourself with only a few key materials. Check them out here down below!
1.Hexagonal Honeycomb Trellis
If you've been watching the tv series, Wandavision on Disney+, you know that the hexagon is a pretty cool and popular shape. While you won't be able to warp reality or use magic, your garden will look so great, people will think you did.
2.Barnyard Trellis
A super simple and easy option, simply by grabbing a few wooden pallets and a bit of glue, you can create a number of different trellis designs for your plants, each with a unique and interesting appeal to them.
via: onehundreddollarsamonth.com
3. Chickenwire Trellis
Great for climbing plants, this trellis option uses any type of sturdy string. While the options aren't very varied, it is very easy and can greatly improve the visual look of your backyard and garden overall.
via: flickr.com
4.Hanging Barrier Trellis
Perfect for protecting against animal interference while also keeping your plants growing in an enclosed space, this neat trellis option just requires two circular fixtures, a central stand, and a few wires over the sides.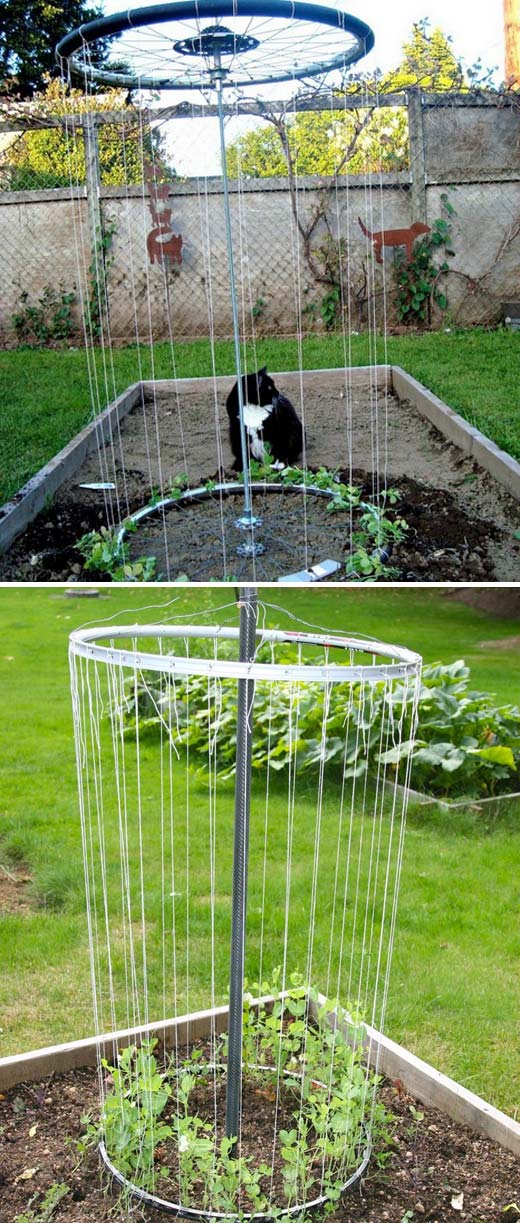 via: suitedtotheseasons.com        thefamilychapters.wordpress.com
5.Wooden Branch Trellis
Another super simple option that adds character and a great look to your garden, this trellis simply requires a few pieces of wood branches and a bit of string. You can use this for rising plants as well as a form of fencing barrier to keep plants in and others out, all while providing a rustic "barnyard" feel.
via: chickenscratchny.com
6.Metal Trellis
Simply requiring a few metal fixtures that are found around the house or any local metal junkyard, this great option is perfect for those looking to create a beautiful display of rising plants without all the hassle of using wood.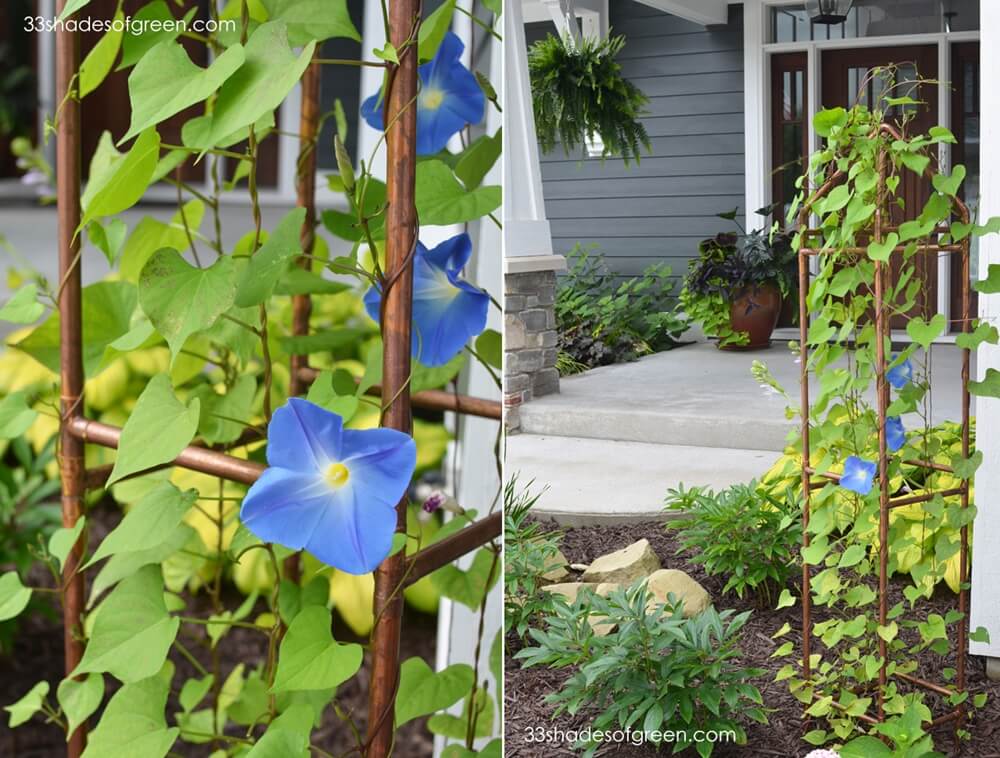 via: 33shadesofgreen.com
7. Enclosed Trellis Space
A very fun and beautiful option, by grabbing a few wooden branches and some string, you can create a small trellis enclosure that either grows within it or just outside of it.
via: serendipitylifegarden.wordpress.com    Tutorial: artfulparent.com
8.Standing Plant Trellis
Similar to the earlier wood pallet trellis option, by getting a few pieces of wood lumber, you can stand it up to make a visually exotic trellis that both holds plants underneath and allows them to climb up to the top of the planks.
via: carmenjohnstongardens.com
More details at:  wjowsa.com
9.Entryway Trellis
One of the more beautiful garden trellises on this list, albeit a requiring bit more work, this entryway option truly turns your yard into a potentially lush-looking garden found only in European homes and movies.
10. Windowpane Trellis
Perfect for climbing plants in particular, simply getting a few open window frames with some wires, and you have a great garden option without nearly as much stress.
11. Vine Ramp Trellis
By simply placing a few pieces of lumber over your current existing garden, you can create a secondary trellis option for your vines and climbing plants.
12. Dish Drying Trellis
This trellis option looks like a dish drying rack! Setting it outside with a few strings for your plants to climb up is a great way to have a unique and stylish trellis option that still looks amazing.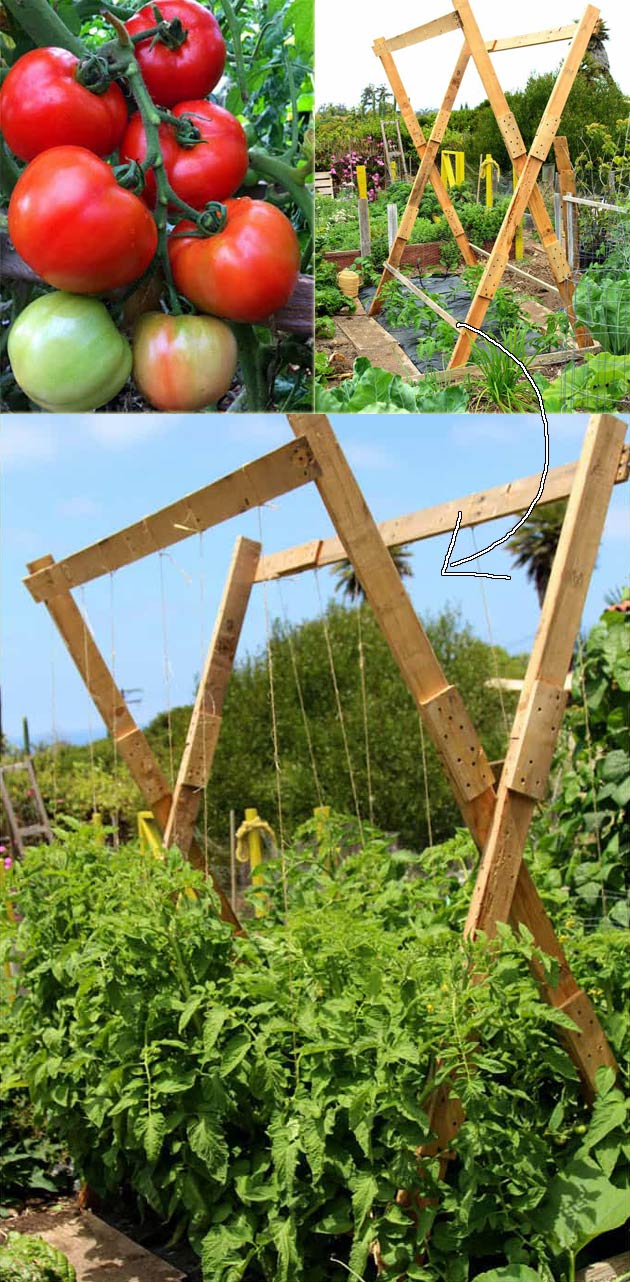 Tutorial: apieceofrainbow.com
13. Archway Trellis
The Archway Trellis is something of a smaller version of the Entryway Trellis. If you have an existing garden, you can place it alongside it or actually within it all while allowing your beautiful climbing plants to move along its walls and roof.
14. Clothes Loom Trellis
If #12 looked like a dish drying rack, this one looks like the start of a clothes loom from ancient times. Not only does it add an additional layer of uniqueness to your garden, but the many strings allow for numerous plants to rise and climb up, creating a beautiful appearance overall.
Tutorial: gardentherapy.ca
15. Wooden Pillar Trellis
A tried and true staple, the wooden pillar trellis option has looked great since trellises were and an option and they still look great now. Simply plant a few climbers at the bottom and watch as they rise to the very top, giving your garden and yard a look that is very much one with nature.
via: thebeerspot.com
16. Hide-Away Drain Pipe Clematis Tower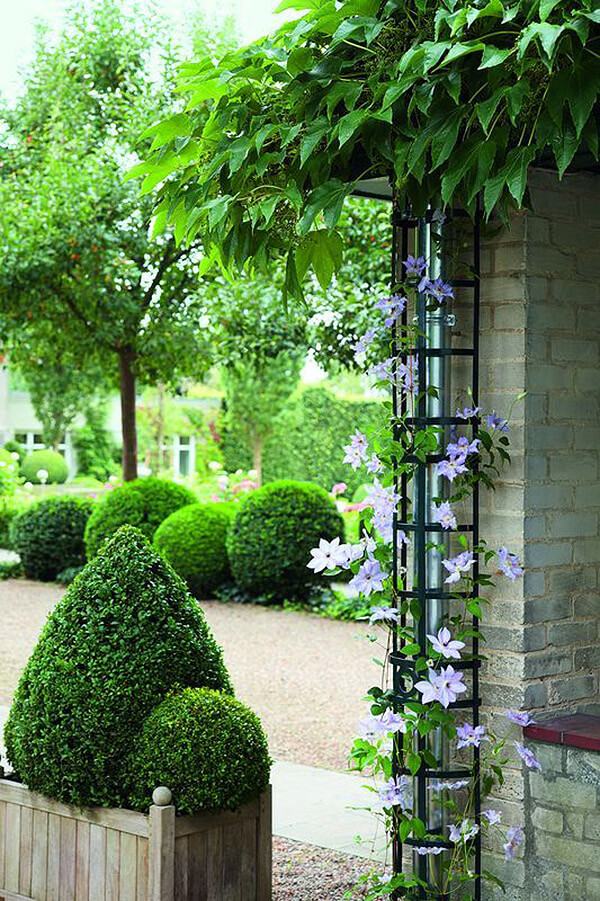 Tutorial: gardeningforlife.stfi.re
17. Tall Wire Fencing is Perfect for Growing a Potato Tower
Source: alternative-energy-gardning.blogspot.com
18. Wicker Garden Trellis
Tutorial: tallcloverfarm.com
19. Wood and Wire Asymmetrical Flower Trellis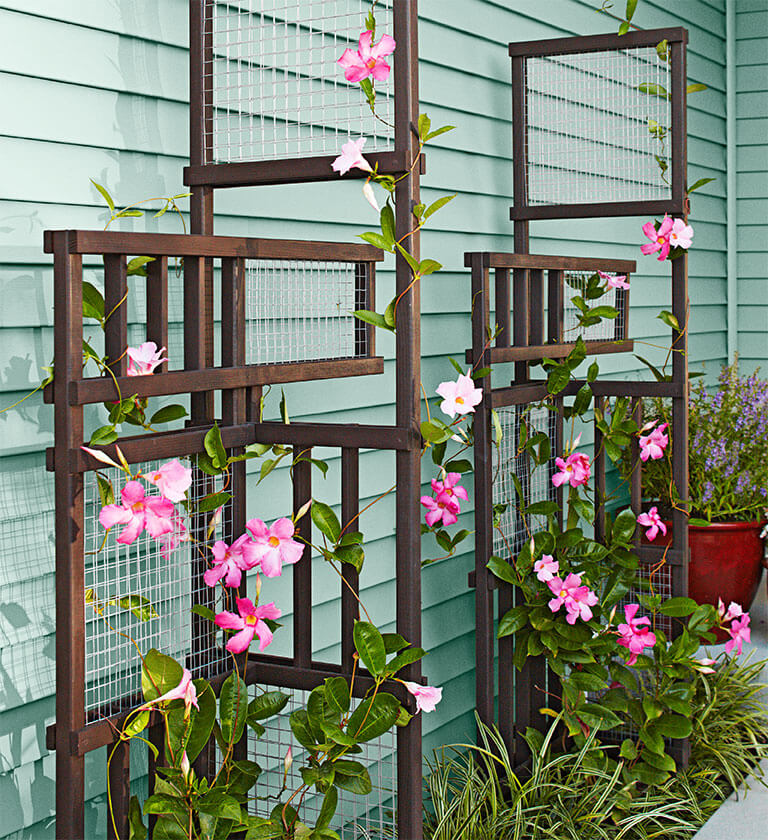 Tutorial: lowes.com
20. Strong Ropes Trellis
Tutorial: dohiy.com
21. Using Bamboo to Build a Garden Trellis Against The Wall
22. BAMBOO TRELLIS WITH STRINGS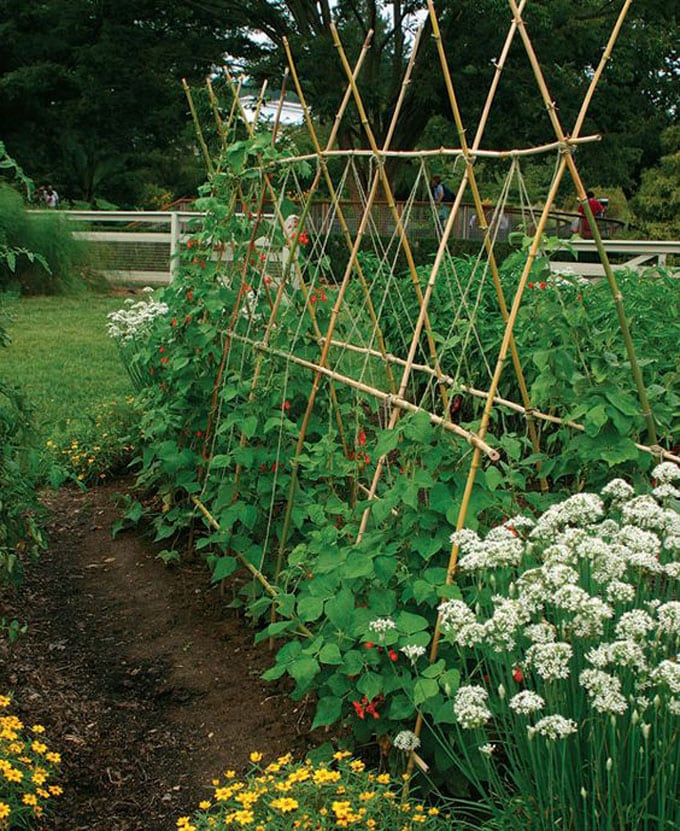 Source: Fine Gardening