How-to & 19 Ideas for Railway Sleepers Garden Edging
Railway sleepers are a versatile material for landscaping designs, and their greatest advantage is their ruggedness, as they have to bear enormous weight. Therefore, railway sleepers are ideal for garden edging, as they provide an easy and practical way to define the edge of your garden. Garden sleeper ideas are plentiful, and one popular option is to use railway sleeper edging.
By simply stacking sleepers on top of each other, you can create a sturdy border for your garden that will last for years. Sleepers also enhance your garden aesthetics. Reclaimed sleepers have a worn look that makes them perfect for a rustic style, while new ones are more suited to a contemporary scheme. No matter what your preference, incorporating railway sleeper garden edging into your outdoor design is a great way to enhance its visual appeal and create a beautiful contrast against the rest of your outdoor space.
(1) In this article, we will show you how to make a garden border with sleepers and explore various creative ways to use railway sleepers as edging in your garden:
#1 Railway sleeper steps
Image credit: @shetland_house
If you're looking for ideas for using railway sleepers in the garden, consider using them to build steps between terraced areas if you have a steeply sloping garden.
This solution not only looks tidy but also provides easy access to different levels, making it a practical and aesthetically pleasing addition to any garden. By incorporating railway sleepers into your garden design, you can transform even the most challenging terrain into a beautiful and functional outdoor space.
#2 Lay a railway sleepers path next to a raised bed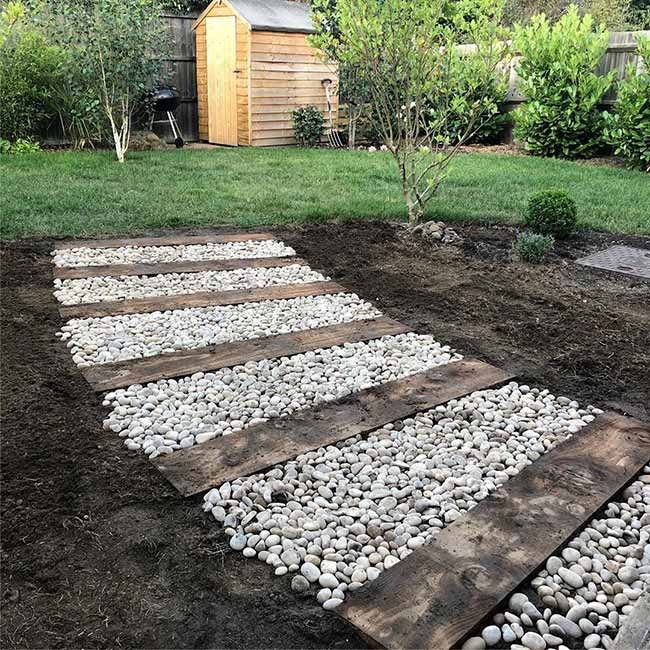 If you're seeking some innovative and charming railway sleepers garden ideas, why not consider building a walkway using railway sleepers and pebbles?
This, coupled with a raised bed made of railway sleepers, can create a beautiful and rustic woody aesthetic in your landscaping that is sure to impress your guests.
#3 Curved Raised Garden Bed with Railway Sleeper Edging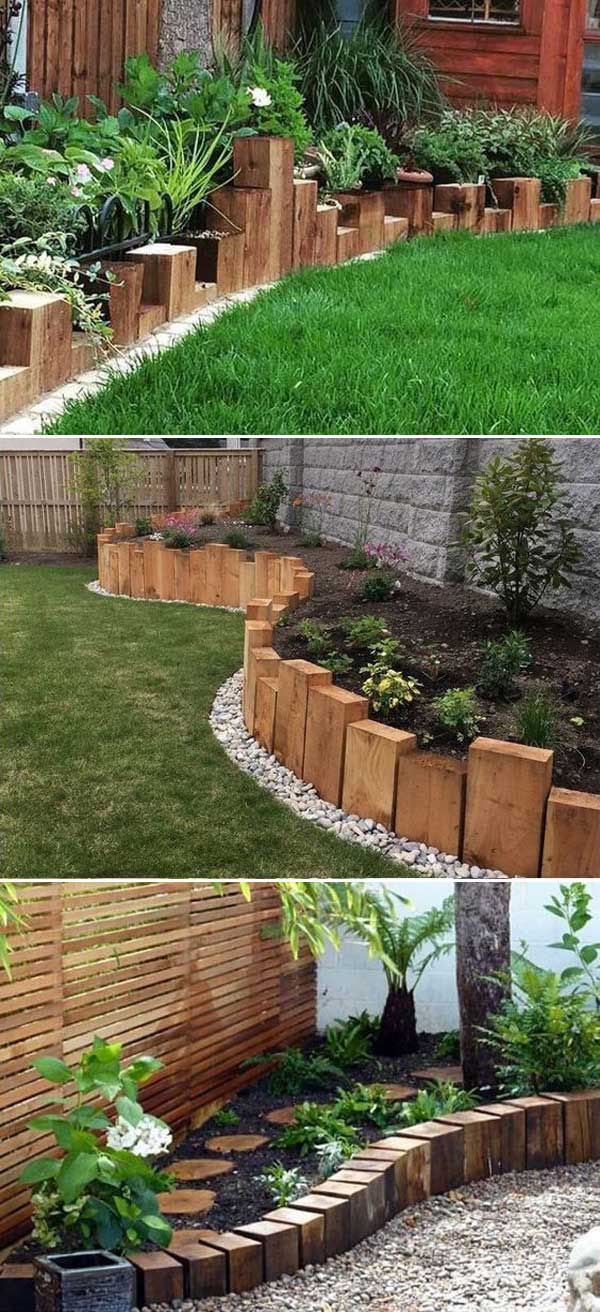 Railway sleepers are perfect for building a curved raised garden bed. Cut them into different lengths and insert them vertically into the ground. The natural wood highlights the garden area, creating a beautiful contrast with the rest of the yard.
#4 Railway Sleeper Lawn Edging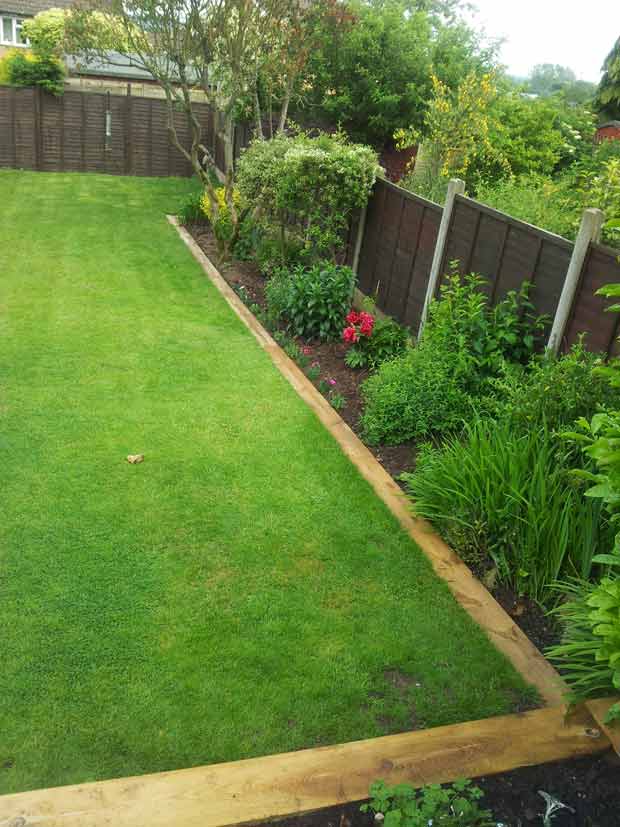 Adding a railway sleeper border between your lawn and flower bed will give your garden a crisp look. Simply sink the sleepers flat and level with the soil and grass. Image via: forum.gardenersworld.com
#5 Railway Sleepers Garden Bed With Built-in Bench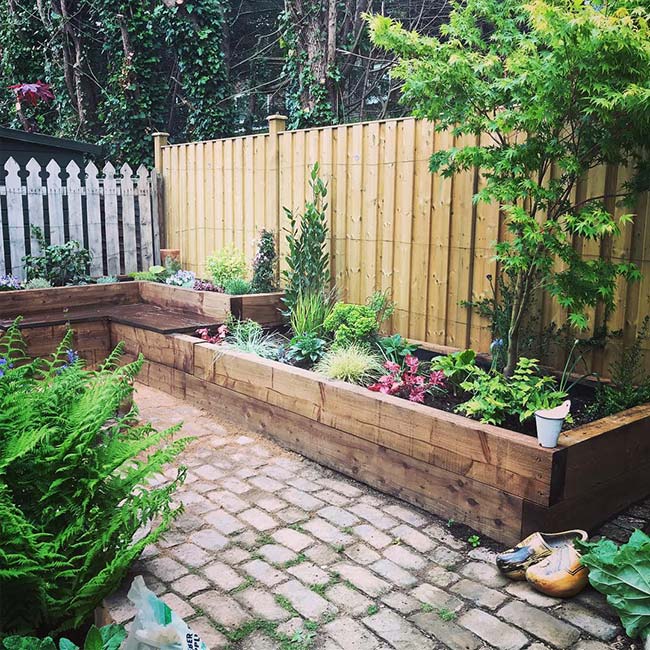 Source: @sandra7479 on Instagram
There is no better place outside than setting up a seating area near your flower bed. Building a railway sleepers garden edging provides you an opportunity to create a cozy outdoor bench. A built-in seat doubles as the flower bed border.
#6 Curved Railway Sleeper Seating Area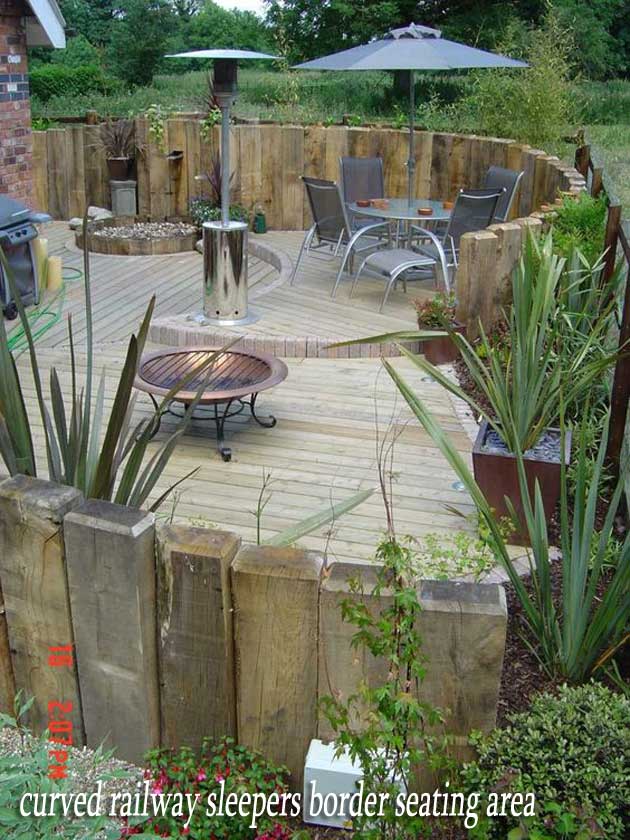 This seating area nestled within the garden is undeniably breathtaking, and the curved railway sleeper borders play a big role in making it so. The key to creating an eye-catching effect is to position each railway sleeper vertically and at different heights. Continue reading for more railway sleeper edging projects:
(2) Advantages and Disadvantages of Using Railway Sleepers
On the one hand, railway sleepers are extremely strong and durable, which is why they are one of the most popular materials for creating garden edging. They can withstand extreme climates, making them suitable for a variety of outdoor projects.
Using railway sleepers to create garden borders can easily achieve the desired height by simply stacking them. Additionally, railway sleepers can double as seats or steps, providing additional functionality. When it comes to cost, creating garden edging with railway sleepers is not particularly expensive compared to other options.
On the other hand, railway sleepers can be heavy and difficult to handle, and they may contain chemicals such as creosote that can be harmful to the environment. It's important to weigh these pros and cons carefully before deciding whether to use railway sleepers in your project.
(3) How To Lay Sleepers for Garden Edging
Required Tools and Materials:
Spirit Level
Hammer
Saw
Sleeper screws or brackets
Screwdriver
Laying down sleepers for garden edging is a simple DIY project. The first step is to outline the edges where you will lay the sleepers. Next, dig a shallow trench. Then mix up some lean mortar to use as a concrete base and haunching.
Alternatively, you can use gravel or sand, which are great for drainage. While one or two layers of sleepers are usually sufficient to divide your flower beds and other parts of the garden, you can simply stack more sleepers on top of each other to create a higher edging.
How to lay garden sleepers? Here are five steps to effectively lay garden sleepers for a long-lasting finished look. (1) clear the area of vegetation and debris. (2) fix the sleepers into position either by digging a shallow trench or using wooden posts or spikes. (3) For structures more than one sleeper high, stack and overlap them, using a spirit level to ensure evenness. (4) connect the sleepers together using steel rod pins, landscaping screws, metal plates, or corner braces for stability. (5) sand off any sharp splinters and apply varnish or wood paint for a desired finish.
(4 ) Tips for Choosing Railway Sleepers
(1) Reclaimed Railway Sleepers:
Reclaimed sleepers have a worn appearance, which makes them ideal for achieving a traditional rustic look. Most gardeners love to use genuine reclaimed railroad ties. However, the problem with many reclaimed sleepers is that they have been treated with a chemical called creosote.
The Environmental Protection Agency (EPA) considers creosote to be a toxic chemical. If you choose to use reclaimed sleepers, you will need to treat and seal them to prevent the creosote from leaking into your soil and affecting the health of your plants. Urethane can be used to seal old railroad ties.
(2) Treated Timber Garden Railway Sleepers:
If you only have new railway sleepers but want to create a vintage aesthetic, you can consider treating them with stain and lacquer.
Below we continue to introduce the amazing creative projects of sleepers garden edging:
#7 Garden pond edging
Image credit: @suregreenltd
Railway sleepers are versatile for garden design, serving as both garden bed and garden pond edging. To create a clean look, you can line your current pond or construct a new one with garden sleepers. Stack and fasten the sleepers, seal the inside, and line it with your preferred material. Add water, plants, and fish for a beautiful and functional pond. Enjoy! This method is an efficient way to achieve a cohesive garden design.
#7 Geometric Shaped Railroad Ties Edging
If you want to try a different design instead of the typical rectangular shape, you could arrange the railway sleepers in several triangular sections. It is not a very difficult arrangement, but it will create a stunning look and grab attention.
#8 Slope Yard and Railway Sleeper Borders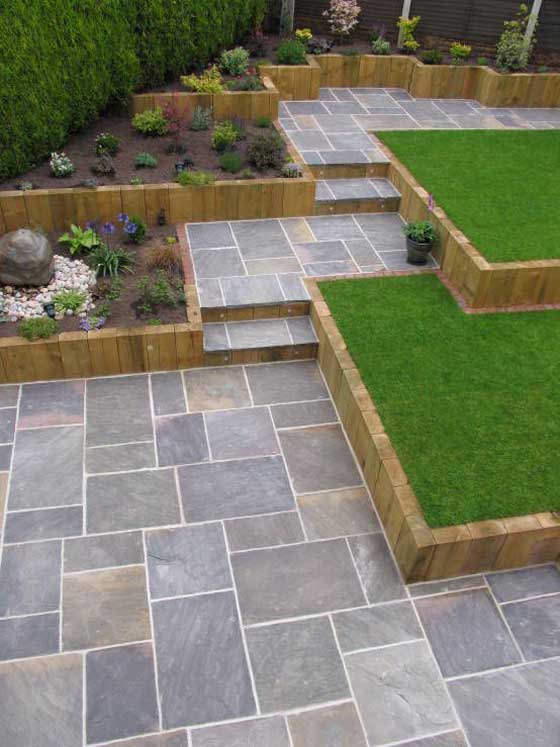 A design like this is perfect for a small, sloped yard. You would appreciate the impact that this staggered garden has. The most amazing thing is that the design creates a striking contrast between the lawn sections and the paving and railway sleeper borders. Image via: homify.co.uk
9. Railroad Ties Stepped Border
Railway sleepers are a great way to build a retaining wall for your yard, and they also double as a border between your lawn and the rest of the yard. Additionally, you can add a small set of steps for your convenience.
10. One of the Garden Sleepers Ideas for Your Raised Garden Bed
Railway sleepers are a common material that can be used to make a raised garden bed. Simply stack the sleepers on top of each other to get the flower or vegetable bed to the ideal height. Avoid using old railroad ties treated with creosote, which could harm plants.
11. Multi-level Flower Bed Created with sleeper borders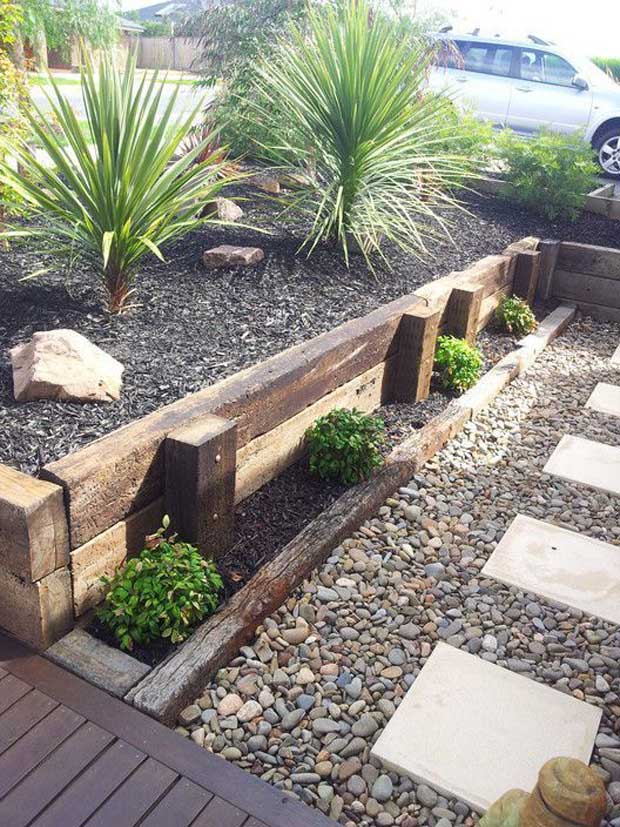 A lower flower bed, combined with the main bed, can greatly add aesthetic value to your landscaping. Railway sleepers can also be used as a border between the walkway and the garden bed.
12. Tiered Railway Sleeper Stairway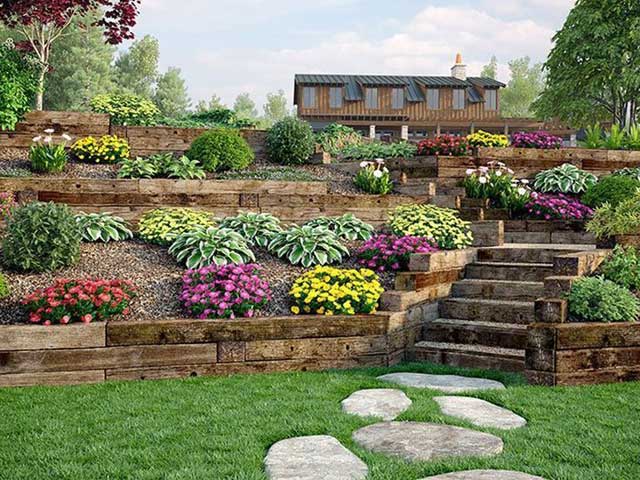 Have a slope in your yard? Turn it into a three-tiered garden with the help of railway sleepers. They are a brilliant way to delineate sections and create depth. The natural wood adds aesthetic value to the scene without detracting from the beauty of flowers and other plants. Moreover, the sleepers easily form a stunning stairway all the way to the top of your yard..
13. Treated Old Flower Bed Border
Railway sleepers that have undergone an aged treatment can create more aesthetic appeal. Treating the wood will keep it protected, ensuring that it can be the pride and joy of your garden for years to come.
14. Dark Wood Decorative Borders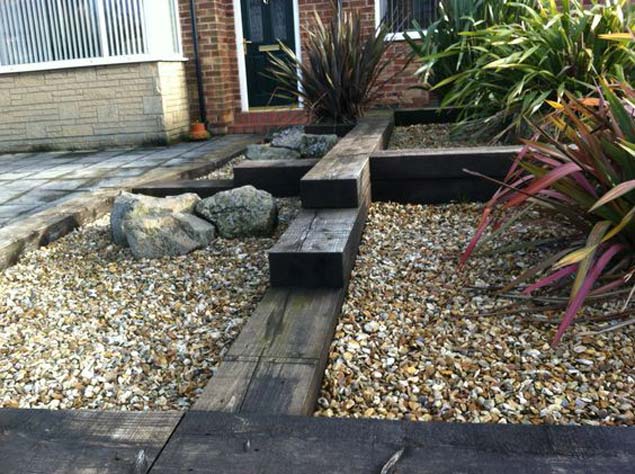 Railway sleepers can be used to create interesting borders for landscaping too! Dark wood like this blends perfectly with their surrounding plants and river rocks.
15. Neat Flower Bed Edging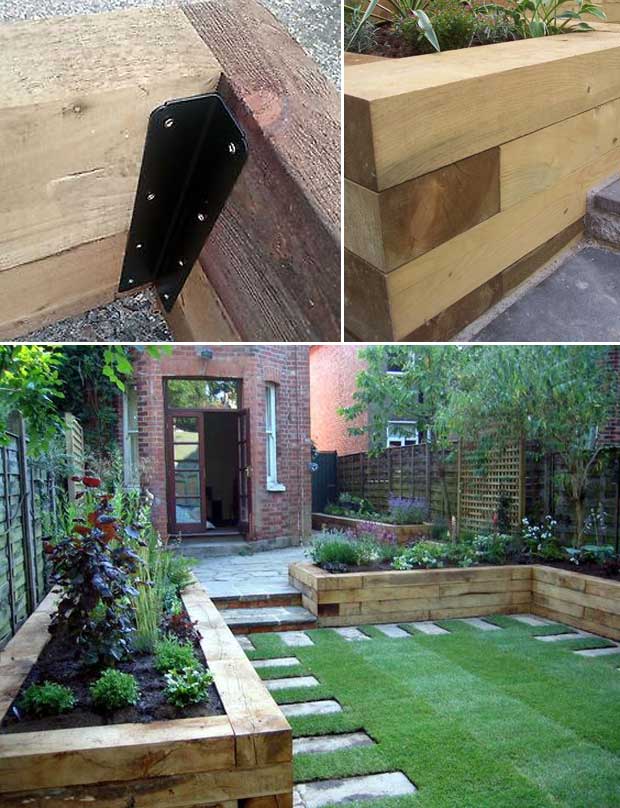 The coolest thing about using railway sleepers as edging is that they can be stacked to attain the desired height of your flower bed. While a neat and orderly flower bed edging may seem simple in design, it can complement any garden design.