21 Awesome DIY Fall Decoration Ideas for Your Garden and Yard
Fall means cooler temperatures, crisper air and warm hues. It is one of the most exciting seasons, and all the streets will turn yellow, orange, and red. Autumn is also a celebration of a successful summer growing season. Seasonal colors and bountiful harvests are our inspiration for the outdoor fall decor.
Your garden, yard or porch has enough space to use big items like barrels, large planters and giant pumpkins, so, you can make stunning fall decorations with them, and they are sure to attract the eyes of your guests.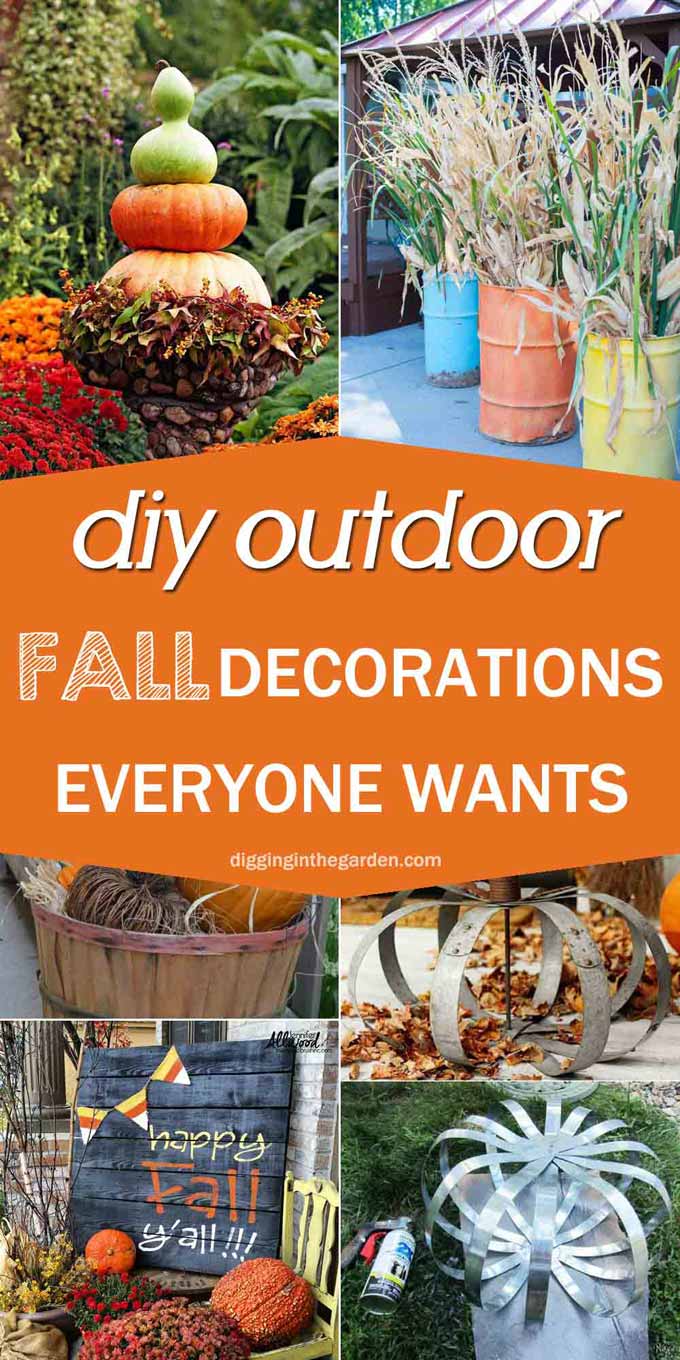 Pumpkins, gourds and hay bales are the standard harvest season decorations. People love to bring all of this together in charming arrangements in their yards and gardens, and on front porches. This is very easy to complete and all you have to do is use your creativity.
Besides that, there are so many natural things and reclaimed items that you can use in your outdoor fall decorating, such as leaves, corn stalks, wheelbarrow, reclaimed wood, burlap, and more. You can use them to add a bit of charm to the area around your mailbox or create a focal point for your garden.
If you're as ready for fall as I am, it's time to prepare some DIY fall decorating projects. There is no better way than by welcoming autumn with a few charming DIY outdoor decor elements. In this guide, we are going to take a look at 21 easy and cheap DIY decorations for your fall garden and yard, and hopefully, they will meet your needs and increase your curb appeal.
21. Spray paint barrels in different colors and fill them with some corn stalks and cattails to create these darling Fall barrels that also provide privacy for your porch:
Image via: allthingsthrifty.com
20. Arrange your favorite autumn flower pots along your front steps and add a little spice using some small pumpkins: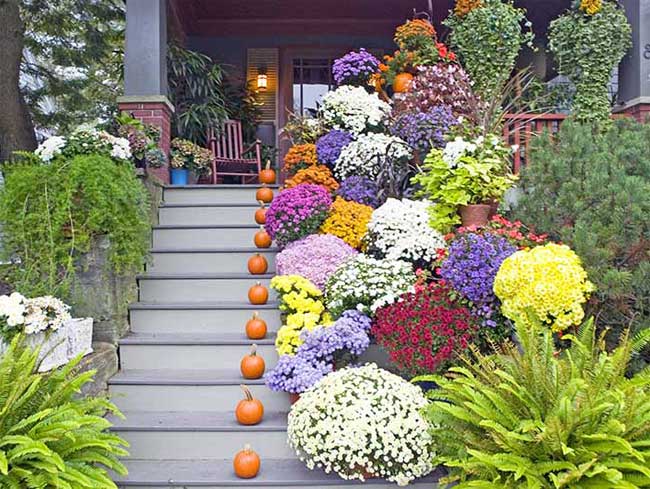 Image via: gardenerspath.com
19. Add fall spirit to your home's exterior with these easy DIY house number pumpkins: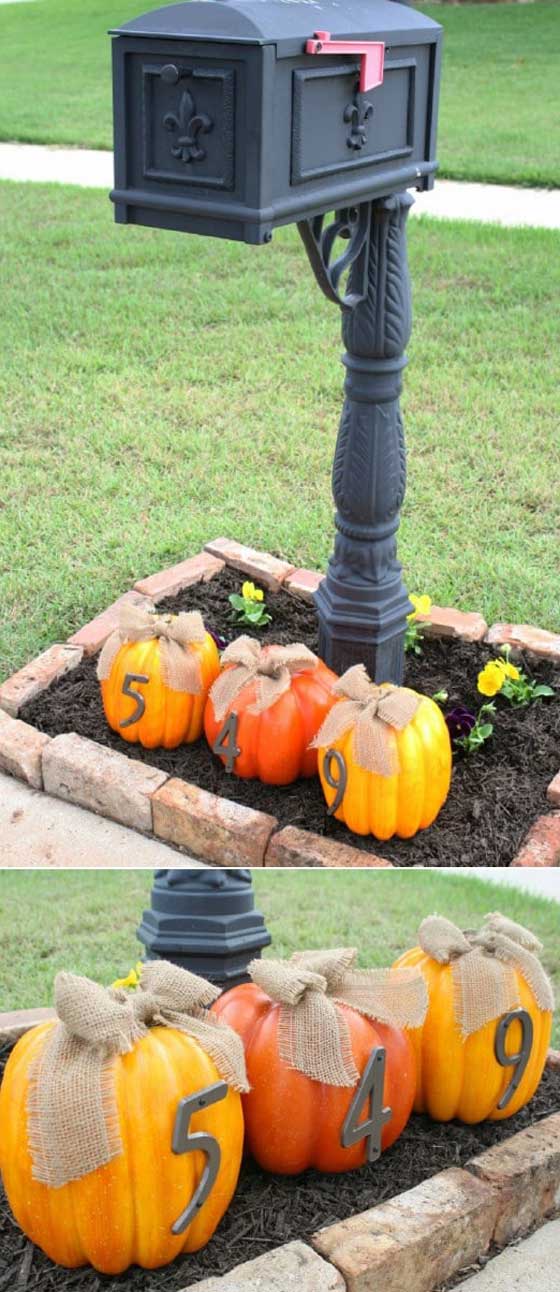 Tutorial: adiamondinthestuff.com
18. As your summer flowers and plants start to fade, replace them with Fall ones like mums, pansies, and kale:
Source: WooHome.com
17. Decorate front yard lamp poles with corn stalks: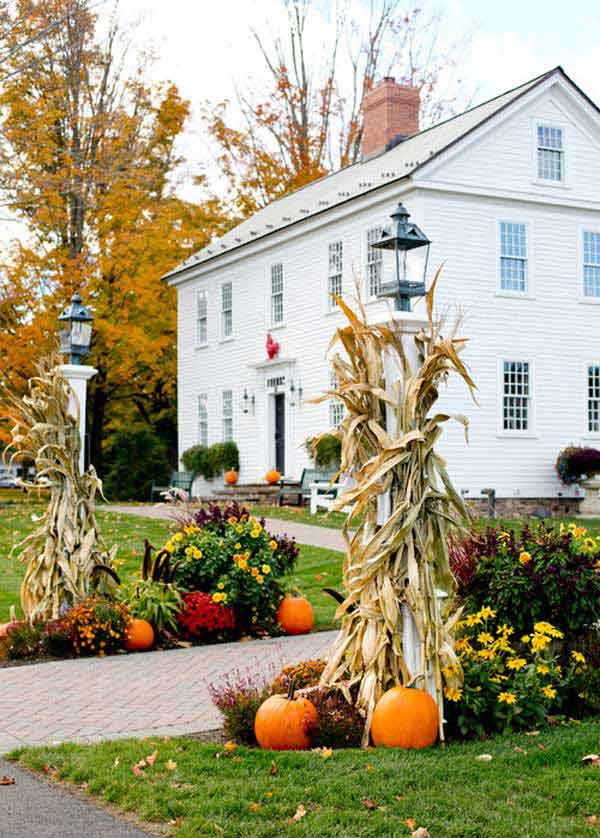 Imgage via: houzz.com
16. Make charming arrangements on your front porch by your harvested pumpkins, winter squash, and gourds:
Image via: gardenerspath.com
15. Make a couple of Pumpkin Scarecrows to adorn your garden for fall:
Tutorial: simplyprim.blogspot.com
14. To build a focal point for a Fall garden, you just need pumpkins, a wheelbarrow and some seasonally colored flowers or foliage, and then arrange them around a garden tree or lamp post in a fun way: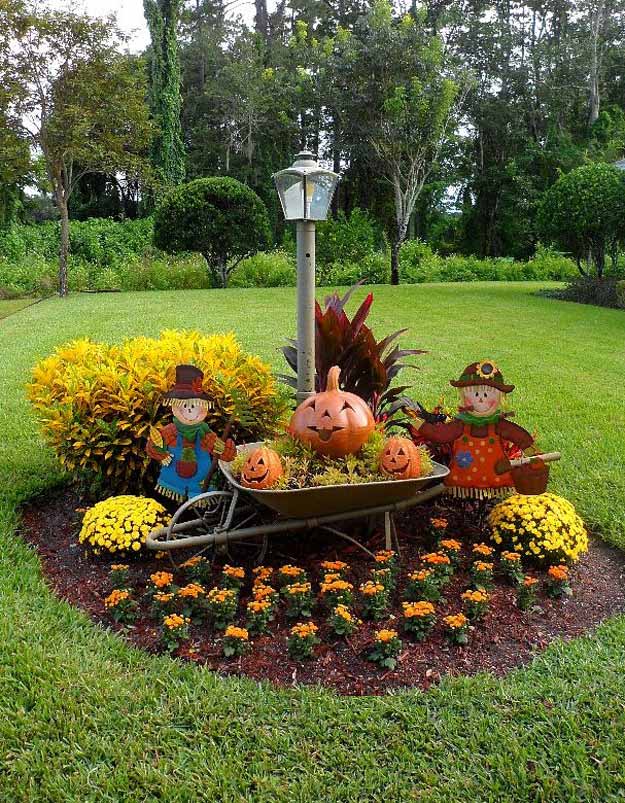 Image via: theseasonalhome.com
13. Cut the metal strap in strips of the same size and then work them into a pumpkin:
Tutorial: thenavagepatch.com
12. Wrap plastic baskets with burlap to make some hanging planters filled with your favorite Fall flowers:
Tutorial: hometalk.com
11. Paint an old pallet and then add your fall message on it: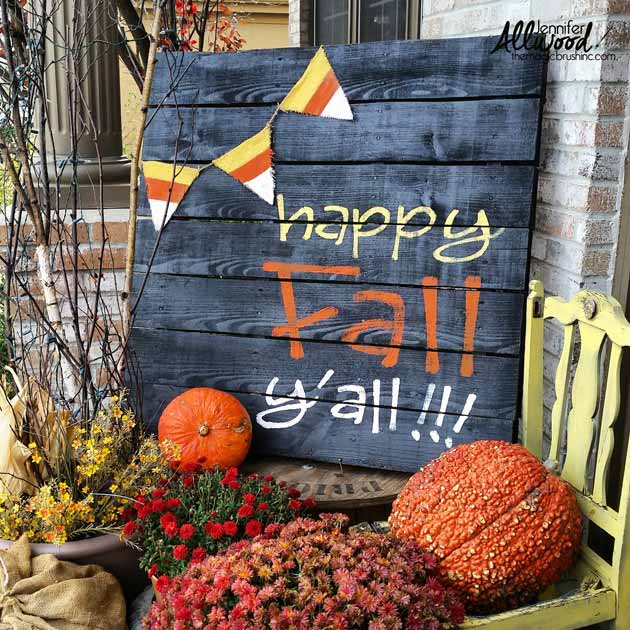 Tutorial: jenniferallwoodhome.com
10. Stack pumpkins and gourds in a fun way for a stunning outdoor showpiece: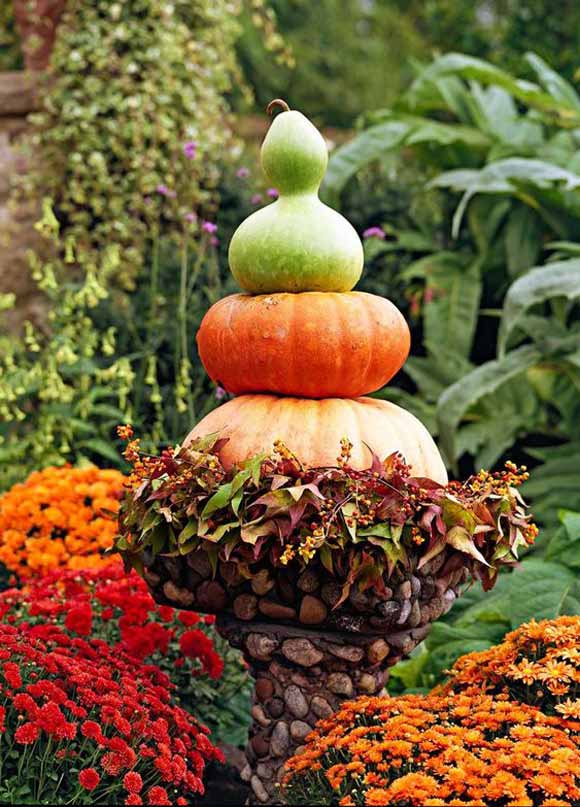 9. The addtion of these metal lanterns greatly highlight this beautiful autumn display: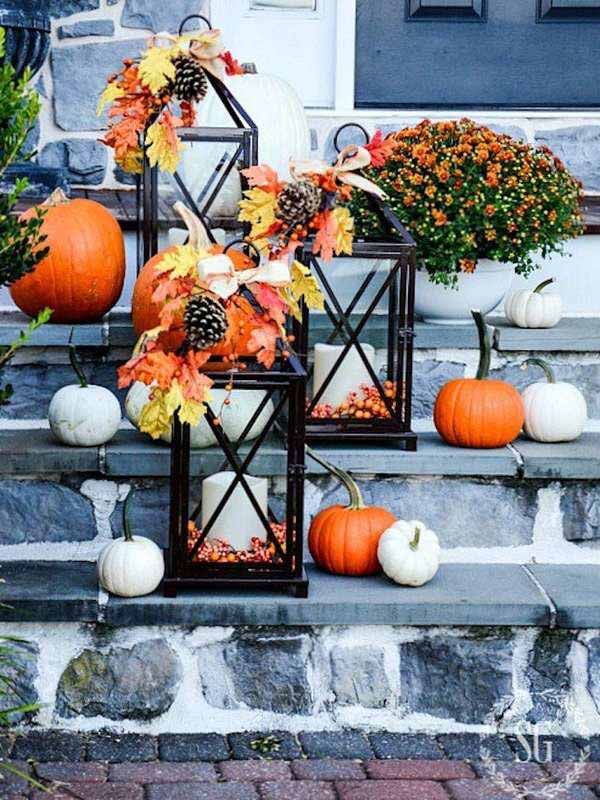 Image via: bobvila.com
8. DIY Bushel Basket Tiered Planter is perfect for displaying your mums or even a collection of pumpkins and gourds in your yard: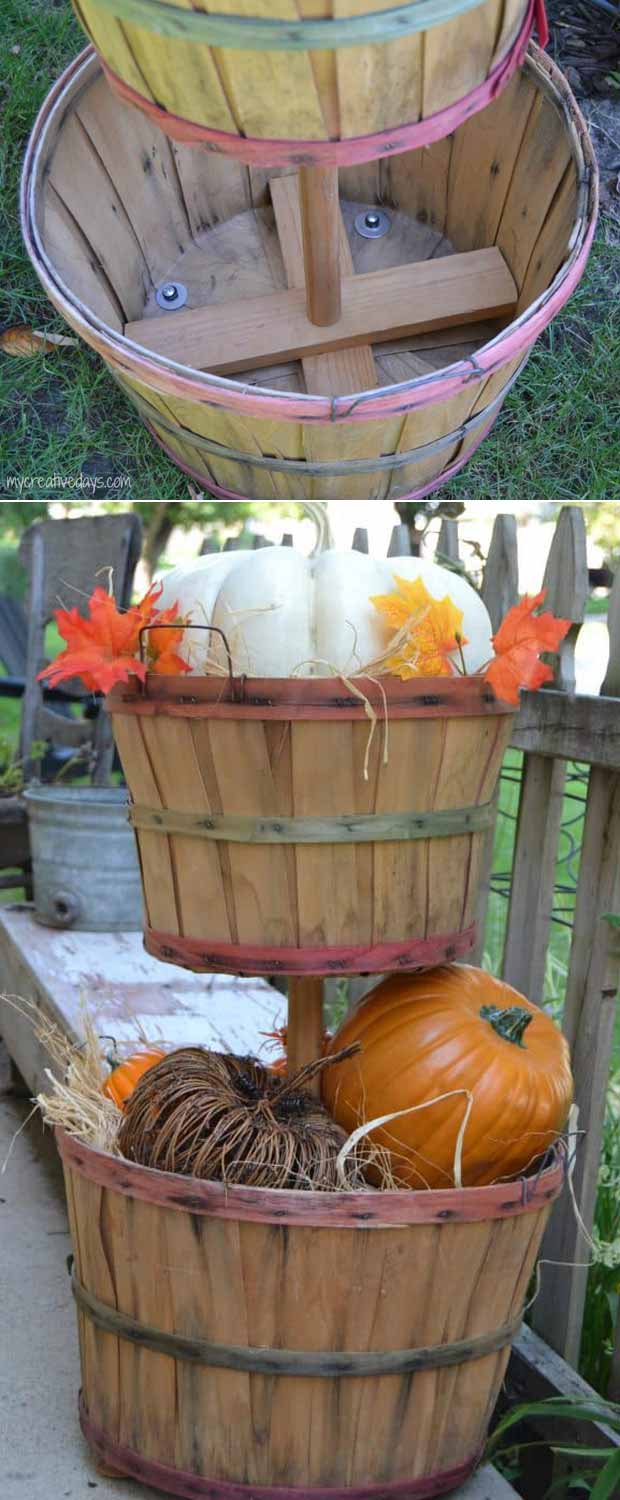 Tutorial: mycreativedays.porch.com
7. Decorate garden carts and wheelbarrows for Fall: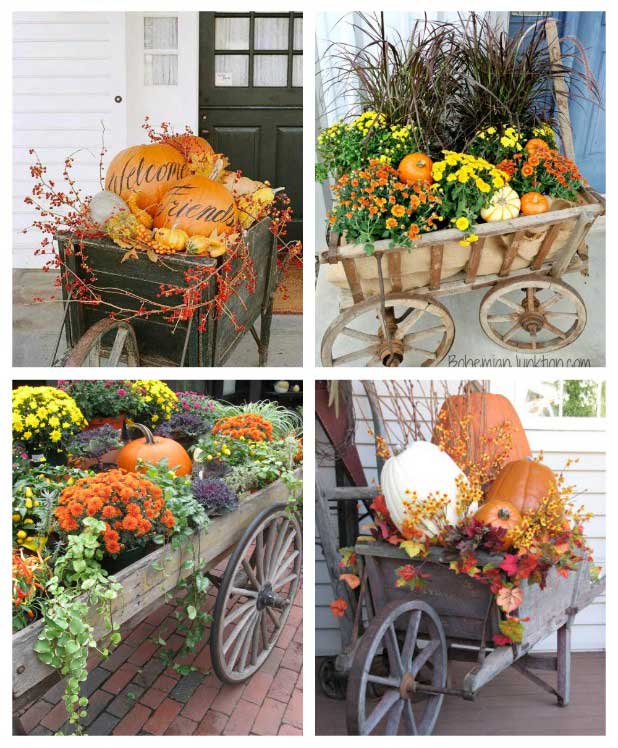 Image via: creativecaincabin.com
6. Add dimension to your front porch decor with a tiered shelf to hold decorations:
Image via: livelaughrowe.com
5. DIY pumpkins as planters to display autumn plants:
Image via: 17apart.com
4. Dress up your mailbox in fall style with several corn stalks and then add in small pumpkins for color and may be even a raffia bow: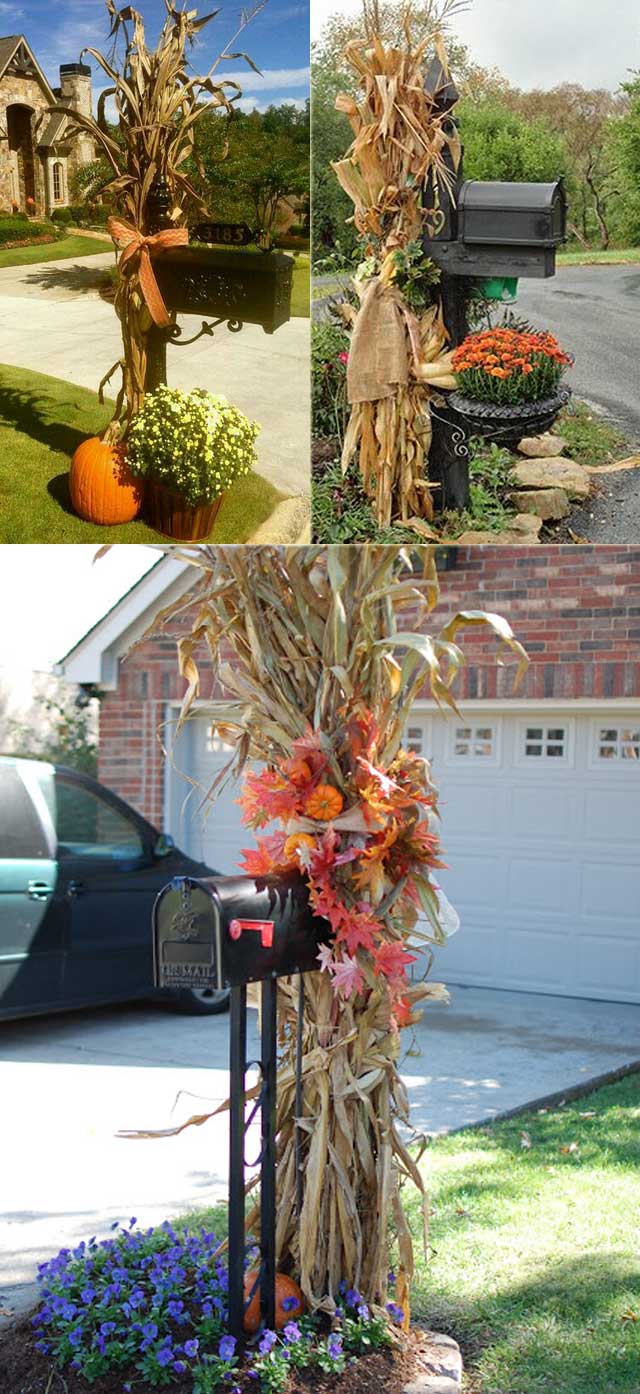 Image via: myamazeingjourney.com
3. Simply stack a few straw haystack around a garden tree, then add some fall decorations:
2. Make these cute marquee light pumpkins to spell out whatever you want to spell, such as the word 'Fall':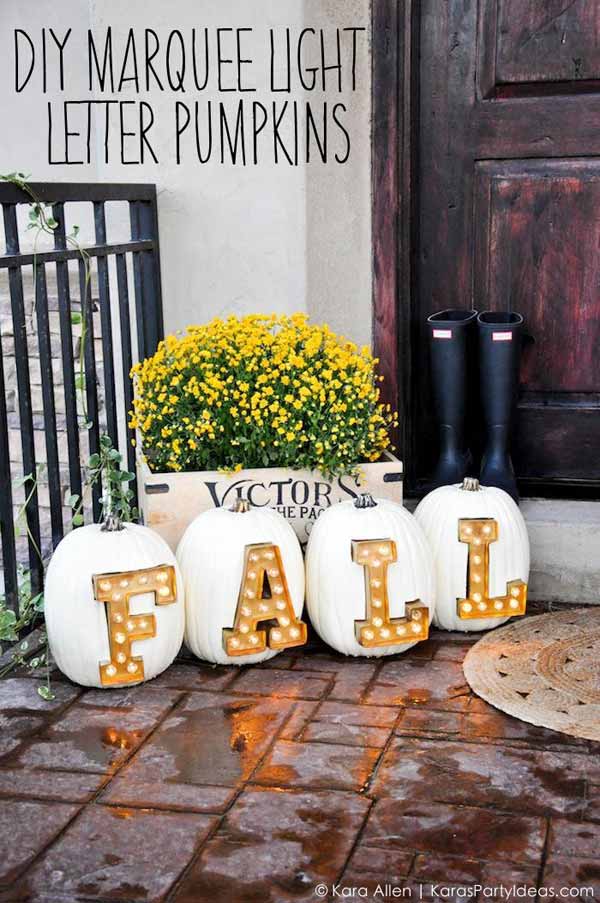 Tutorial: karaspartyideas.com
1. HARVEST Barnwood sign for fall – simply paint a reclaimed board orange and then use white acrylic paint to stencil the letters on it: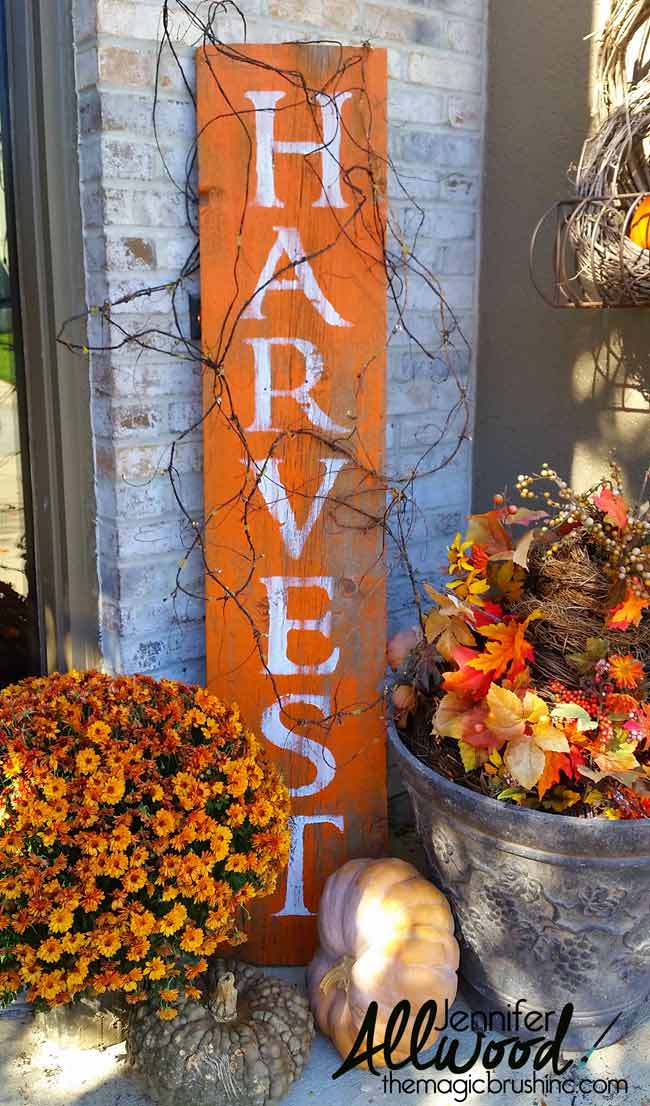 Tutorial: jenniferallwoodhome.com