21 Cool and Inspiring Benches Around Trees
Adding some seating can greatly enhance your outdoor experience, and one simple way to achieve this is by building a bench around a tree. If you have trees in your garden or yard, why not consider constructing a bench around one of them? A tree bench not only adds visual appeal to your outdoor space but also provides ample seating. This concept of tree benches is an excellent way to preserve the tree while creating functional seating areas, and it showcases how a beautiful bench can coexist harmoniously with nature.
A tree bench provides a comfortable place to relax and enjoy the beautiful weather and scenery. It also encourages you and your family to spend more time outside under the tree's natural shade. Creating your own DIY tree bench seat is not difficult, as even those with basic carpentry skills can construct one. All you need is some creativity and the right tools. Check out some creative picture ideas below and get started on your own tree bench project.
1. Bricks are a perfect material for building a beautiful seating area around a tree: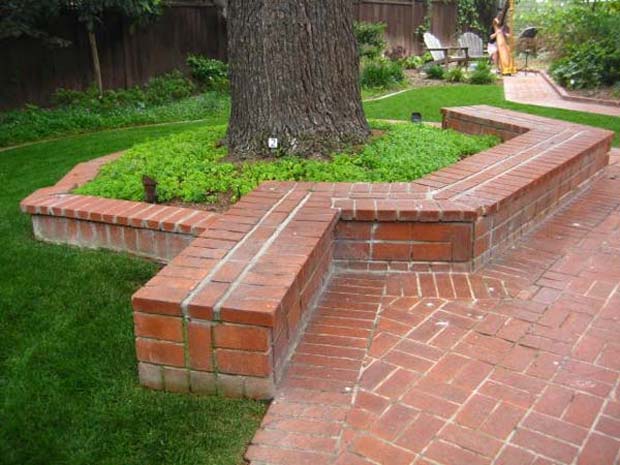 Bricks are an ideal choice for crafting a durable and long-lasting seating area that can withstand the elements and add a touch of rustic charm to your backyard or garden.
Some tree bench ideas to consider include using bricks to create a circular or hexagonal shape around the tree trunk, adding a backrest for extra support and comfort, and incorporating cushions or pillows to make the seating area even more inviting. With a bit of creativity and effort, a brick tree bench can become a beautiful and functional addition to your outdoor living space. Image via: landscapingnetwork.com
Tree Trunk Bench with a Built-in Flower Bed:
Source: 231designs.com
You could maximize the area by creating a flower bed on your tree bench, either by leaving a larger gap in the center and filling it with soil and mulch. It's a great way to utilize the space!
2. Curved wooden bench surrounded by trees: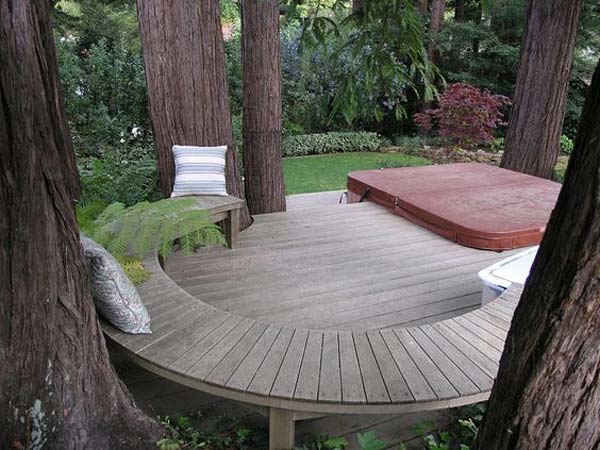 A wooden tree bench can be a lovely addition to any outdoor space, providing a comfortable place to relax and enjoy the natural surroundings. A curved design can be particularly appealing, as it can complement the organic shapes of the trees and create a feeling of harmony with the environment.
Surrounding the bench with trees can further enhance this effect, providing shade and privacy while adding to the overall aesthetic. When choosing a wooden tree bench, be sure to select a durable and weather-resistant wood such as cedar or teak, and consider adding cushions or pillows for added comfort.
With the right design and materials, a curved wooden bench surrounded by trees can become a beautiful and inviting centerpiece of your outdoor living area.
3. Wooden chairs were integrated into the design of the tree benches, providing additional seating options:
This is an easy do-it-yourself project that also promotes sustainability by reusing old chairs. If you have extra kitchen or dining room chairs lying around, don't toss them! Instead, you can give them a fresh coat of paint, such as a classic white or a vibrant hue for a fun twist.
Then, simply follow the provided assembly instructions to create a unique and stylish round tree bench. This project is perfect for beginners and won't take up too much of your time. Start searching for six used high back chairs and get ready to transform them into a beautiful and functional outdoor tree bench. Via: fabartdiy.com
4. The seat is created using river rocks and stone:
5. Semicircle Tree Bench:
For a unique look, skip the wrap-around approach and opt for a half-circle bench, especially if wrapping the bench all the way around the tree isn't an option.  Image via: foreverredwood.com
6. Cover the soft cushions on the metal frame of your tree bench:
7. Use cedar to create a hexagonal seating around your favorite tree: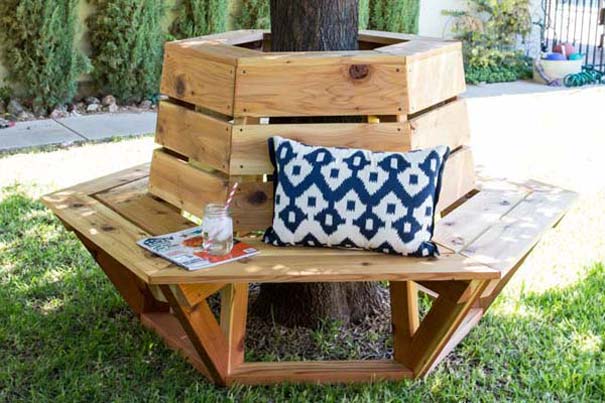 This luxurious hexagon cedar bench with a Redwood base and Cedar seat and back, from addicted2diy.com, is a beautiful wrap around tree bench. The project is challenging, with many angle cuts, making it unsuitable for beginners.
However, there are detailed plans and instructional videos available for medium-level DIYers to follow. With a pot of flowering plants on top, this bench makes a stunning addition to any garden.
Tutorial: addicted2diy.com
8. Create a raised wooden platform and install a bench between trees:
9. Wicker and tree branches are natural materials to make benches for use around trees:
Natural materials like wicker and tree branches are not only eco-friendly, but also durable and long-lasting, making them a great choice for constructing circular tree benches.
These benches are often used in parks, gardens, and other public spaces, as they provide a relaxing and comfortable seating area for visitors to enjoy. They also serve as a focal point for the surrounding landscape, adding a touch of natural beauty to the area.
Image via: wwwrockrose.blogspot.com
10. Use cinder blocks to support a wooden seating area:
Image via: homeli.co.uk
11. How to build Hexagonal Tree Benches: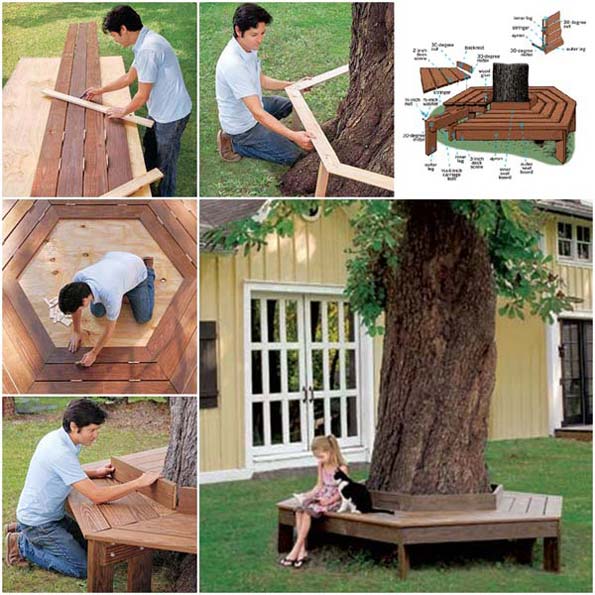 Tutorial: thisoldhouse.com
This tree bench is made from an old wood fence: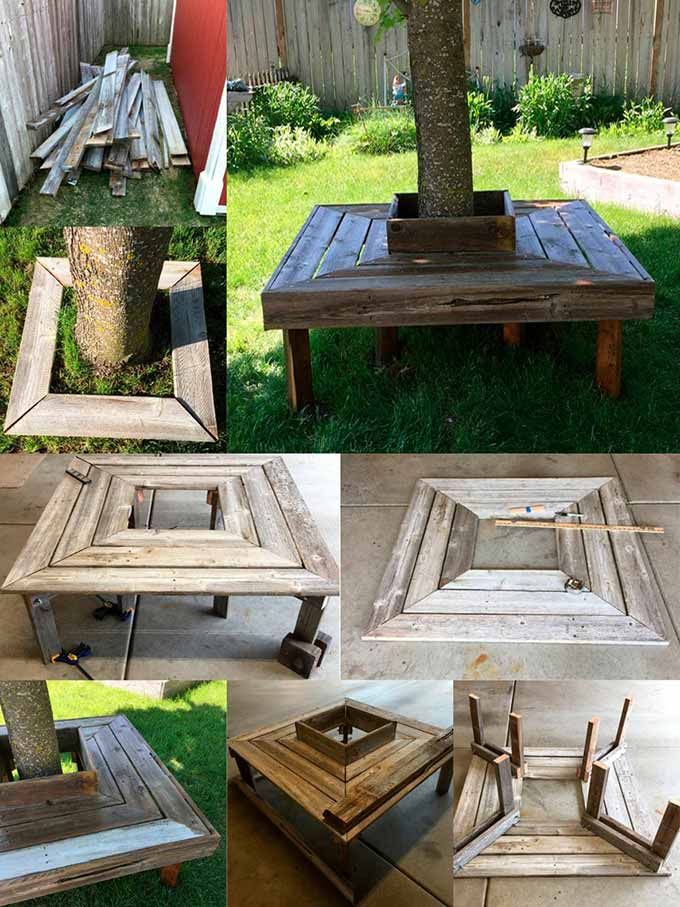 Tutorial: hometalk.com
12. Build a large planter and a cozy bench with reclaimed wood:
With reclaimed wood, you can create not only a spacious planter but also a comfortable tree seating area. Build a rustic bench encircling the tree trunk to enjoy the natural surroundings while also providing a cozy spot to relax.
13. Set up a wooden deck around your yard tree that doubles as a seating area:
Create a functional and inviting space in your yard by setting up a wooden deck around your tree. The deck can serve as a comfortable bench under the tree for relaxing, reading a book, or enjoying the view. With this simple addition, you can transform your yard into a cozy and tranquil retreat.
The tree bench doubles as a planter display shelf:
Image via: krispgarden.blogspot.com
15. Incorporate a tree to this wooden platform for shade and comfort: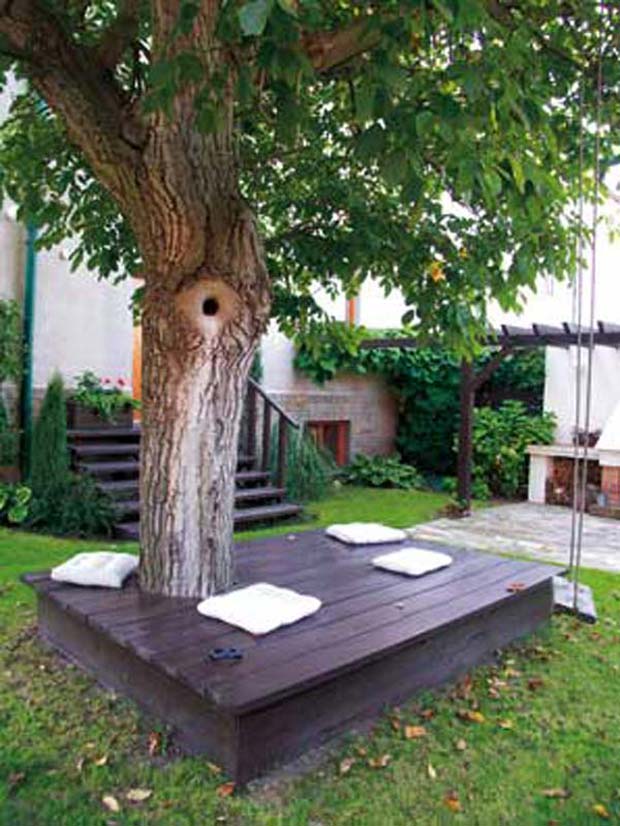 This special wooden tree seat looks like a deck lounger and that's perfectly okay! The comfortable cushions enhance the relaxed appearance and are visually appealing.  [photo by John Narvali for Sealy Design Inc.]
16. Install a wooden platform around your favorite tree: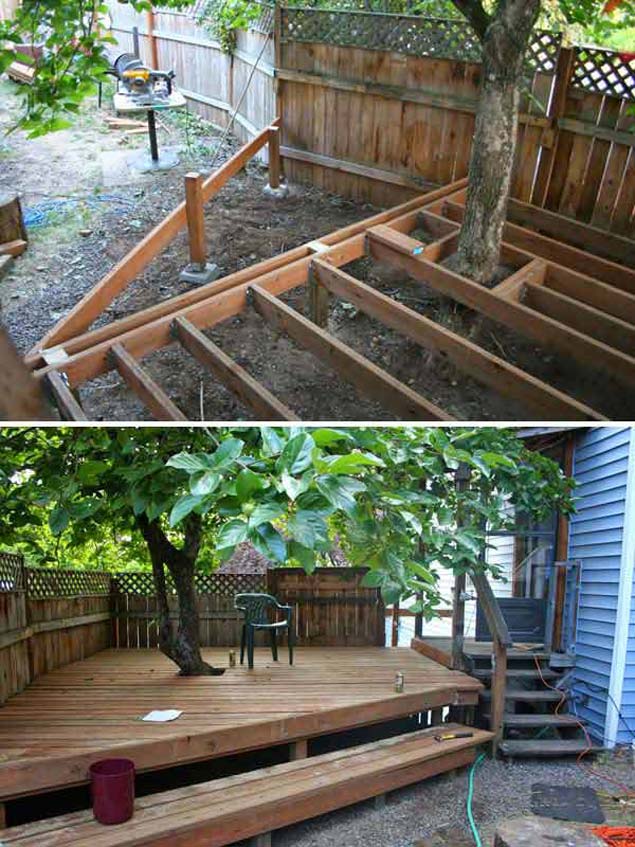 17. A shell form wrapping around the tree's trunk to define a cozy seat:
18. Natural example of rock tree seat:
Image via: dreaminggardens.blogspot.com
19. Simple,flat and square-shaped platform wraps around the tree trunk:
20. Another simple example to use wood in a bench which wraps around your backyard tree:
Tutorial: dippitydot.blogspot.com
21. This more modern tree bench with vibrant green color that transforms it into a focal point:
Image via: homedit.com