Add a Bit Of Art to an Old Boring Wooden Fence
Why We Need A Garden Fence?
Garden, a great place allows us breathe fresh air, enjoy beautiful sunshine and make gardening. A garden fence protects our precious garden time from interruptions. And more, while considering privacy, safety and curb appeal, we need a garden fence.
The Advantages of Wood Fences:
Wooden fence is always a good choice because of it is budget-friendly, easy to install or take off and and environment friendly. Wood fence helps you gain full privacy if needed, and block wind and noise. Not only that, a fence that is a decor feature itself too.
The Disadvantages of Installing Wood Fences:
Because it is built from wood, the wood fence will fade, crack and warp after a period of use. Therefore, it needs painting and maintenance on regular basis. This requires you to invest time and money.
So Add a Bit Of Art to an Old Boring Wood Fence:
When a garden wooden fence fades or cracks, we all want to replace it. Because an old worn wooden fence will let the entire garden fade a lot. But considering the cost of rebuilding…… Maybe we need the following ideas to revive the garden fence:
#1. Add a dynamic element to the garden fence. This water wall made of bamboo is nice because bamboo is very suitable for outdoor projects.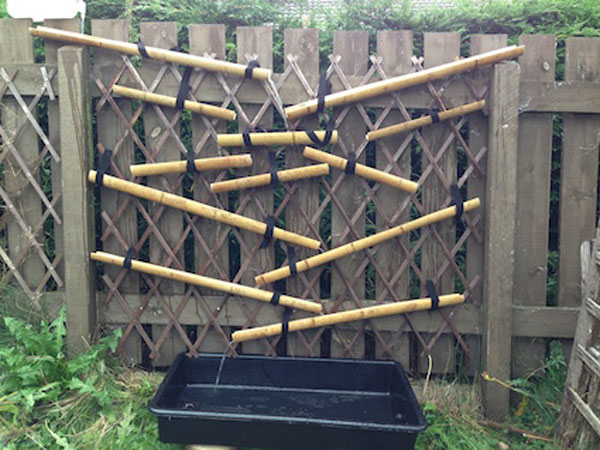 Image Source: creativestarlearning.co.uk
#2. When a boring old wood fence meets vintage China plates, it creates a piece of unique aesthetic decor:
Image Source: acultivatednest.com
#3. Before I saw this brilliant idea, I never thought a beautiful fence letter art can be create with some sticks and plywood:
#4. It is good idea for bird lovers. Decorate the wooden fence with colorful birdhouses: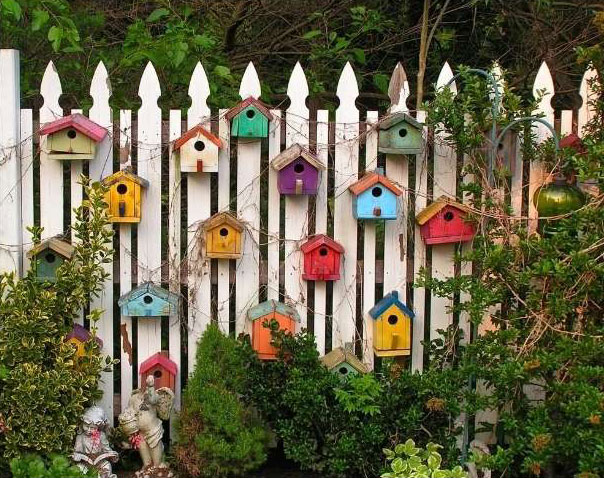 #5. Repurpose those empty bottles that lying around your house to build a fence that will blend in well with your colorful garden: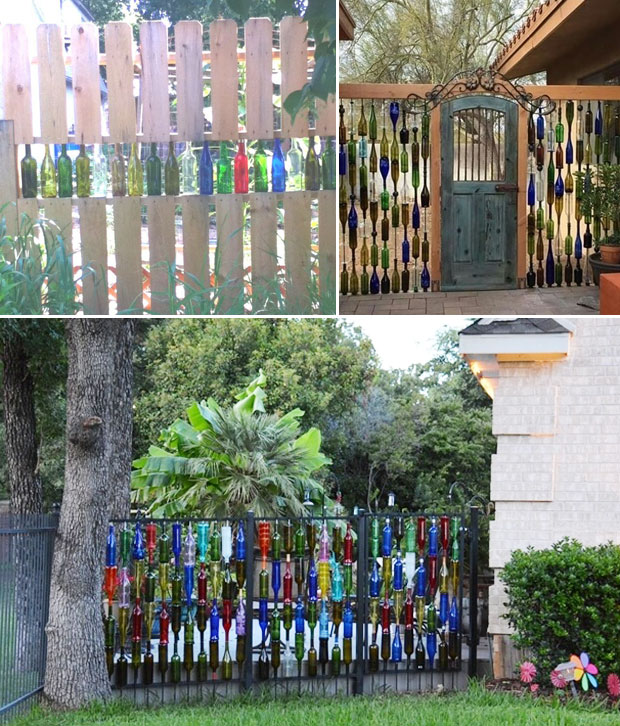 More picture: diyprojects.ideas2live4.com
#6. Spray paint these metal flowers in a vibrant color, then place them at a random pattern on your garden fence:
Image Source: chrisholsen.blogspot.com
#7. Drill holes on a wooden fence and place colorful marbles in it to create a work of art.It will look stunning when the sun shines through:
Image Source: Pinterest.com    Tutorial: instructables.com
#8. Bend Willow into a fence that is both aesthetics and functionality:
#9. Add a little romance to your garden by hanging this cute barrel hoop heart on a fence: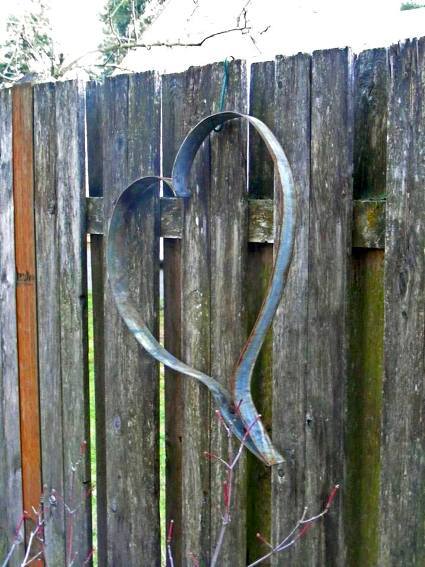 Image Source: fleamarketgardening.org
#10. Hang these painted watering cans in an old window shutter for making a piece of wall art: