Best 20 Easy and Cool DIY Raised Garden Beds You Should Try
Transform Your Outdoor Space with these 20 Simple, Smart, and Affordable Raised Garden Bed Ideas.
Raised garden beds are a highly beneficial space gardening technique that encourages maximum space utilization. With a perfect blend of fresh soil and weeds, you can expect maximum productivity. Learn about these 20 smart, affordable, productive, and easy DIY Raised Garden Beds that transform your outdoor space;
1. Beautiful Framed Garden Trellis
How to expand your raised garden bend when you have limited space available? The best solution is to frame it upwards and create a trellis. With a decorative design, a framed garden Trellis makes an elegant outdoor landscaping feature. It also lets you grow climbing plants like peas, tomatoes, and pole beans.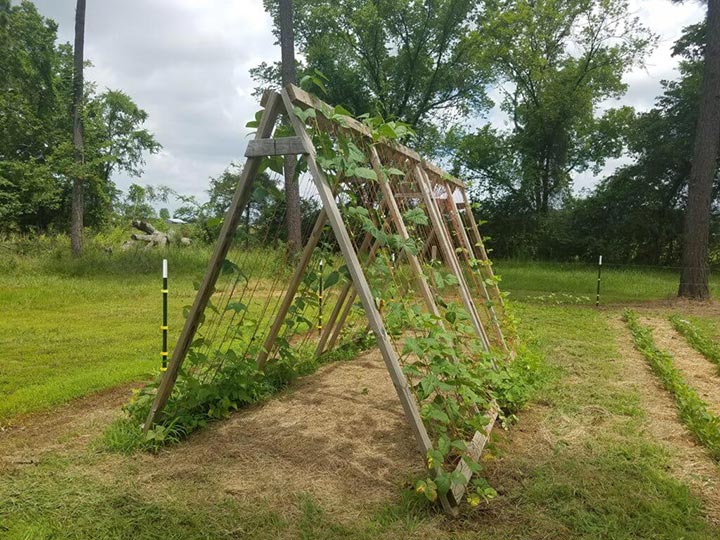 Source: journeywithjill.net
2. Corrugated Metal Raised Garden Bed
Are you searching for fun, easy DIY raised garden beds? Look no farther than a corrugated metal raised garden bed. With a wooden outer frame and corrugated metal body, this garden bed is the best choice for all gardeners. You can custom build a garden box of exceptional curb appeal when you choose a corrugated metal raised garden bed.
Source: mycrazygoodlife.com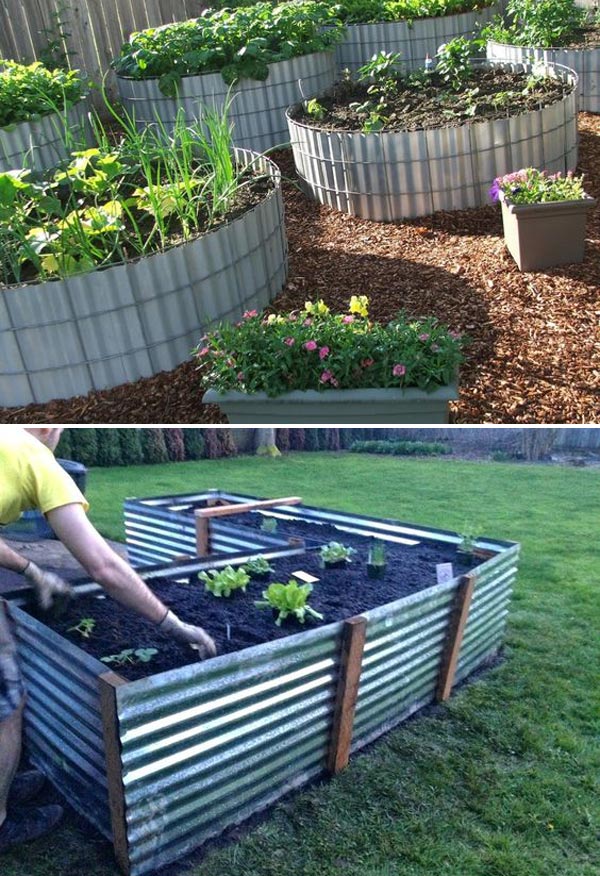 3. Simple Statement Raised Garden Box
With minimal effort, you can make a simple statement raised garden box. The perfect shape of this garden bed allows you to place it anywhere. No matter whether you want to place it in the center, corner, or along the fence of your backyard, this traditional box is an ideal choice.
Source: simplyeasydiy.com
4. Raised Planter Stand with Tub Inserts
If you are on the lookout for a unique and smart idea to build a raised garden bed, you can opt for a planter stand with tub inserts. With minimal maintenance, this vegetable table helps you arrange plants without getting worried about space. You can add a trellis to promote the upward growth of the plants.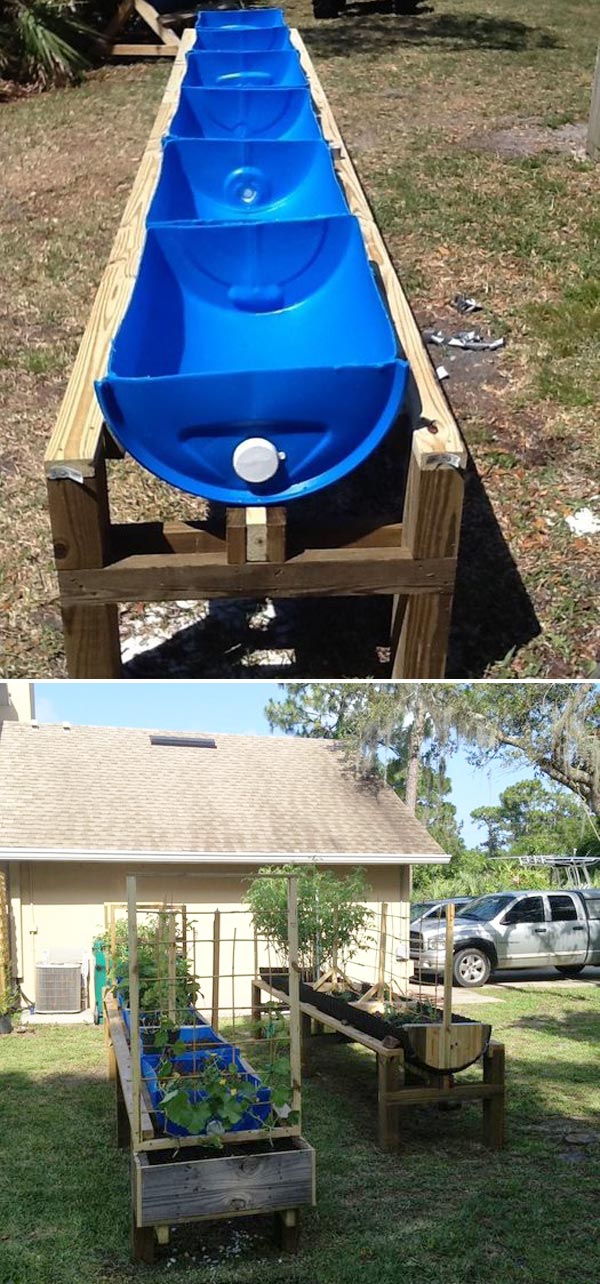 Tutorial: instructables.com
5. High Elevated, Functional Garden Planter
Budget-conscious people can choose a high elevated, functional garden planter. You can use scrap wood pieces or pallets (2x4s) to make this simple garden bed. It enhances the overall appeal of your garden with a unique style. The elevated height offers the best protection against pesky weeds.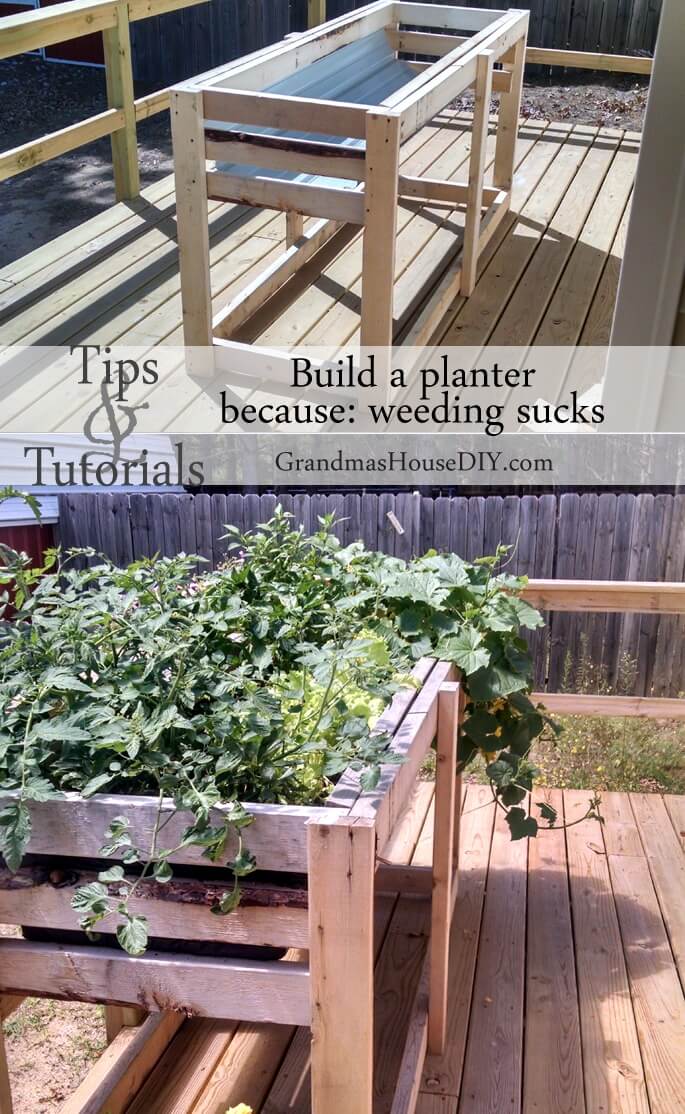 Source: grandmashousediy.com
6. Apartment-Style Garden Bed
The perfect apartment-style garden bed is a perfect choice for people who have to follow stringent HOA guidelines or experience space constraints. With inserts on the bottom of the tub, it allows the plants to absorb water easily. Low maintenance is an added advantage of this garden bed.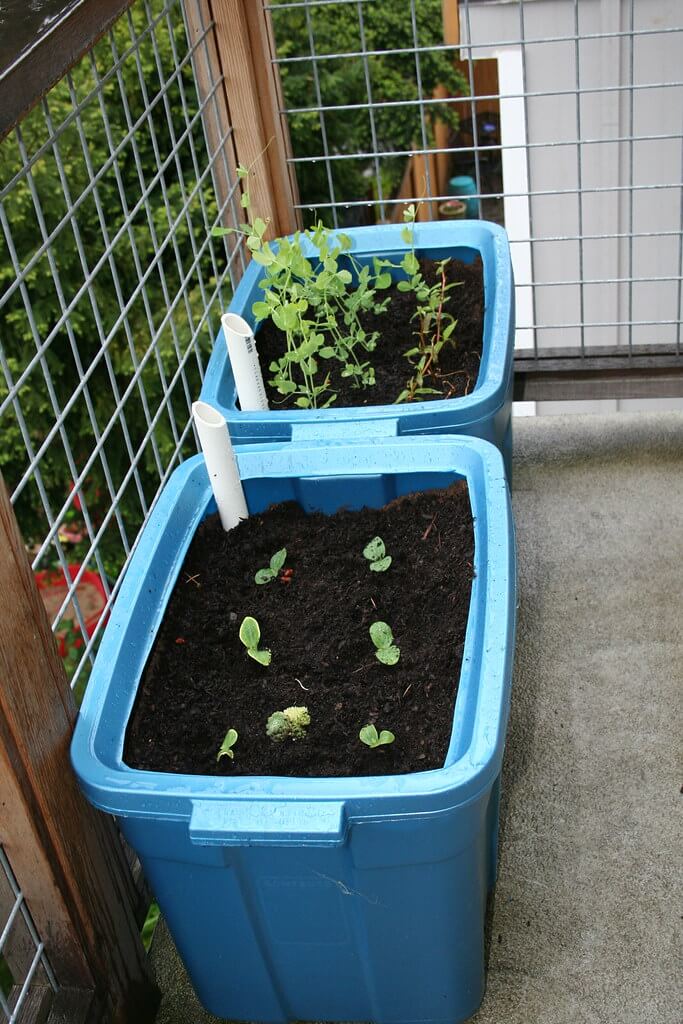 Source: tinyhaus.blogspot.com
7. Vibrant Raised Garden
Equipped with a four-part, yellow planter box, the vibrant raised garden bed makes gardening effortless. With a unique and appealing design, it becomes the center of attraction in your backyard. The perfect size of this bed offers the best protection against furry animals and bunnies.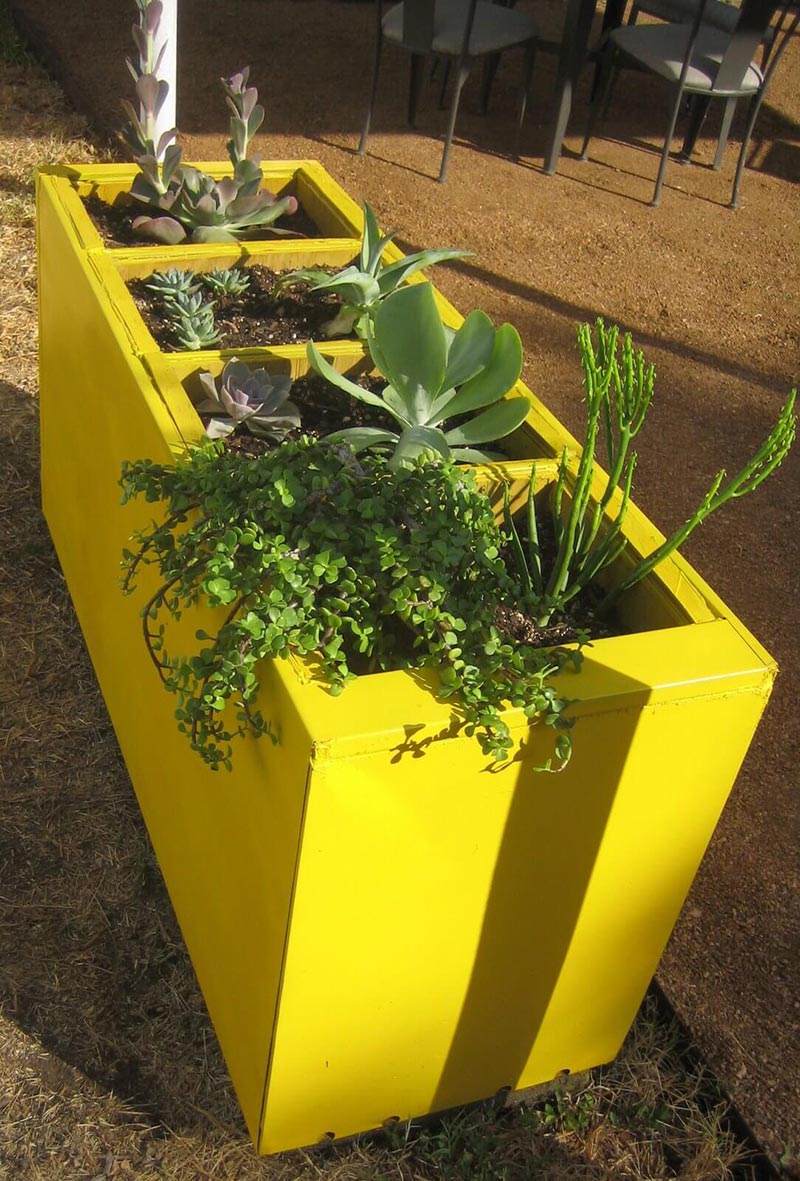 Source: baldmanmodpad.blogspot.com
8. Space Saving Garden beds with Crates
You can make this garden bed using spare plastic crates. It can be placed anywhere you want with ease and comfort. After placing the crates, you just need to fill them with dirt and plants. Based on your creativity and the space available, you can customize the garden bed the way you want.
Source: simplify-organize.com
9. Pallet Garden Stand
Wooden pallets are used to make this type of garden bed. With a unique design and a pyramid-like structure, it creates a good impression. You can grow tomatoes, eggplants, strawberries, and parsley on this raised bed.
Source: foxyfolksy.com
10. Cedar Raised Garden Box
If you want to make your backyard the center of attraction, you can choose this garden bed idea. Offering a clean, traditional look, this three-tier garden box keeps away the critters successfully. Made using cedar, it makes gardening extremely convenient. You can grow luscious plants on this garden box easily.
Source: 33shadesofgreen.com
11. Milk Crates Raised Garden Beds
You just need some milk crates to build this garden bed. If you have only a small area in your backyard without any green space, you can choose this option. High portability makes it an ideal choice for growing plants that need to be placed at different locations for extra sunlight or shade.
Source: tinyhouseto.wordpress.com
12. Fence Raised Garden Beds
This simple and stylish fence-raised garden bed enhances the look of your privacy fence without compromising space admirably. It blends with the fence harmoniously to create a unique style. Offering an elevated level, this garden bed makes maintenance easy. You don't need to worry about any prep work often associated with ground-level garden beds.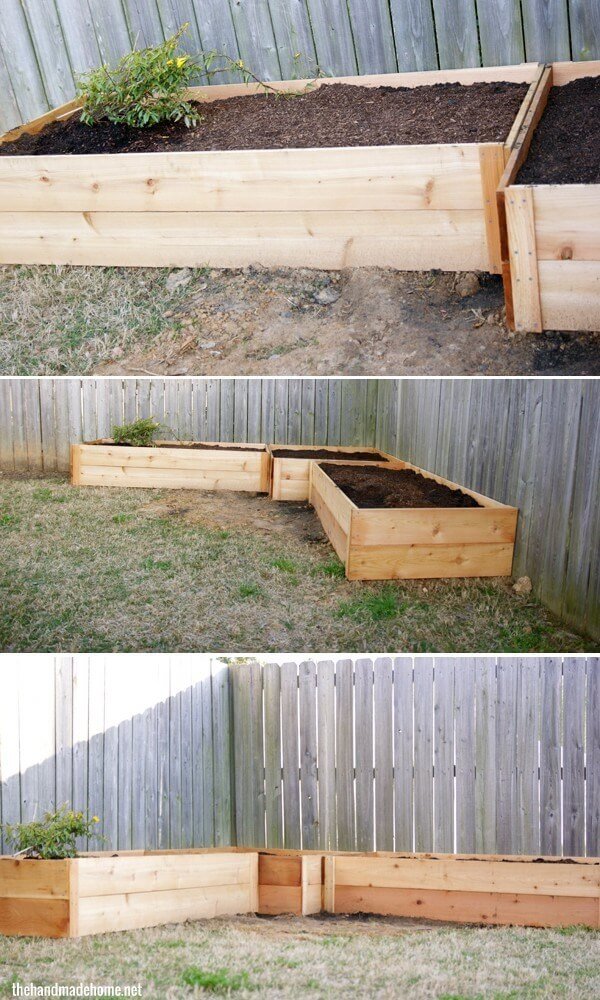 Source: thehandmadehome.net
Source: bhg.com
13. Cinder Block DIY Raised Garden Bed
If you are looking for an affordable way to build a sleek garden bed with a polished look, you can opt for a cinder block DIY raised garden bed. The combination of cinder blocks and concrete tops makes it look sleek with a refined finish. The blocks can be laid wherever you want.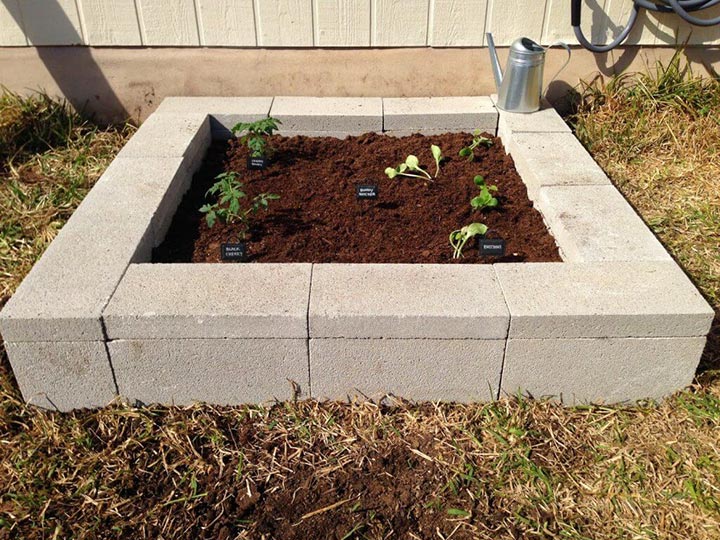 Source: fabeveryday.com
Source: lucysnest.com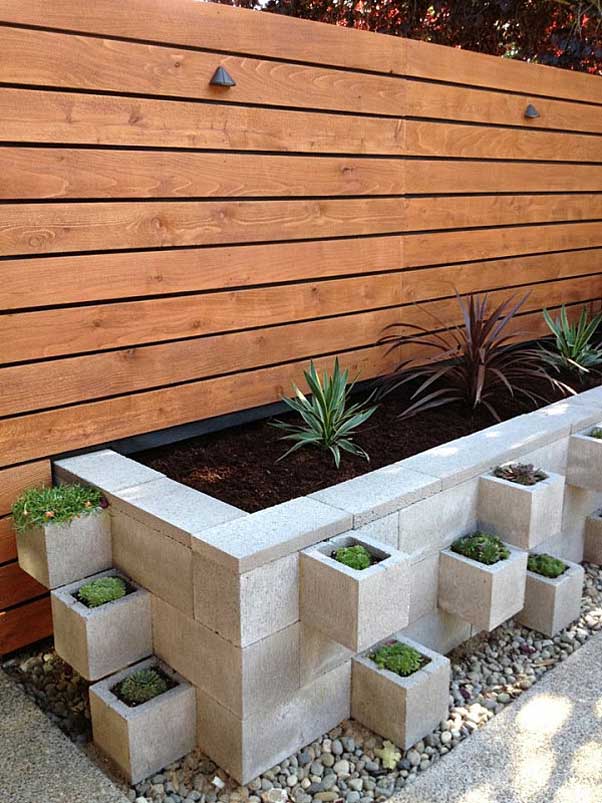 14. Bale of wheat or alfalfa straws can be used to build walls of raised beds
15. Make a Flower Shaped Garden Bed for Your Vegetable Garden with Recycled Plastic Bottles
Source: pedagogiadobrasil.blogspot.com
16. Transform an old rustic bed frame to a cute raised garden bed
17. Stack more logs above each other to build your own raised garden bed
18. Gabion raised garden beds
Source: gabion1.co.uk
19. Build a raised garden bed using recycled concrete rubble
Source: hgtv.com
20. Transform umbrellas to beautiful flower garden beds