Clever Ideas of Decorating or Hiding a Tree Stump in Your yard
Do you find some tree stumps in your yard? It can be a daunting task to remove them. You need to spend a lot of time, money, and effort to remove the stumps completely. How to deal with stumps if you cannot remove them? You can decorate a tree stump creatively. Here are 12 creative ideas to hide or decorate a tree stump.
1. Use climbing plants to hide a stump
You can use climbing vines to hide a tree stump in your yard. Some of the best options available are climbing Clematis, Carolina Jessamine, Virginia Creeper, Sweet Peas, and Hydrangea.
Via: herbscraftsgifts.blogspot.com
2. Create a tree-stump planter
You need to chip away the center of the stump using the pointed end of a sharp mattock. Create a hole 4 to 8 inches deep with a 3-inch border. With the help of a drill, you must create drainage holes onto the side of the stump. The next step is to add some gravel before topping it with a combination of potting soil (70%) and compost (30%). Then, you can plant your favorite annuals or perennials.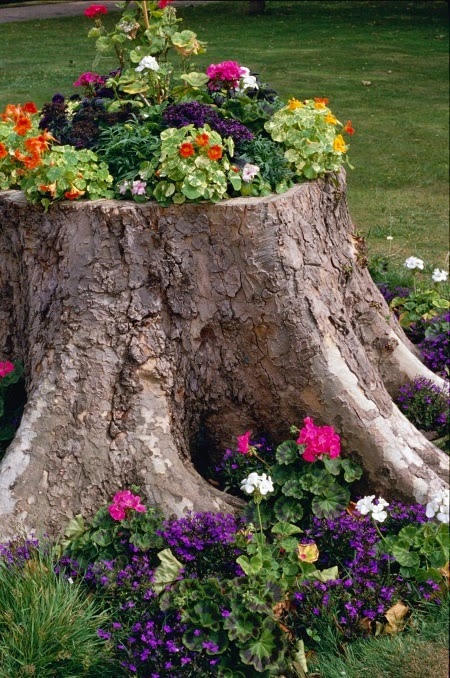 Tutorial: instructables.com
3. Sculpt a decorative piece
If you want to hide a tree stump, you can certainly carve or sculpt the wood into a decorative piece or something unique. If you are artsy, use your creativity to make the stump the center of attraction.
Via: thegallopinggardener.blogspot.co.uk
4. Convert the stump into a chair
A tree stump can be converted into a natural chair. With the help of tools, such as a hammer, grinding wheel, stain brushes, and a hand saw, you can carve a tree stump into a chair.
5. Make a fairy garden
After creating a planter on the stump, plant your favorite annuals. Then, you can add various types of elements to your fairy garden with the help of all those bits and pieces that you can come across in and around your house and in nature. Be creative and make it the centerpiece of attraction. You can also buy fairy garden accessories.
Via: stitchesscrapsandtidbits.blogspot.ca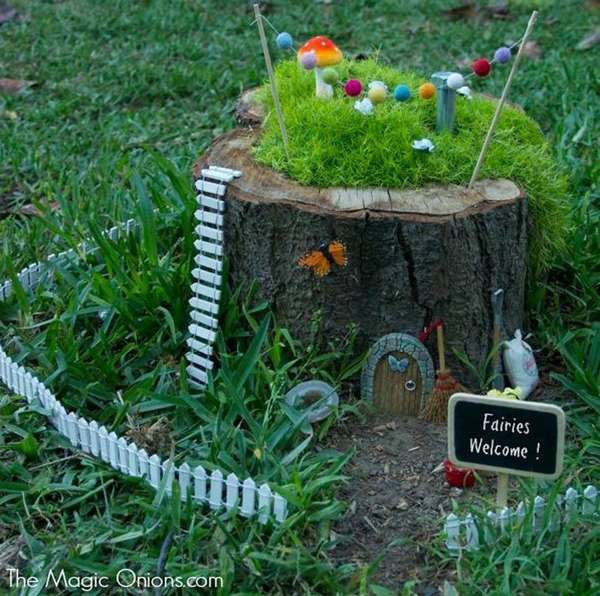 Via:  themagiconions.com
6. Transform your stump into a birdbath
Clean the stump and dig a hole on top to create a bowl. You can put some concrete into the hole to give a good finish to the bowl.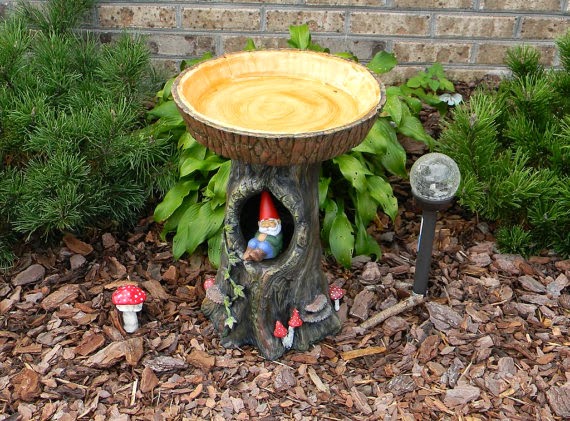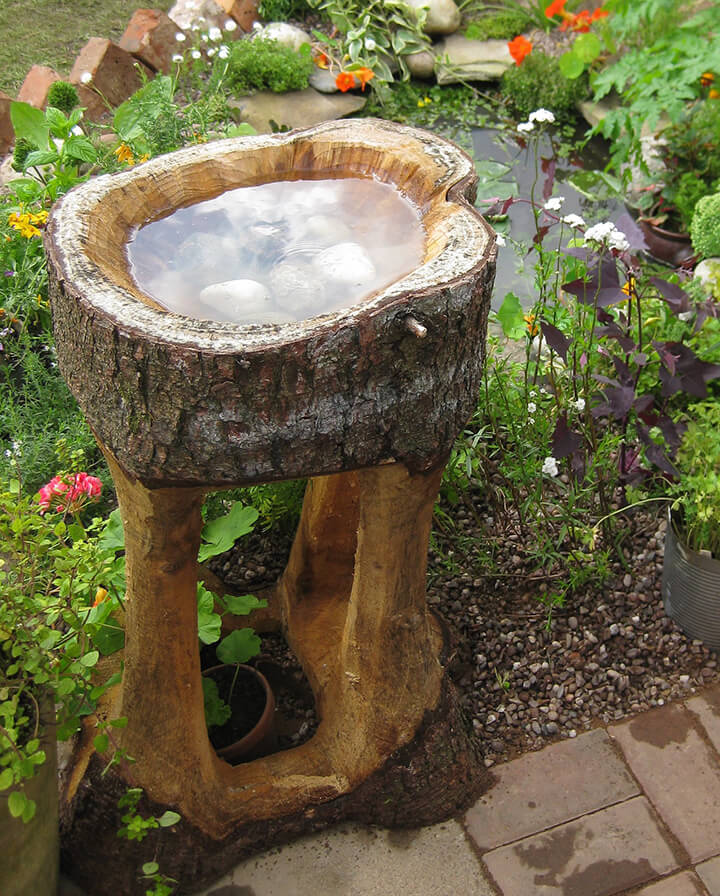 Image via Marian Byrne @ flickr
7. Use your creativity to make the stump as a base for any decor
Search for smart and innovative ideas. You need to apply your creativity efficiently to make the stump a base for any decor you prefer.
Via:  gardenupgreen.com
8. Create a checker or chess table
How to decorate a tree stump into a chess table? It is very simple. Firstly, you need to make the top surface smooth using a chisel and other types of tools. Then, you can paint a checker or chessboard atop it.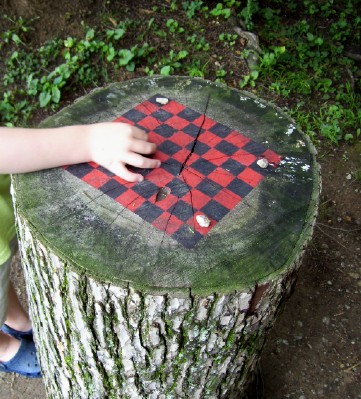 9. Create a beautiful, modern tree stump table
If you have the necessary tools like sandpaper, polyurethane, drill with appropriate bits, one package of Capita legs from Ikea, and a paintbrush, you can create a beautiful, modern tree stump table.
Via: diynetwork.com
10. Hide your tree stump using a raised bed
You can create a new raised bed around the tree stump to make the area appealing. Topsoil must be used to fill the area you want to cover completely. Over the stump, you need to use at least 4 inches of topsoil. The planting area can be surrounded using rocks or timbers. Leave enough space between plants while placing them into the raised bed.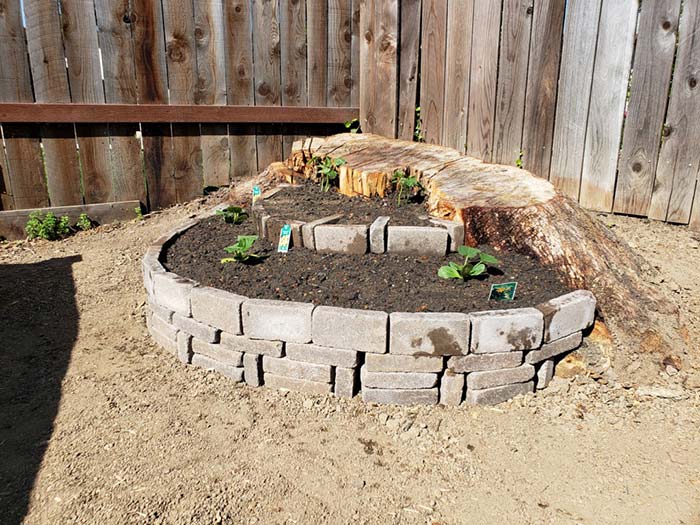 Via:  mklibrary.com
11. Turn a large tree stump become a climbing wall for little hands and feet.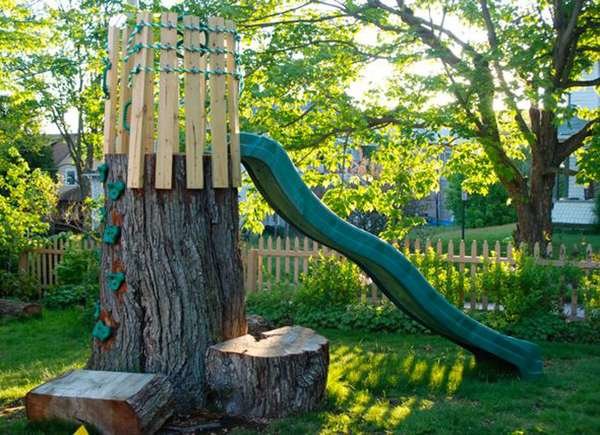 Via: wifemothergardener.blogspot.co.il
12. Seating area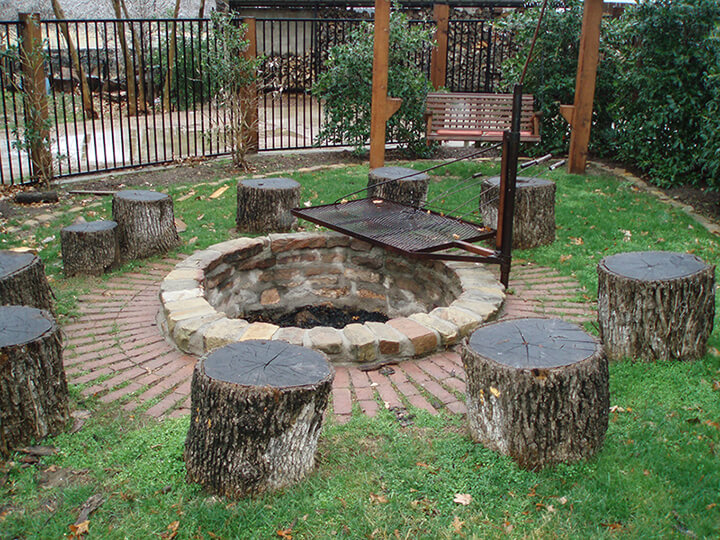 Image via ideallandscapeservices.com