19 Easy and Stylish DIY Concrete Ornaments to Transform Your Garden
Concrete isn't just for construction – it's an artistic medium! Imagine crafting stunning pieces of art that are not only weather-resistant but also waterproof. The best part? These masterpieces are surprisingly simple to create.
Dive into our curated selection of remarkable DIY concrete projects, each a testament to the endless possibilities this versatile material offers. Your garden and patio are waiting to be adorned with these unique, handcrafted creations that add a touch of elegance and charm.
#1 Create Concrete Magic – Rhubarb Leaf Mold
Gather an intact rhubarb leaf, sand, and concrete mix. Position the leaf on damp sand, then coat it with the concrete mix. Swiftly spread it before it solidifies.
Once hardened, carefully flip it over and detach the actual leaf. Applying a layer of cooking oil makes removing the concrete from the rhubarb leaf a breeze. Otherwise, the leaf might cling, needing some effort to brush off.
#2 Craft a Concrete Patio Table with Natural Flair
Collect elephant's ear leaves and an old table without its top. Arrange the leaves on a plexiglas base before filling the mold. Blend sand into the concrete mix and embed a mesh layer for reinforcement.
#3 Make Your Own Concrete Bowling Ball Planters
Admire these DIY concrete planters crafted from bowling balls. Mold the concrete around a bowling ball and add personal touches with glass stones or other decorations.
They're ideal for displaying your cherished garden blooms or plants, and being concrete-made, they withstand any weather when placed in the garden.    Tutorial: instructables
#4 Craft Delicate Cement Lace Garden Ornaments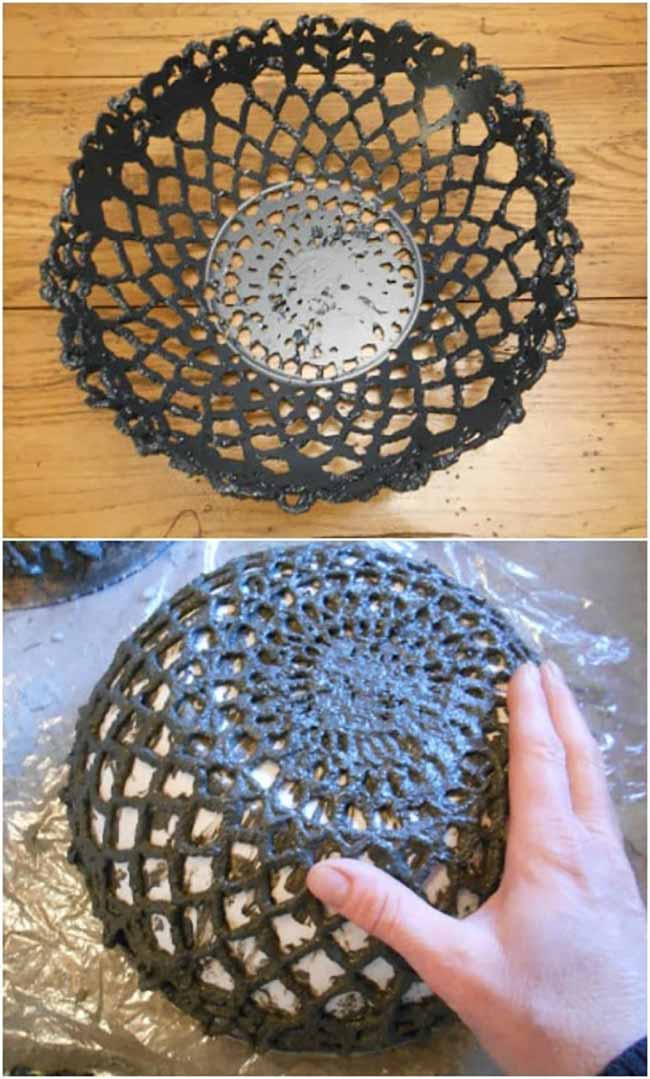 Transform ordinary cement into charming lace patterns using doilies and crochet items. For an elegant garden vibe, opt for these cement lace decorations.
Craft small planters or concrete baskets for your beloved plants, or utilize them on the patio or deck to amplify your outdoor decor. All of these are budget-friendly and effortlessly created.  Tutorial: sproutsandstuff
#5 Concrete Outdoor Side Table Made From Pavers
Construct your very own practical outdoor side table by repurposing concrete pavers. This creative DIY project results in a robust and versatile piece of furniture.
The minimalist design not only offers functionality but also enhances the aesthetic appeal of your outdoor area. Embrace simplicity and durability as you create a charming addition to your patio or garden. Tutorial
#6 DIY Cement Planter Shaped Like a Towel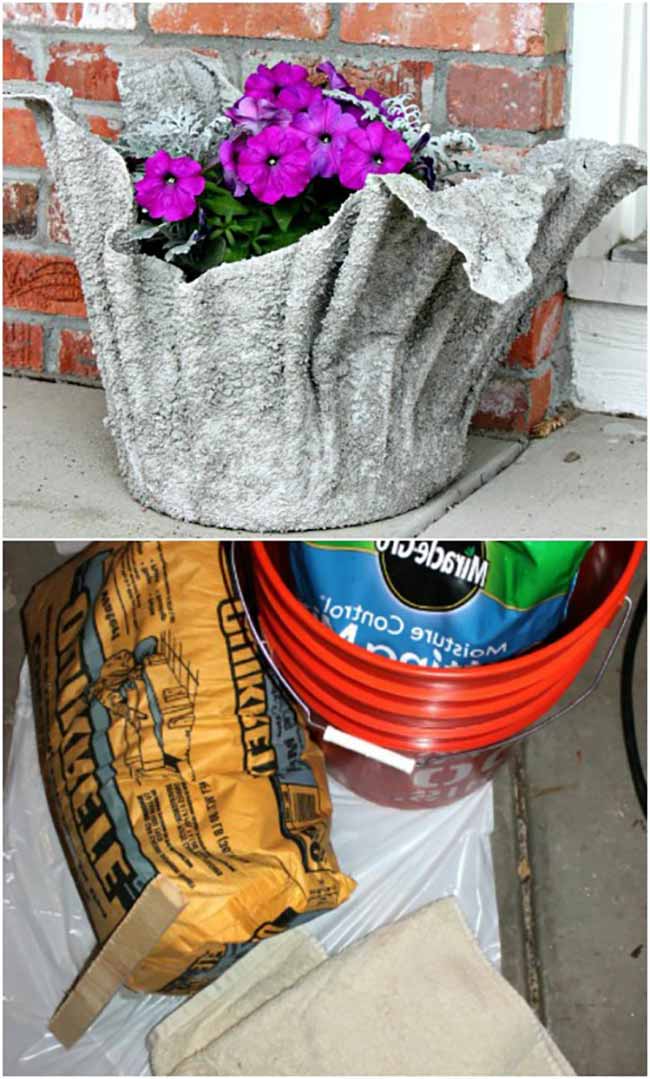 Construct this exquisite cement planter using an old towel. Utilize the towel to shape the planter and lend it a delightful texture.
Showcase your favorite blossoms or create a captivating garden scene with multiple planters. Molding concrete around an old towel is much simpler than you'd imagine!  Tutorial: therusticwillow
#7 Craft Effortless Concrete Spheres
For a simple addition to your garden, these DIY concrete spheres are perfect. Shape concrete into balls and place them in your garden.
Experiment with various sizes and adorn them with paint or other embellishments for added flair. These stunning spheres will beautifully complement your handmade garden gazing balls.    Tutorial: bhg
#8 Quick and Easy DIY Concrete Bird Bath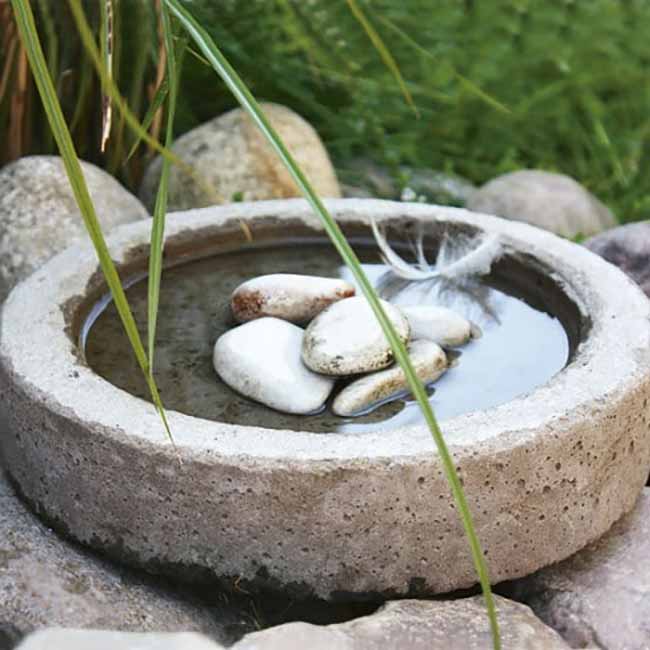 Crafted from concrete, this bird bath boasts a stylish modern appearance once completed. Display it in your garden or on a pedestal as you prefer. Once finished, feathered friends will delight in visiting.    Tutorial: bhg
#9 DIY Concrete Planters from Rubber Boots
Fashion these DIY planters from concrete by utilizing old rubber boots as molds. If you lack suitable boots, scout local thrift stores where shoes often cost just around a dollar per pair.
Once you've secured the boots, employ them to shape your concrete and craft these charming garden planters. Tutorial: wwwfurelise
#10 Creative DIY Concrete Garden Orbs
Discover the brilliance of these DIY concrete garden orbs! Fashioned with fabric strips and, of course, concrete, their exquisite design serves as a captivating focal point in your garden.
This uncomplicated idea accommodates various sizes and even shapes, ensuring a speedy creation and drying process due to the minimal concrete use. Tutorial: madebybarb
#11 Craft Your Own DIY Concrete Garden Columns
Highlight your beloved plants with DIY concrete garden columns. While ready-made concrete columns are pricey at home improvement stores, crafting your own is really simple.
Personalize the design using molds and concrete. Fashion an entrance to your garden or embellish the columns with potted plants and decorations. Tutorial: oregonlive
#12 DIY Concrete Garden Statue Project
Tutorial: hunker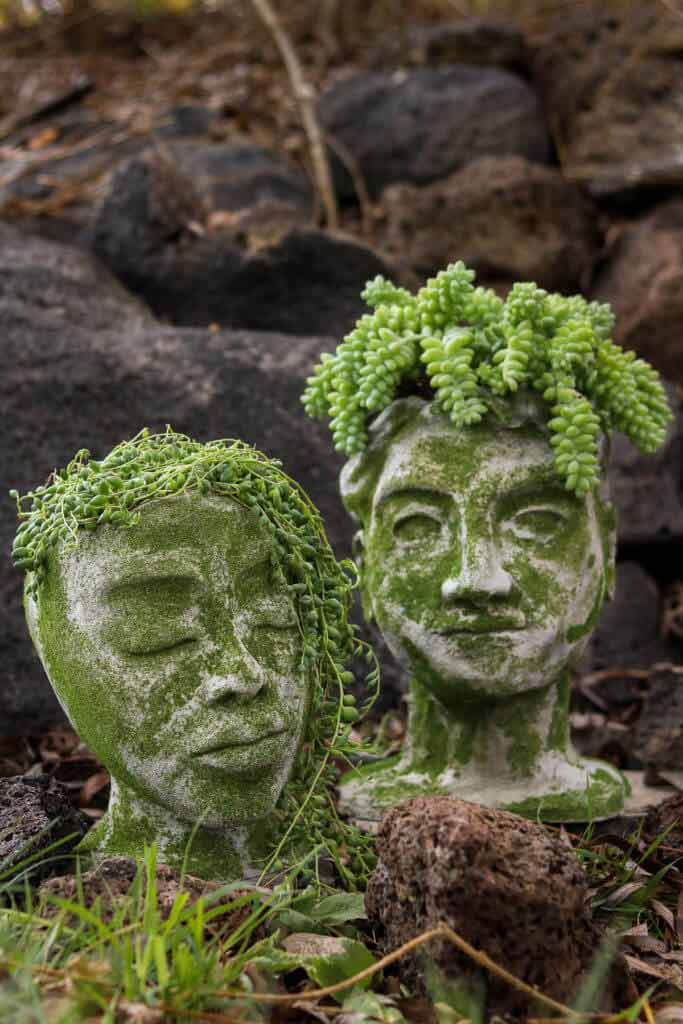 Rather than spending a considerable sum on a garden statue from a home improvement store, opt for this budget-friendly DIY alternative. A bag of concrete and a mold are all you need.
This project is less complex than it appears, allowing you to grace your outdoor space with a stunning garden statue at a fraction of the cost.                            Tutorial
#13 DIY Concrete Garden Ladybug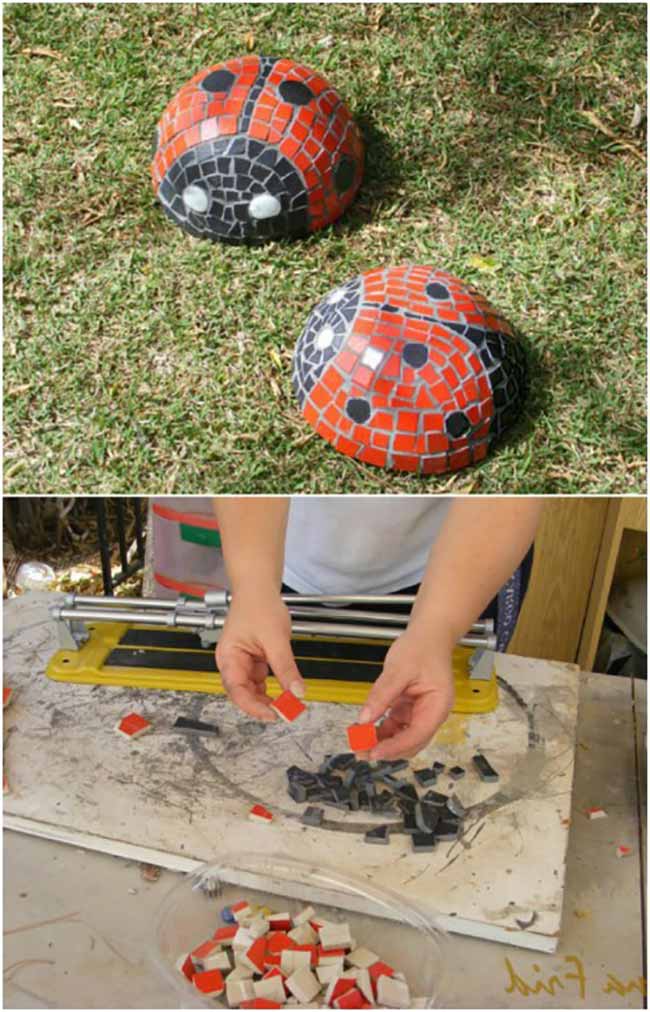 Creating this petite concrete ladybug is a breeze. Form the base using concrete and a mold – the options for ladybug molds are plentiful.
Once the concrete dries, embellish it with mosaic decorations resembling a ladybug. Tutorial: handmadeidea
#14 Craft Your Own Leaf Bird Bath
This bird bath in the shape of a leaf adds elegance to your garden. Shape concrete and sand using a large leaf as a mold, including a self-molded concrete base.
Create it for under $25, a real bargain compared to its store-bought counterparts costing over $100. Tutorial: gardengatemagazine
#15 Make DIY Concrete Mushrooms
Use a plastic soda bottle to shape the stem, while the mushroom top is formed from molded plastic. Creating these is remarkably uncomplicated.
After making a few, paint them various colors to match your outdoor décor. Tutorial: ljcfyi
#16 Construct a Concrete Topped Planter Side Table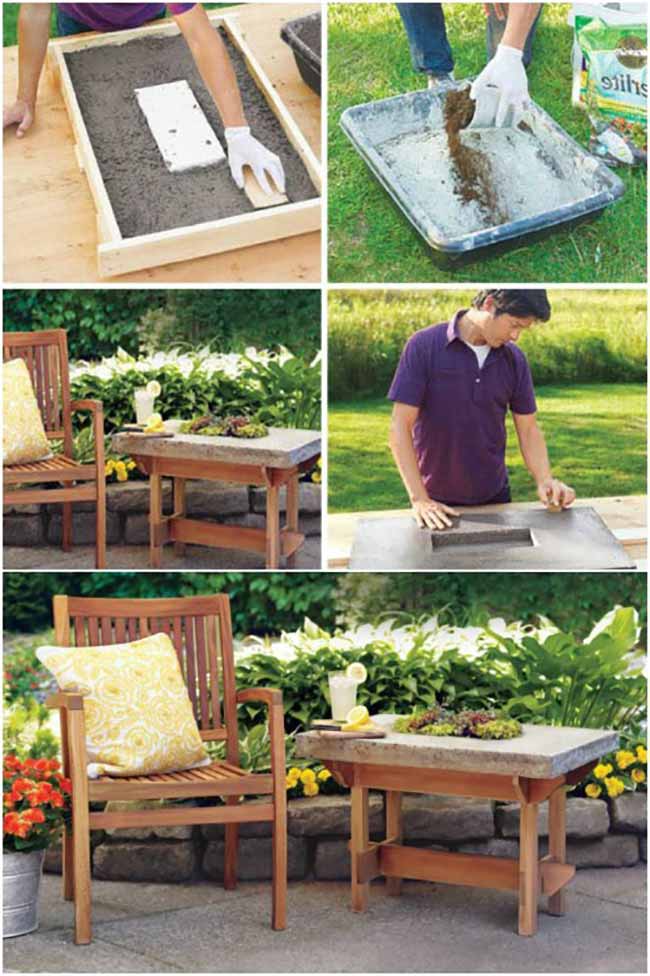 This wooden table features a concrete top doubling as a planter. Fill the planter with succulents or small annual flowers.
A stunning addition to your patio, it highlights modest plants often overshadowed in the flower bed. Tutorial: thisoldhouse
#17 Fashion Decorative Garden Spheres with Gold Centers
Adorned with exquisite golden centers, these garden spheres offer versatility. Paint the interior any desired color.
These finished pieces serve as planters, candle holders, or enchanting water features. Waterproof the inside with spray to float candles or other water décor. Tutorial: home-dzine
#19 Create a Concrete Slab Garden Bench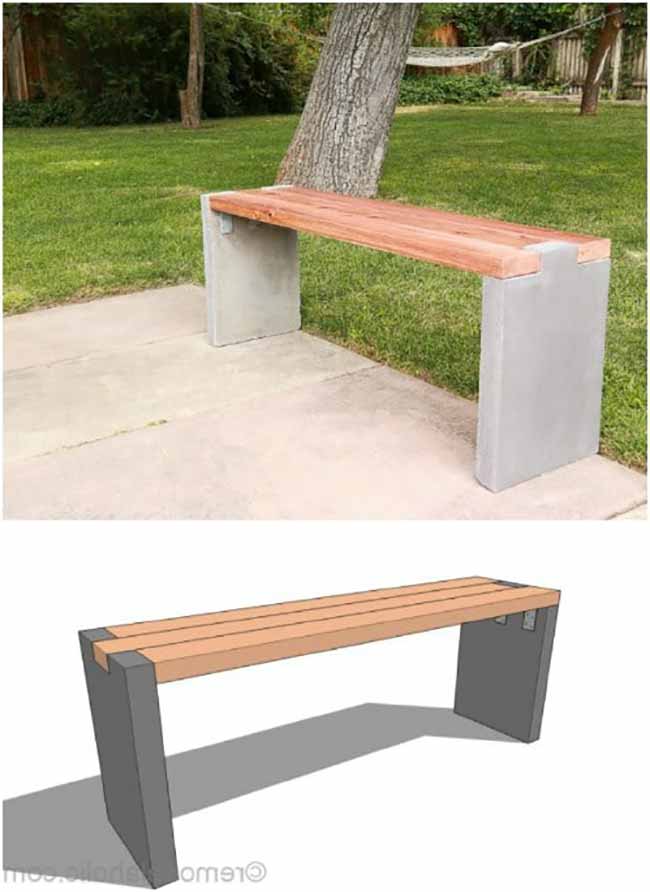 This wooden and concrete slab bench is easier to make than it appears. A fantastic addition to your garden, it consists of concrete slabs for the sides and a wood strip as the seat.
Customize it in countless ways for a unique look. Crafting the slabs is effortless, and if you have reclaimed wood, it's perfect for the seat. Tutorial: remodelaholic