10 DIY Globe & Gazing Ball Ideas to Make Your Garden Shine
Your garden provides a unique opportunity to show off your individuality and creativity. By creating some art pieces with simple and budget-friendly materials, you can give your garden a new life, such as these DIY garden globes and gazing balls. From globes sporting a modern flair to shiny spheres sure to give you a color overload, the DIY round shiny orbs definitely are outstanding whether they are sitting in a busy flowerbed or along a welcoming walkway.
1. DIY Mirrored Gazing Ball
Take some old bowling balls and refresh them with Krylon Original Chrome Metallic Spray Paint to make these mirrored spheres that will add an element of surprise and whimsy to your garden.   Image via: brit.co
2. Tiny Gazing Balls
Do you have a whimsical fairy garden, or do you simply want to spice up your potted plants? You can easily make miniature gazing balls using marbles and glass stones. These tiny decorations are stunning and add a touch of magic to any garden. In addition to fairy gardens, they can also enhance the beauty of your indoor plants or any other area in your garden that needs a pop of color. By incorporating these delightful accents, you can create a whimsical and enchanting outdoor space that will delight all who visit.  Tutorial: gardentherapy.ca
3. Plant Spheres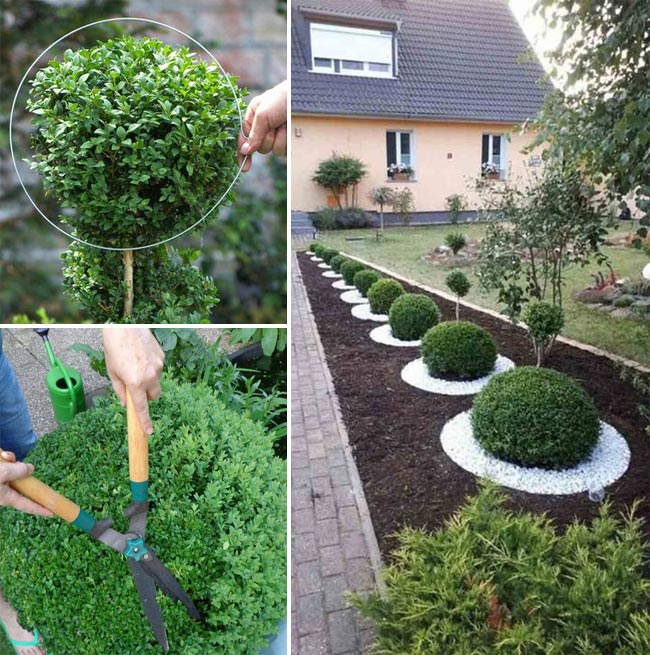 If you have a thing for decor that is artistic and you would want the same to be in your plants too, then topiaries are meant for you. They can take any shape that you want and look stunning, just like here's spherical plant sculpture.
3. Pennies Orbs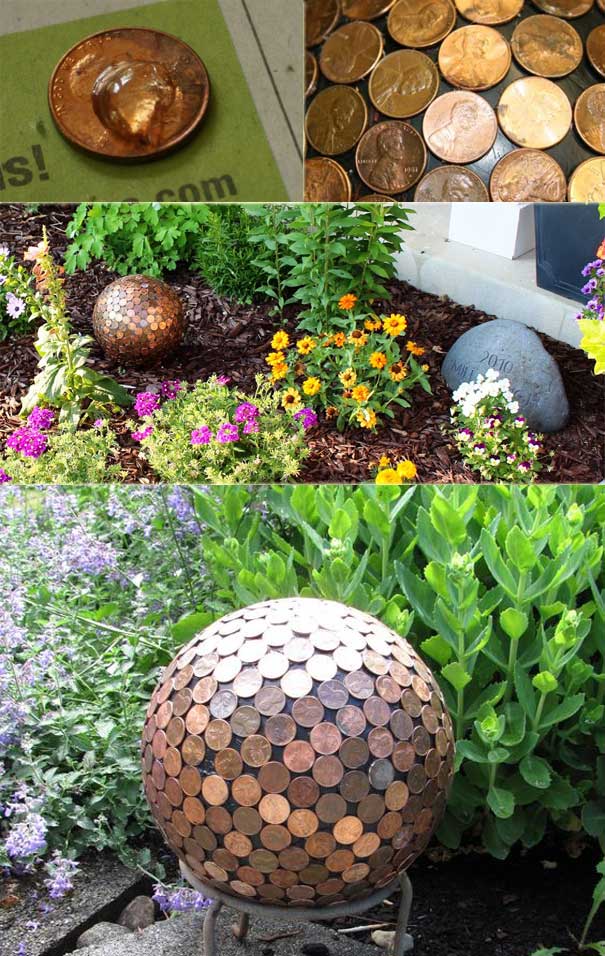 A gazing globe can be such a fun addition to the garden and costs only pennies. All you need are a bunch of pennies and an old bowling ball to make one. And more, the pennies don't patina like 100% copper does so that they will be suitable for outdoors. Tutorial: whimsicalhomeandgarden.com
4. Gabion Globes
A gabion is like a cage that is usually filled with rocks or concrete. Thanks to its durable and weather-resistant, gabion has become a great setup when it comes to landscaping design. And those gabion globes do better in garden decor. They can bring a special artistic touch to your outdoor paradise. Image via: gabiontransilvania.ro   and   mooseyscountrygarden.com
5. Concrete Garden Sphere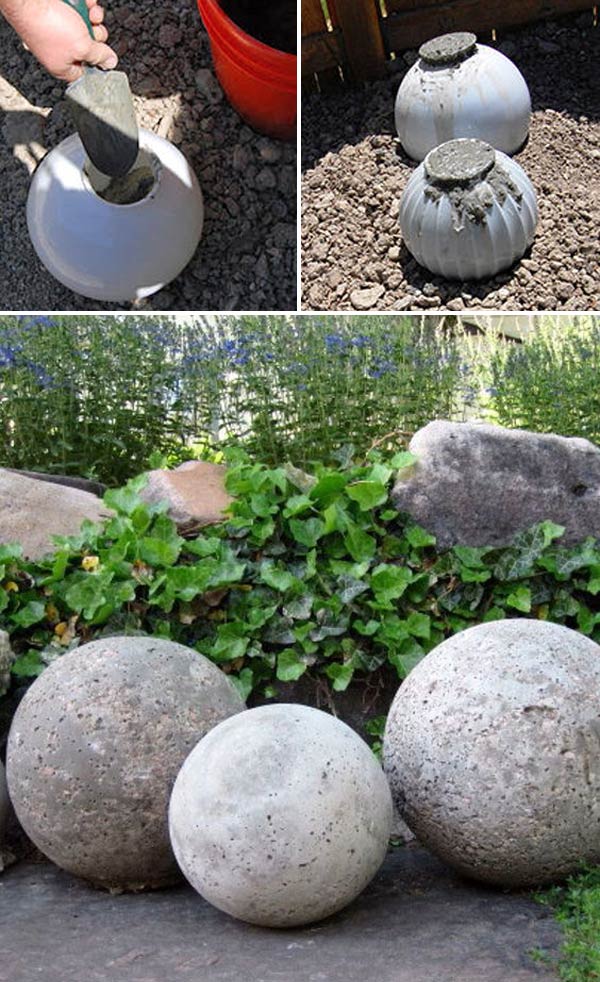 These Stone Garden Spheres are a great accent in gardens, and they add interest in a classic, serene style. To make them, all you need to prepare a few $3 glass light covers that you can buy them from a thrift store, some quick-dry concrete, and a little non-stick cooking spray.    Tutorial: simpledetailsblog.blogspot.com
6. Stacked Slate Sphere
Stacked slate balls can often be seen in a water feature, but as artistic sculptures in your garden, they are also a great addition to your no-water landscape. The most amazing thing is that these incredible stone garden spheres were created without any glue or concrete.
7. Marble Balls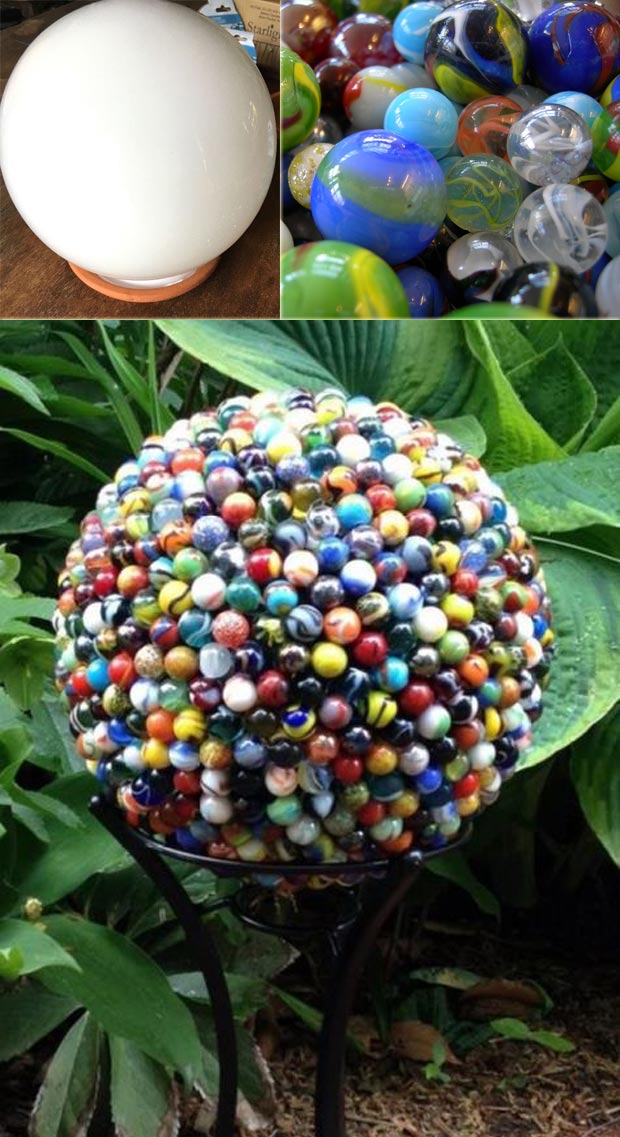 Simply use adhesive to stick marble balls or ice rock vase fillers on a spherical shaped something like a bowling ball or light cover to make a gorgeous garden globe.  Image via: charmers@flickr.com
Tutorial: fleamarketgardening.org
8. Chicken Wire Globe Allium
If you aren't good at maintaining plant life but want to make something to decorate your garden unique, then you could craft some flowers that will stay evergreen and will require no maintenance at all. For example, you can spray paint globes of chicken wire with purple paint to mimic globe allium.  Image via: flickr.com     Tutorial:  feralturtle.com
9. Granite Stone Spheres
These geometric, nature-inspired spheres made from polished granite stones can be the stunning garden centerpieces. Lay them along the garden walkways to make enchanting additions together with garden plants.
10. Cement Globe Water Feature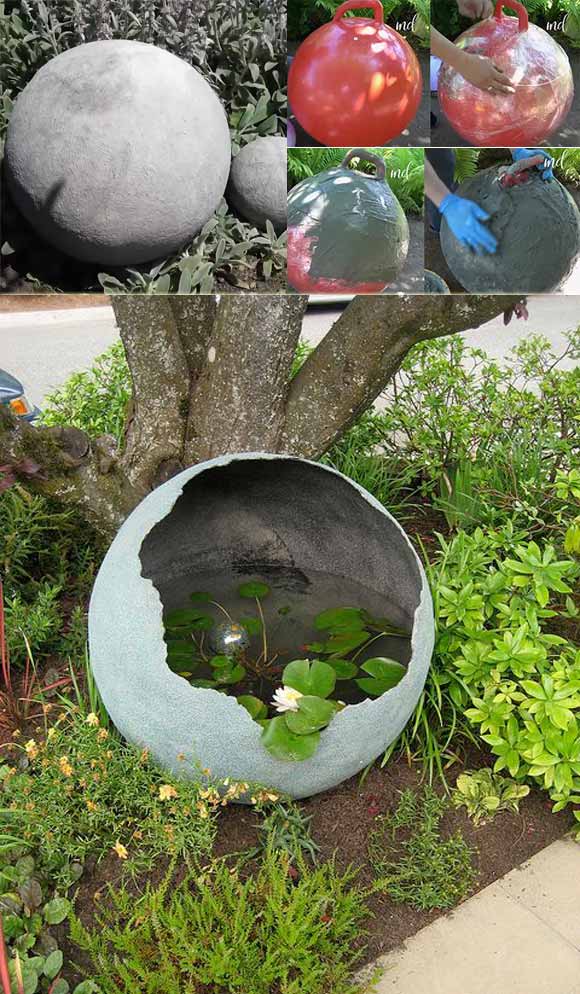 All of your guests must be surprised by this garden water feature. In fact, it is a cement sphere that was made by coating a children's rubber ball. Before filling it with water and any number of other water decorations, you'd better add a coat of waterproof spray to the inside that is necessary for a water feature.   How to make a cement ball: pinterest.com     Image via: flickr.com