12 Edible Plants You Can Grow Indoors Easily this Winter
Grow cool season edible plants indoors, not only to eat easily and freshly but also to have a beautiful view in the cold winter. If you have a free spot near your window or balcony and a small amount of extra time on your hands, then you can check out these 12 edible plants that can grow indoors over winter:
1. Potted Beets
Beets are a fast-growing root plant in containers. They are nutritious, and you can eat both green and root. Beets prefer the cooler weather of spring and autumn so that you can grow them indoors during winter. How to grow: lilynicholsrdn.com  and  dengarden.com
2. Pepper
Grow peppers indoors during the winter, only need a sunny spot in your house and a big container.  How to grow: getbusygardening.com
3. Broccoli
Broccoli is super tasty with an impressive nutritional profile. It is also a cool-season crop that grows well in containers. And more, broccoli is also a beautiful ornamental plant.  How to grow: dengarden.com
4. Avocado
Is it possible to grow avocado indoors? The answer is yes. In fact, there are several dwarf varieties that can help you produce healthy fruits indoors. When you grow indoor avocado, you need to water it regularly but do not make the soil too soggy; otherwise, the plant would be killed.
How to grow:

5. Spinach
Spinach is also a great cool weather crop that grows well in containers. Growing spinach indoors allows you to enjoy those tender, leafy greens all year round. They are a great addition to salads, soups, and stir-fries. They grow fast, so one of the exciting things about growing spinach is how quickly you can harvest it. How to grow: wikihow.com
6. Carrot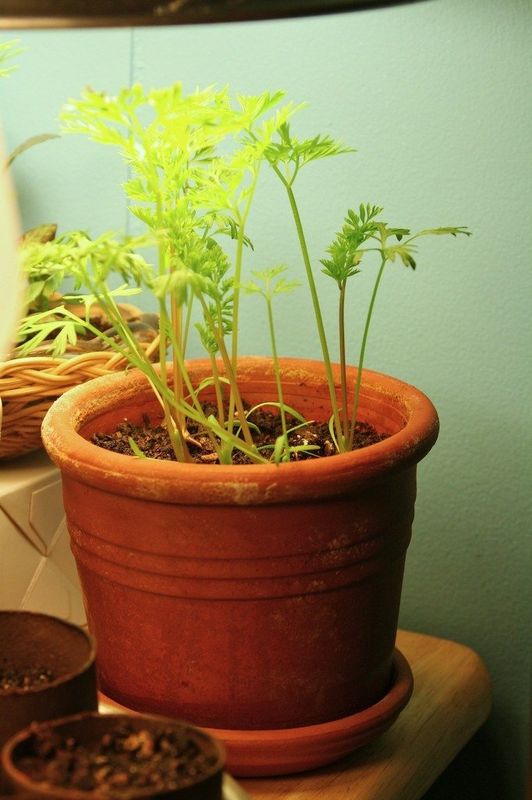 Carrots are among the easiest veggies to grow indoors during the winter. Indoor carrot garden will be attractive as well as functional. They are great sources of a variety of vitamins and minerals, and their dark green, lacy foliage will be a beautiful display in any room on your home. Image via: flickr.com    How to grow: spadespatula.com
7. Tomatoes
Tomatoes are a warm season crop that dies back when cold temperatures threaten. But just make sure they're getting enough light, this fantastic fruit can be grown right on your windowsill during winter. Choose appropriate varieties when growing indoor tomatoes. You can try the dwarf determinate variety Tiny Tim indoors. How to grow: gardeningknowhow.com
8. Onions
You can grow a few different types of onions from green, red to white onions inside your home during cold weather. Packed with vitamin C, B6, iron folate, and potassium, they are a great addition to any dish.
9. Eggplant
Growing eggplant indoors during the winter is great. Just make sure to give it plenty of light and water so it can be strong and healthy!
10. Potatoes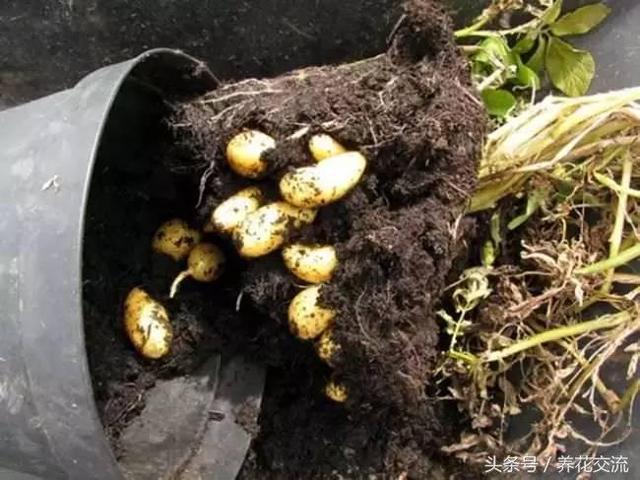 Growing potatoes indoors requires a slightly bigger pot and should be placed a spot near your windows. Consistent care (such as watering every day) will reward you with some delicious potatoes for many winter dishes.  Image via: kknews.cc    How to grow: youtube.com
11. Radish
Radish is also a great cool weather crop that grows well in the pot. They only need a container that is not very big, with small holes at the bottom for drainage purposes. Just take care of them until the radishes are big enough for a garnish or full on meal. How to grow: diynetwork.com
12. Garlic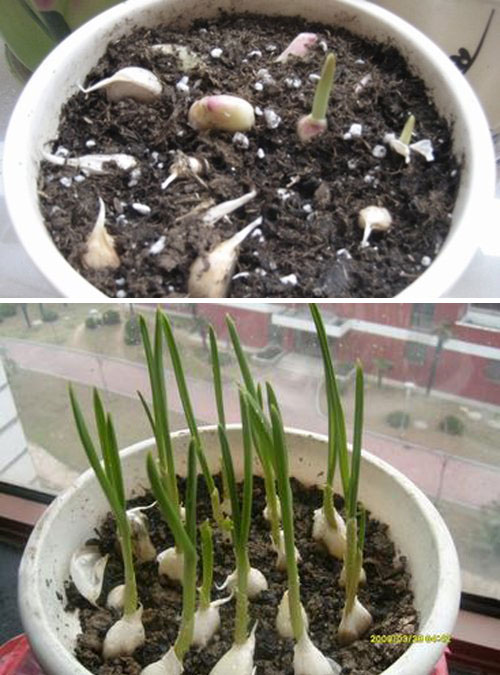 The trusty garlic clove is essential for any winter dishes. The good news is that growing garlic indoors allows me to have access to it all year round.  How to grow: marthastewart.com