12 DIY Recycled Garden Trellis Ideas
Garden trellises are a brilliant way to support your plants, vines, and flowers while giving your garden and yard a fresh look. Just as a vertical garden, a trellis saves you planting space and makes the maintenance easily. Typically a trellis is created either from wood or metal and sometimes with plastic such as PVC, but I think that a trellis made from repurposing old objects would be more striking. These include old bike rims, bed frames, ladders, screen doors, and a lot more. If you have them in the garage lying useless over there then bring them to use. The trellis make from recycled materials is ideal for growing tomatoes, gourds, sweet peas, cucumbers, beans, clematis, morning glory, climbing rose, and many more varieties of flowers, fruit and vegetables. Take a look at some of the great DIY trellises we've rounded up below:
1. Old Patio Umbrella Frame
If you have an old patio umbrella lying around in your basement, it is time to give it a new purpose. It can be easily turned into a beans, cucumbers or gourds trellis. You just need to cut away the fabric of your old umbrella and insert the center pole into the ground.   Image via: flickr.com    pioneeringthesimplelife.org     hobbyfarms.com
2. Old Wagon Wheel
Maybe you've ever seen a garden decoration built from an old wagon wheel, such as a round garden bed? In fact, wagon wheels also has great use as a trellis for climbing flowers and plants. Compared with using as a garden bed, you just make it stand and plant your flowers around it.  Image via: pinterest.com
3. Farm Tools
Trellis not only is a support of your garden climbing plants, but it also is an easy way to add a piece of art and primitive decor to your garden! Just like this garden trellis made from vintage antique yard and farm tools.
4. Baby Crib Trellis
Mattress Springs
Use the side rails as a bean or cucumber frame:
Image via: thegardeningcook.com
Repurposing is a brilliant way that turns some old items that you don't use anymore into treasure. A used baby crib has appeared in a lot of repurposing projects. This up-cycled garden trellis again proves that a crib has endless uses.
5. The Pallet Trellis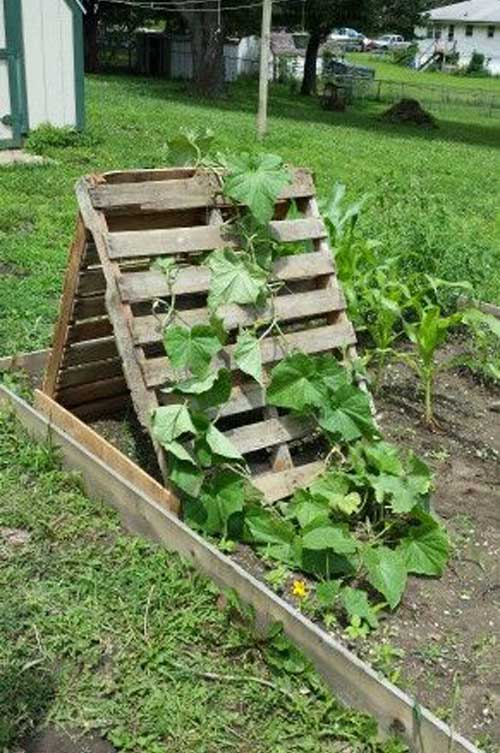 Pallet is a common material for a great many of homemade garden projects. Pallet projects are usually both cheap and functional. Make two pallets into a A-frame design and bolt them together to get your garden trellis.
6. Bicycle Wheel Trellis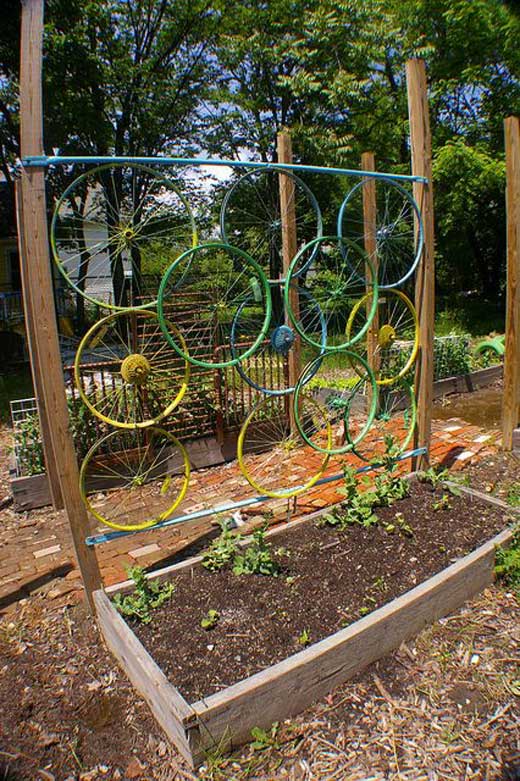 Image via: flickr.com
Instead of buying the whole new support structure for climbing plants, use your creativity to make a unique trellis such as here's Bicycle Rim Trellis that is not only benefit for your flowers and plants, but also is a great decorative feature for any garden.
7. Old Crutches Trellis
It is a brilliant way to reuse a pair of old crutches in your garden trellis. You'll recycle them into posts for a pea trellis and run twine between these new supports in a horizontal direction.    Image via: decorhacks.com
8. Old Garden Gate
Transform a portion of your old garden gate or fencing into a pretty homemade trellis. Image via: flickr.com
9. Screen Door Trellis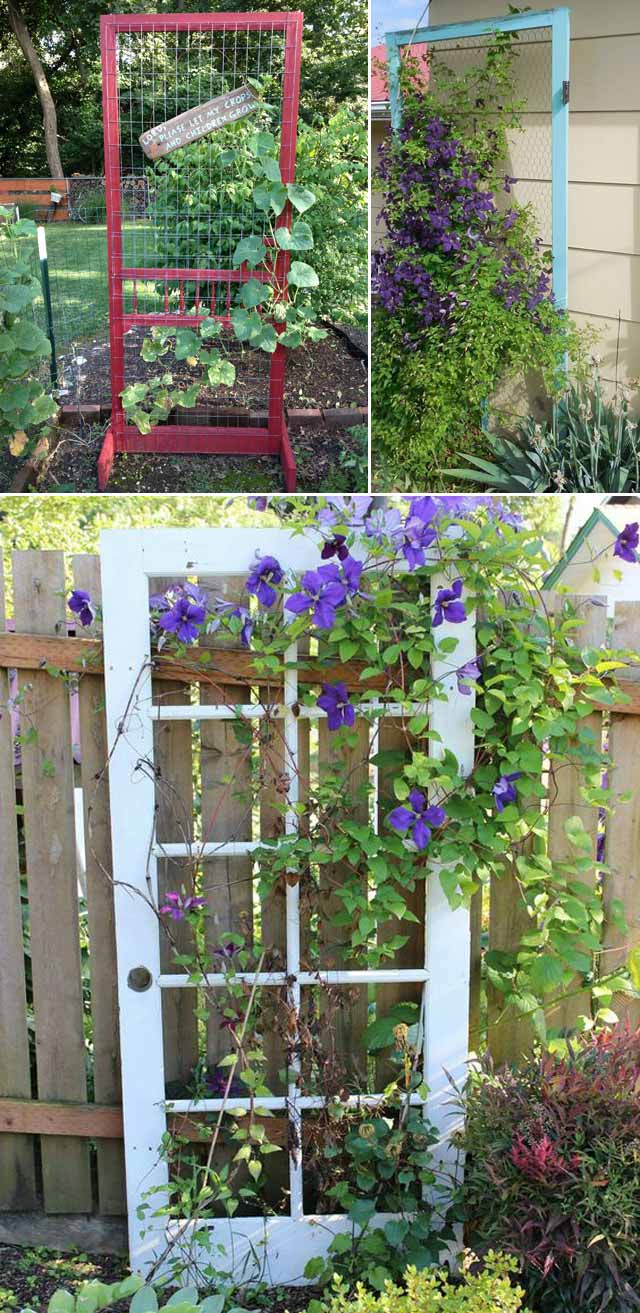 Screen door frame attached with chicken wire can be used to create a trellis for your climbing plants. Image via: todaysgardens.org
10. Mattress Spring
This DIY trellis provide an opportunity to save "junk" from becoming trash. Just free the springs from the mattress then use it to create a support for climbing plants and vines. I must say that an old twin mattress bed spring is a really natural as a trellis. Image via: backyardnotes.com        hometalk.com
11. Ladder Trellis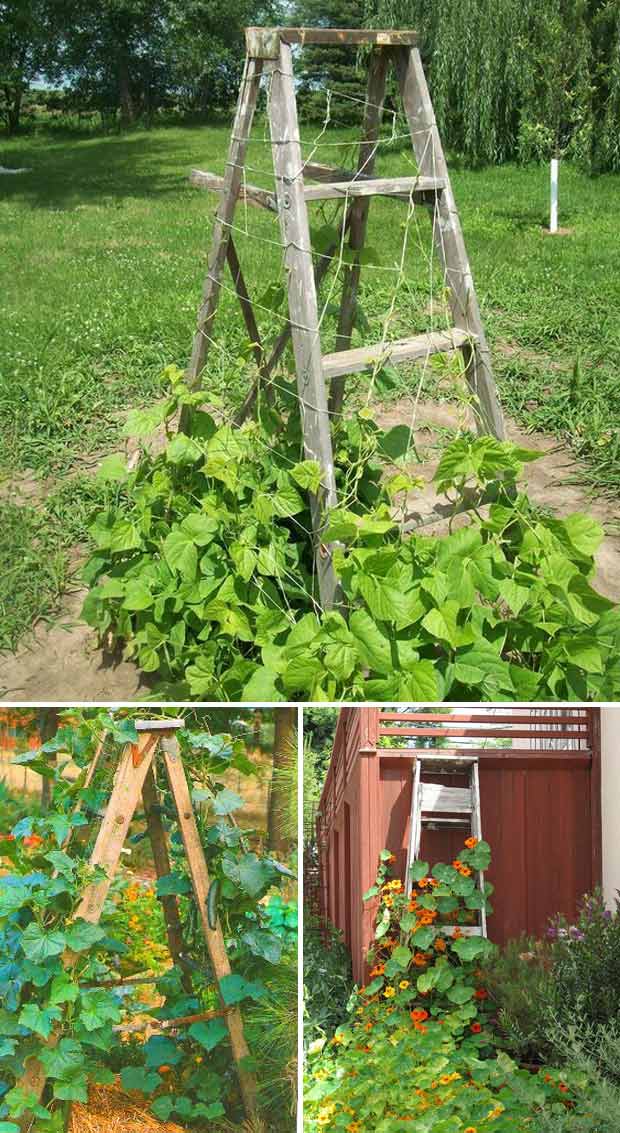 An old ladder has its natural A-frame design, so it is a good choice as a garden trellis. Also, You can paint the ladder and use it to brighten up your garden. Image via: wjowsa.com      flickr.com
12. Iron Headboards Trellis
Are you still looking for ideas of upcycling vintage home pieces into amazing garden trellises? Then you should consider a iron headboard. With the legs secured into the ground, this headboard has found new life as a trellis for garden plants.   Image via: 33barefootlane.wordpress.com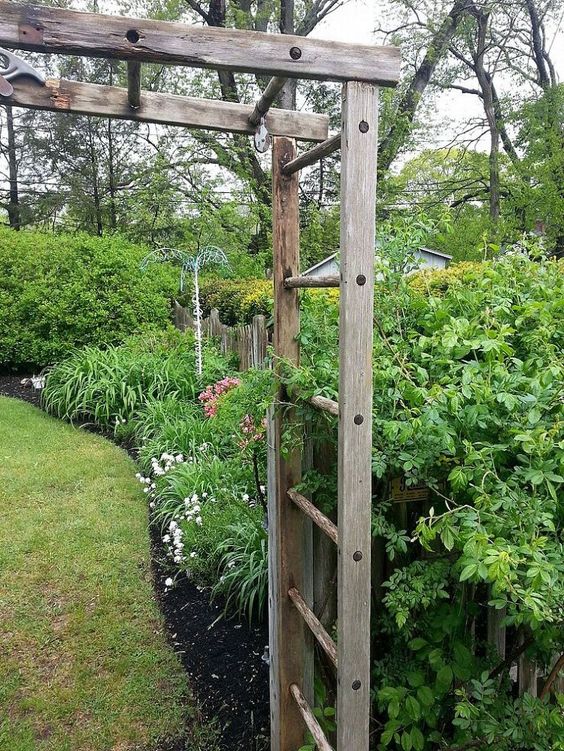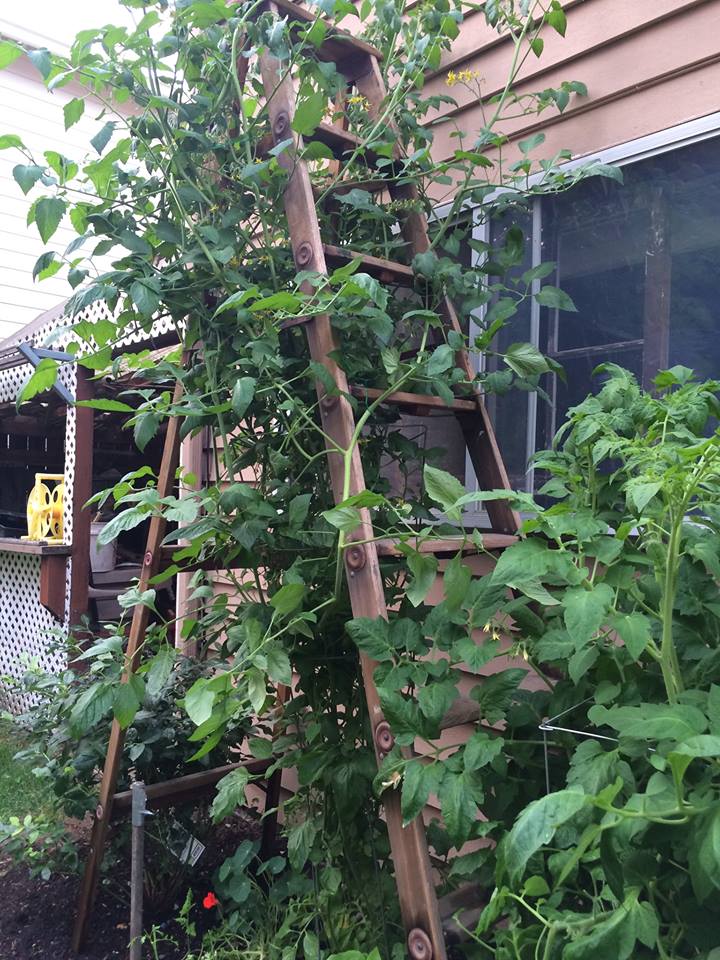 image via: northwestgardener.net