12 DIY Recycled Garden Trellis Ideas
Garden trellises are a brilliant way to support your plants, vines, and flowers while giving your garden and yard a fresh look. Just like a vertical garden, a trellis saves you planting space and makes maintenance easy. Typically, a trellis is created from wood or metal, and sometimes with plastic such as PVC. However, I believe that a trellis made from repurposed old objects would be more striking.
These recycled garden ideas could include old bike rims, bed frames, ladders, screen doors, and many more. If you have any of these items lying useless in your garage, bring them to use and create a recycled trellis. A trellis made from recycled materials is ideal for growing tomatoes, gourds, sweet peas, cucumbers, beans, clematis, morning glory, climbing rose, and many more varieties of flowers, fruits, and vegetables. It not only adds a unique touch to your garden but also contributes to reducing waste and promoting sustainability.
Closet Organizer Trellis:
There are two trellises in the vegetable garden that were created from repurposed metal closet organizer frames. The wire drawers were removed, and the frames were spray painted to create a new look. Metal T-bar stakes were hammered into the ground to anchor the frames, and zip ties were used to secure the frames to the stakes to prevent them from being blown away. Then train your climbing vines on it. via: hobbyfarms.com
1. Old Patio Umbrella Frame to Recycled Trellis
Image via: gardengatemagazine.com
1. Instead of throwing away your old patio umbrella, why not turn it into a diy umbrella trellis? Not only is it a great way to repurpose an old item, but it's also an eco-friendly and cost-effective solution for your garden.
All you have to do is cut away the fabric of the umbrella and insert the center pole into the ground to create a sturdy trellis that's perfect for supporting climbing plants like beans, cucumbers, or gourds. With a little bit of DIY know-how, you can transform your old umbrella into a functional and stylish trellis that will make a statement in your garden. Image via: flickr.com pioneeringthesimplelife.org hobbyfarms.com
2. Old Wagon Wheel Trellis
Perhaps you have seen a garden decoration made from an old wagon wheel, such as a round garden bed? An upcycled trellis made from an old wagon wheel is another creative use for this rustic item, which can add both function and style to your outdoor space. Instead of using it as a garden bed, you can make it stand and plant your flowers around it, creating a stunning display of climbing flowers and plants.
3. Farm Tools Turn into a Upcycled Trellis
Trellises are not only a means of supporting your climbing plants in the garden, but they can also be a creative way to incorporate art and primitive decor into your outdoor space! For instance, consider using recycled materials and antique yard or farm tools to fashion a unique garden trellis that not only serves its practical purpose but also adds a touch of rustic charm to your garden.
This is just one of many inspiring recycled garden ideas that can help you to reduce waste and give new life to old materials while enhancing the beauty of your garden. So why not explore the possibilities of recycling materials for your garden and let your creativity flourish?
4. Baby Crib Trellis
Mattress Springs
Use the side rails as a bean or cucumber frame:
Image via: thegardeningcook.com
Repurposing old items into treasure is a brilliant idea. A used baby crib has become a popular choice for DIY trellises and plant climbing frames, as seen in many repurposing projects. This up-cycled garden trellis is just one example of the endless possibilities a crib offers. With a little creativity and effort, you can make something unique and functional. Don't let your old items go to waste, repurpose them and discover the hidden potential!
5. The Pallet Trellis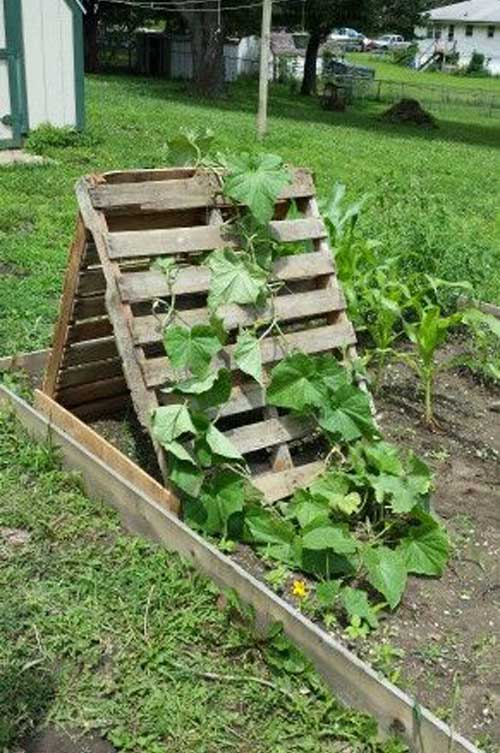 Pallets are a versatile and affordable material for DIY garden projects, and making a trellis is no exception. If you're wondering how to make a trellis, consider using two pallets to create an A-frame design that you can bolt together. This DIY plant trellis is both functional and decorative, providing support for climbing plants and adding visual interest to your garden.
6. Bicycle Wheel Trellis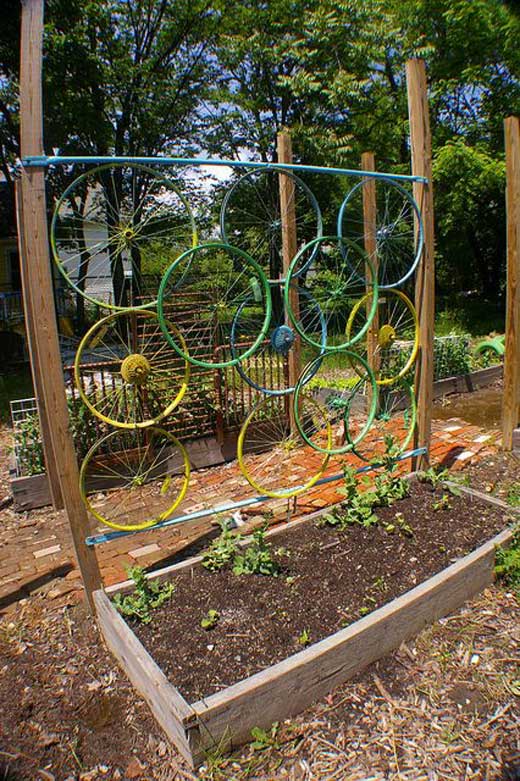 Image via: flickr.com
Instead of buying a whole new support structure for climbing plants, why not exercise your creativity and make a unique trellis? There are various metal garden trellis ideas you can explore, such as the Bicycle Rim Trellis. Such designs not only benefit your flowers and plants but also add an appealing decorative feature to any garden.
7. Old Crutches Trellis
A great way to create a recycled trellis is by repurposing a pair of old crutches as posts for your pea trellis. You can run twine between these new supports in a horizontal direction to provide support for your plants.
Consider exploring different trellis materials for your garden to find the perfect design. Using recycled materials not only helps the environment but also adds a unique touch to your garden.
8. Old Garden Gate Trellis
Transform a portion of your old garden gate or fencing into a pretty homemade trellis, which is a great upcycled garden trellis idea. This DIY garden idea from recycled materials not only adds visual interest to your garden but also helps support climbing plants. Image via: flickr.com
9. Screen Door Trellis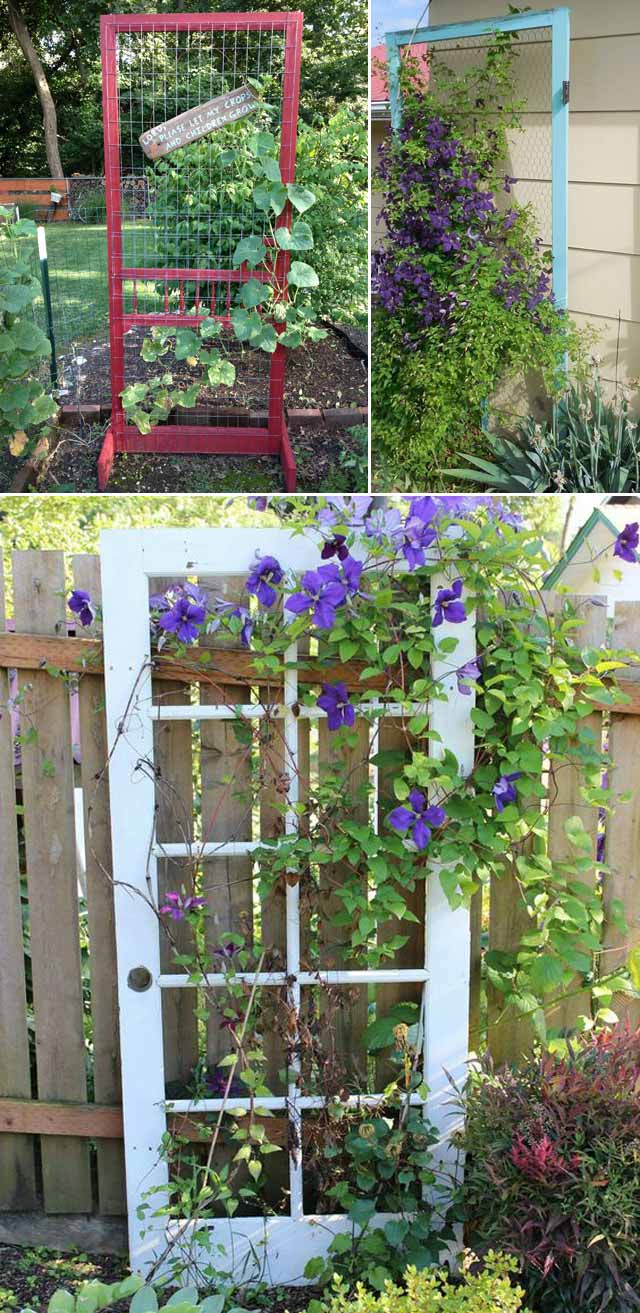 If you're looking for a budget-friendly and creative way to support your climbing plants, making a homemade trellis using a screen door frame and chicken wire is a great option. With a little bit of time and effort, you can create a sturdy and attractive structure that will keep your vines growing strong.
There are many trellis ideas for vines, but using a screen door frame and chicken wire is a popular choice due to its versatility and durability. Plus, the wire mesh allows your plants to climb and intertwine, creating a natural and visually appealing look. So, whether you're growing tomatoes, cucumbers, or roses, consider using a homemade trellis made from a screen door frame and chicken wire to support your climbing plants.
10. Mattress Spring Trellis
An old twin mattress bed spring can be a surprisingly natural and effective garden trellis idea. Simply remove the springs from the mattress, and you have a sturdy metal frame that can be used to support climbing plants and vines.
This DIY trellis idea allows you to give new life to an item that might have been considered "junk" and kept from becoming trash. So, next time you're looking for a unique way to create a homemade trellis, consider repurposing an old bed spring as a natural and eco-friendly option. Image via: backyardnotes.com hometalk.com
11. Ladder Trellis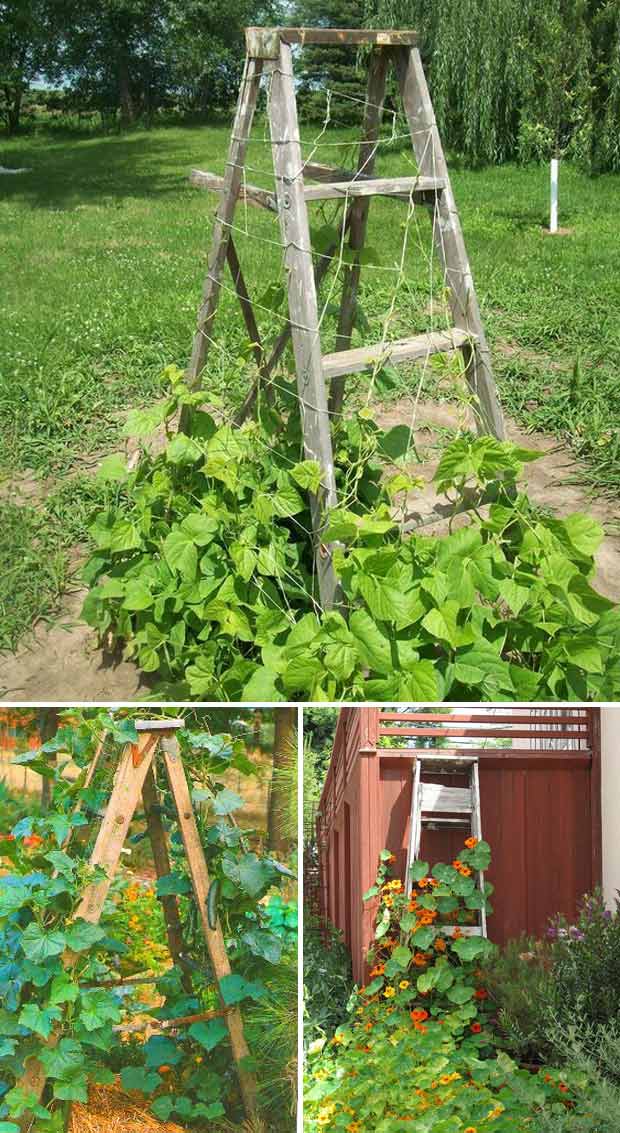 An old ladder has its natural A-frame design, so it is a good choice as a garden trellis. You can also paint the ladder and use it to brighten up your garden. If you're looking for vegetable garden trellis ideas, an old ladder can be repurposed into a trellis for beans, peas, or even tomatoes.
Alternatively, if you're looking for cucumber trellis ideas, you can lean the ladder against a wall or fence and train the cucumber vines to climb it. This not only saves space in your garden but also helps keep the cucumbers off the ground, reducing the risk of disease. Image via: flickr.com
12. Iron Headboards Trellis
If you're looking for creative upcycled trellis ideas for your garden, why not consider repurposing a vintage iron headboard? By securing the legs into the ground, it can be transformed into an eye-catching trellis for your plants. Image via: 33barefootlane.wordpress.com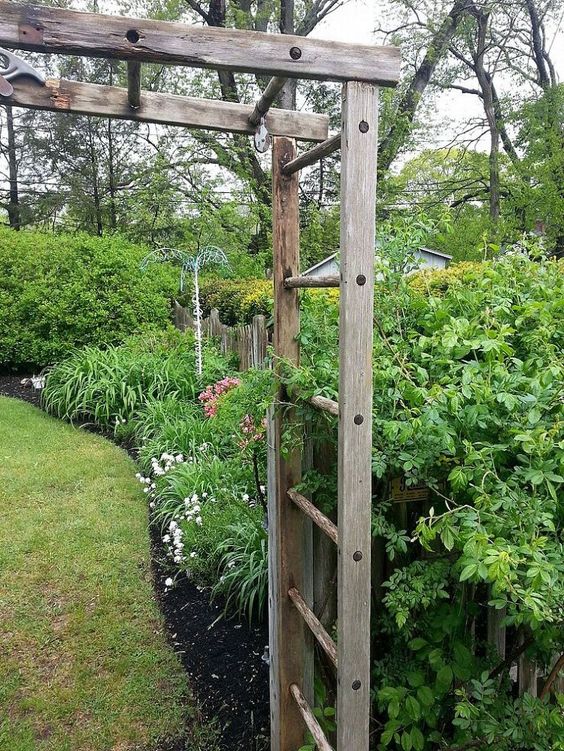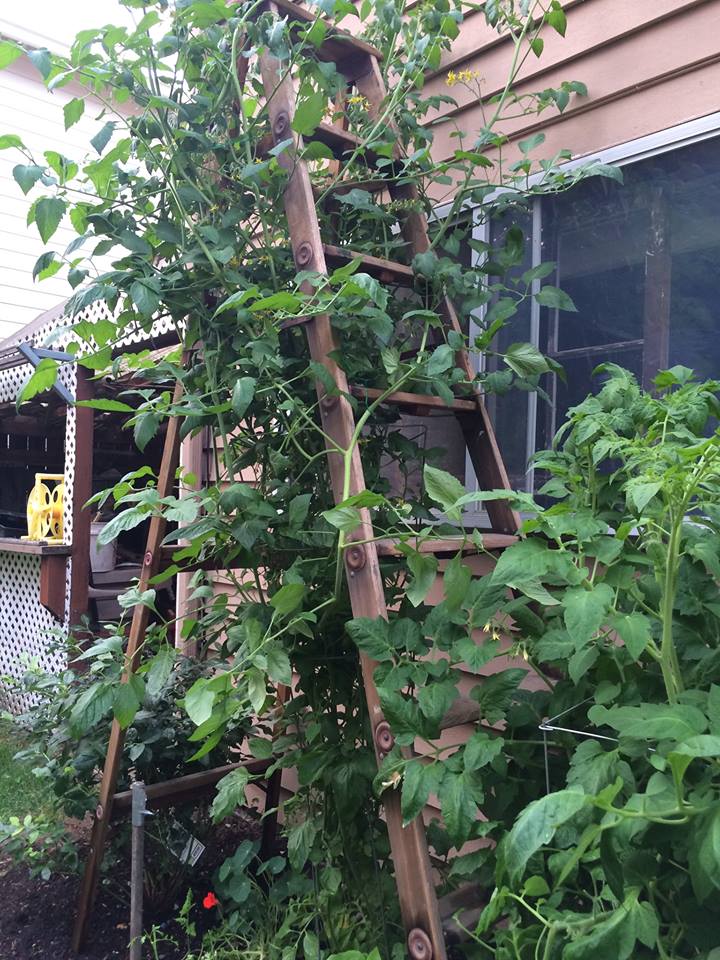 image via: northwestgardener.net